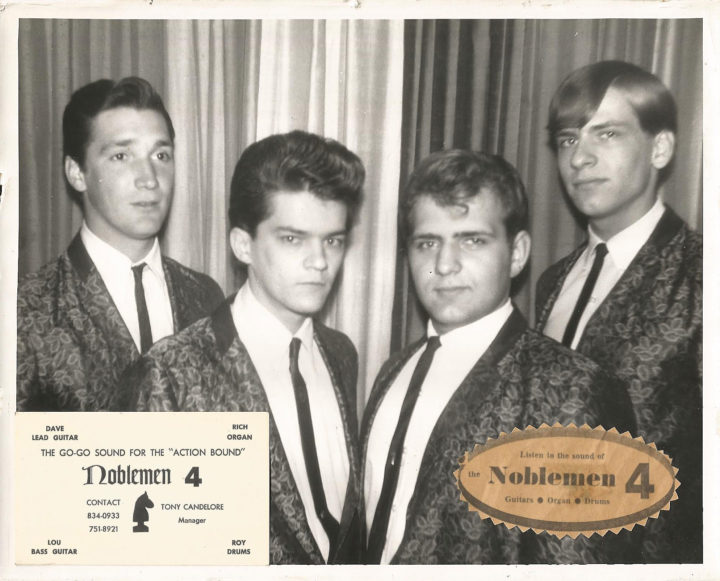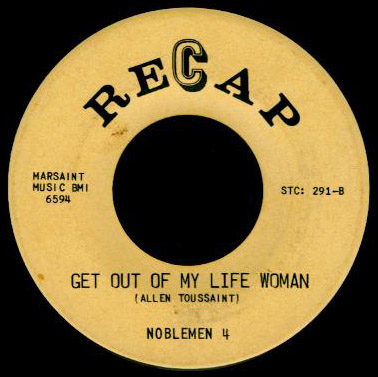 Pennsylvania's Noblemen 4 came from the towns of Greensburg and Irwin, southeast of Pittsburgh.
Members were:
Dave Henry – lead guitar, vocals
Rich Yusko – organ
Lou Penzera – bass
Roy Albert – drums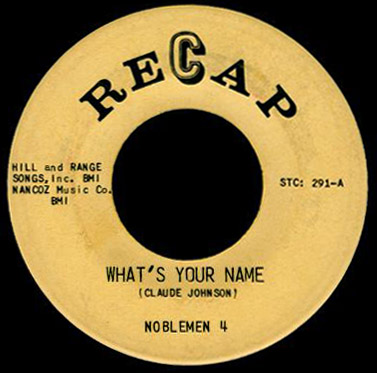 Andy Anderson, a friend of the band, wrote to me about their early days:
I'm originally from Greensburg, and know three of the members of the Noblemen 4. Actually I should say "knew" as I've been gone for about 38 years. The three guys that I know/knew are Dave Henry (lead guitar/vocals), Roy Albert (drums), and Joe Smartnik (bass guitar).

There was a mail-in contest to vote for your favorite band, and they had a form letter to vote. I recall Dave ripping the phone book into sections so everyone had their own part of the book to copy names from. I was one of the guys who was signing any name I could think up, and stuffing the letter into the envelope. Dave's wife, Carol, and her sister Barbara were sealing the envelopes and putting on the stamps.

Needless to say, they won the contest and "Get Outta My Life Woman" / "What's Your Name" was the record they cut for winning the contest. Both of the songs are covers.

My involvement with the band ended right around the release of the first record, and I moved out of state and lost touch with them. Sure would have liked to see them hit the big time.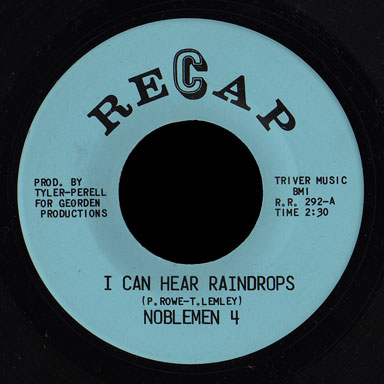 "What's Your Name" was a cover of the Don and Juan doo-wop hit from 1962. I prefer the flip, an uptempo version of Lee Dorsey's "Get Out of My Life Woman".
Though the band may have won the contest by rigging the vote, they must have done a good enough job on the first record, as Recap had them cut a second. The Recap label was owned by Norman and Tony Candelore. Tony would also be manager of the Noblemen 4.
Their second 45, the bittersweet ballad "I Can Hear Raindrops" was written by Ty Lemley and Philip Rowe, and the rowdy and non-sensical "Hang It In Your Ear" by keyboardist Richard Yusko. Both songs were produced by Tyler-Perell for Georden Productions, and published by Triver Music BMI.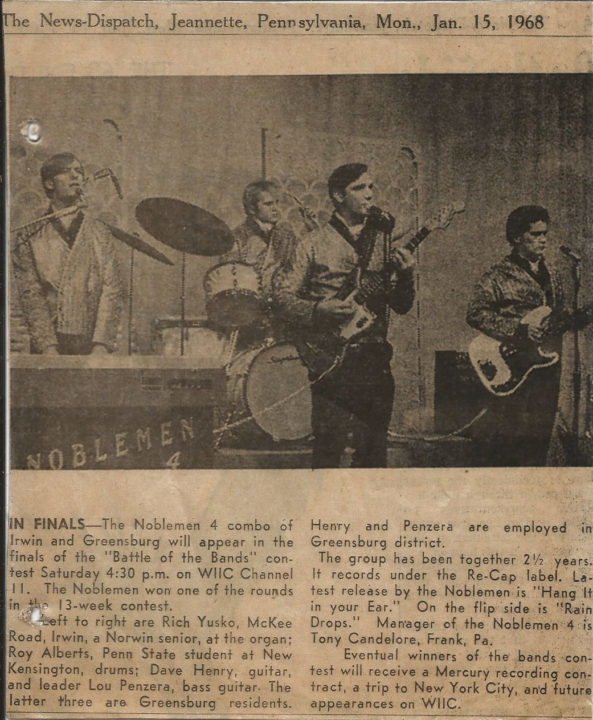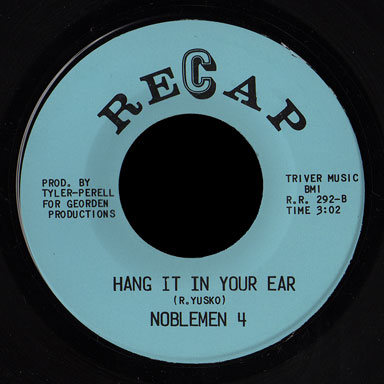 In 1968, the band won Come Alive's Battle of the Bands on WIIC-TV, beating out the Pilgryms of Follansbee, West Virginia. The prize was a recording contract with Mercury Records, which led to a single I haven't heard yet, "Beach Umbrella World" / "Lady Flora" on Mercury 72828.
One article also mentions Mad Mike presenting local group Light with a record contract from Cleo Records in Cleveland.
Thanks to Andy for the label scans and mp3s of their first record. Special thanks to Rich Yusko for the photo and news clippings seen here.