"That's the Sun" is a fine garage song with a touch of psych. All copies of the record suffer from a warble in the tape created in recording or mastering.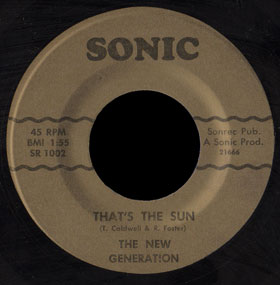 From Spartanburg, South Carolina, the New Generation had Tommy Caldwell on bass and Doug Gray on vocals – these two would soon become part of the Marshall Tucker Band. Other members were Randy Foster on rhythm guitar, Ross Hannah on drums, Dan Powell on organ, and Keith Wood on lead guitar.
Anyone have a photo of the group?
"That's The Sun" was written by Tommy Caldwell and Randy Foster. The flip side is a conventional pop song called "Because of Love (It's All Over)". Released April of 1968 on the Sonic label.
I've read they had one other 45, but I think that may be a mistake. They were not the same New Generation with a 45 on Kapp, "If You're Lookin' for Love" / "Never Let the Right Hand Know (What the Left Hand's Doin'".