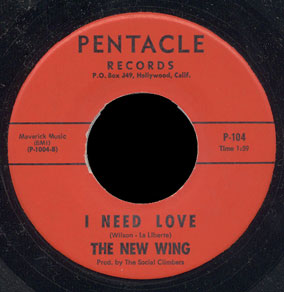 The New Wing was a singer by the name of Davy Peters backed by members of the Sons of Adam. However, as 'Renaissance' points out in his comment below, this Sons of Adam was from Edmonton, Canada, not the more famous L.A. group.
'Renaissance' writes:
Members consisted of:

Lead vocal: Davy Peters
Guitar & Vocals: Henry La Liberte
Keyboards & Vocals: Al Wilson
Bass & Vocals: Doug Policha
Drums & Vocals: Leonard Saidman
Their first 45 on Pentacle was "The Thinking Animal" / "My Petite", both very pop-oriented and not sounding much like their second release.
Pentacle or the band's rep, Pete Manuele took out an ad in KRLA Beat to promote this release.
"I Need Love" is a solid number from 1968, featuring good 'mosquito' guitar work, and vocal interjections reminiscent of Steve Marriott of the Small Faces. It was written by Wilson/La Liberte; production credited to the Social Climbers. The flip is a scuzzy hard rocking tune, "Brown Eyed Woman", written by Wilson, La Liberte and Policha, which I'm not as much a fan of.
Anyone have a photo of the group?
Pentacle was one of the many labels run by Gary Paxton out of his Bakersfield International studio. The New Wing were the only band on Pentacle that can be called garage to my knowledge, but Paxton recorded other garage acts, like the Churchill Downs on Amazing 3.
"The Thinking Animal" was written by Ken Johnson, Jerry Ritchey and Bob Hopps. This team also wrote the Chocolate Tunnel's "The Highly Successful Young Rupert White", while Johnson and Hopps co-wrote the Chocolate Tunnel's "Ostrich People".
Ken Johnson wrote many songs for area bands, including his son's group Ken & the Fourth Dimension's "See If I Care", the Avengers' "I Told You So" and "You Can't Hurt Me Anymore", and "Love Can't Be a One Way Deal" which was cut by both the Rev-Lons and Limey and the Yanks. Ken also owned the Starburst label which released most of these, usually with Gary Paxton's production.
Garpax and Maverick were Paxton publishing companies. The production credit The Social Climbers is also Paxton's; it also appears on "Please Mr. Johnson (I Don't Wanna Go)" by the Put On Company featuring Doug Salma (Doug Salamanca) on the Jest label.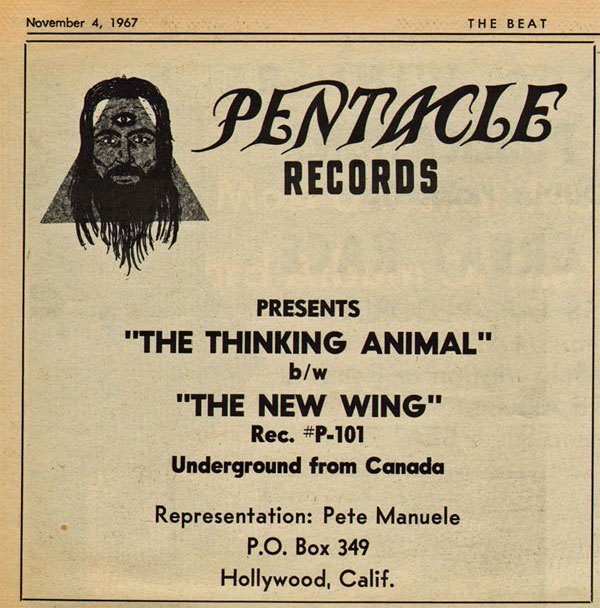 Pentacle discography:
Pentacle P-1635 – The Captivations – "Red Hot Scramblers – Go" / same (by Buddy Biglow for Maverick Music, BMI, different numbering system but the publishing matches later releases. More commonly found on Garpax 45 44179V with "Speedshift" on flip.)
Pentacle P-101 – The New Wing – "The Thinking Animal" / "My Petite"
Pentacle P-102 – The Greater Covina Interplanetary Childrens Space Program – "Rudolph vs. The Little" / "Hobo" (Janice Paxton) – kid Xmas vocal with pop instrumental
Pentacle P-103 – Art Fields – "To All The World I Sing" / "Girls From Equador" (ballad and pop with a bossa feel)
Pentacle P-104 – The New Wing – "Brown Eyed Woman" / "I Need Love"
Pentacle P-105 – Bob Jackson – "It's Hard To Say" / "Who Is My Supposed To Be" (country, there are two variations in the label design)