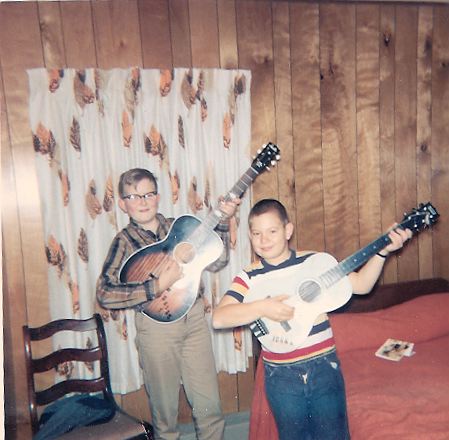 Brian Tolzmann wrote this history of his adolescent group, the Midnight Riders, featuring what I can guarantee is the most bizarre version of Hanky Panky you've ever heard.
The Midnight Riders, which was active in 1966 and 1967, consisted of:
Brian Tolzmann – guitar, vocals, organ
Terry Selleck – vocals
Tracy Tolzmann – vocals
John Petersen – drums
Mike Petersen – bass
I bought a guitar on August 21, 1965 at 'B' Sharp Music in Minneapolis, the very same day that 'B' Sharp Music presented Beatles guitarist George Harrison with a Rickenbacker 12-string guitar, when the Beatles were in town to present a concert.
The members of the Midnight Riders were ages 13, 12, 11, 9 and 7 in 1966, when the group started playing birthday parties and Muscular Dystrophy carnivals around town. The musical repertoire included the normal garage band fare, with Kinks, Dave Clark 5, Paul Revere & The Raiders tunes coupled with some Brian Tolzmann originals.
The photo shows me on the left and John Petersen on the right. The fact that John's zipper is partially open is rather amusing. Back in those days we really didn't take many photos, which is really different than things are today. I have another of John and myself playing guitars.
One day in July of 1966, the Midnight Riders played a neighborhood concert, complete with a dozen screaming girls. Unfortunately, that concert took place at the same time as a funeral was being held at a church a half-block away. The screaming girls could be heard at the church, leading the band members to later dub this event "The No Respect For The Dead Concert".
We used electric guitars at the end of 1966, but the recording actually has non-electric guitars. The song on the tape is "Hanky Panky", which we actually did as kind of a joke. At one point in the song our youngest member, Mike Petersen, can be heard singing,"She was a standin' there, pickin' her nose."
I brought a recording of that concert to Sweden in December of 1966 when my family vacationed there. One of my relatives worked for Swedish Radio in Stockholm. We had stayed at his home for a few days. He thought his fellow workers would get a kick out of the tape as a novelty. The tape wound up being played by Sveriges Radio in Stockholm late in 1966 and early in 1967. The tape was marked only with my name and hometown of Forest Lake on it. Some Radio Sveriges staffers looked Forest Lake up on a map, and saw that Highway 61 ran right through the town. Bob Dylan's famous "Highway 61 Revisited" album had just come out a few months earlier, so the Swedish disc jockeys dubbed the Midnight Riders as "The Highway 61 Boys". The "Highway 61 Boys" were said to have been the youngest band to have its music played on Sveriges Radio up until that time.
The young ages of the group kept the Midnight Riders from performing at additional venues, and it would be a few years until Brian Tolzmann, Tracy Tolzmann and Terry Selleck went on to form the rock band Phreen in 1969. Phreen had the thrill of having their 1971 recording of Cream's "I'm So Glad" played for Eric Clapton himself in March of 1981, when Clapton was hospitalized with bleeding ulcers in St. Paul, Minnesota.
Brian Tolzmann and Tracy Tolzmann went on to form the rock band Liberty in 1972. Liberty won that year's "Summer of Sound" battle of the bands, beating more than 200 other bands from around the U.S., including early amalgamations of such famed groups as Kansas and REO Speedwagon.
Thanks for your help in preserving the "legacy" of the Midnight Riders!
Brian Tolzmann, 2009