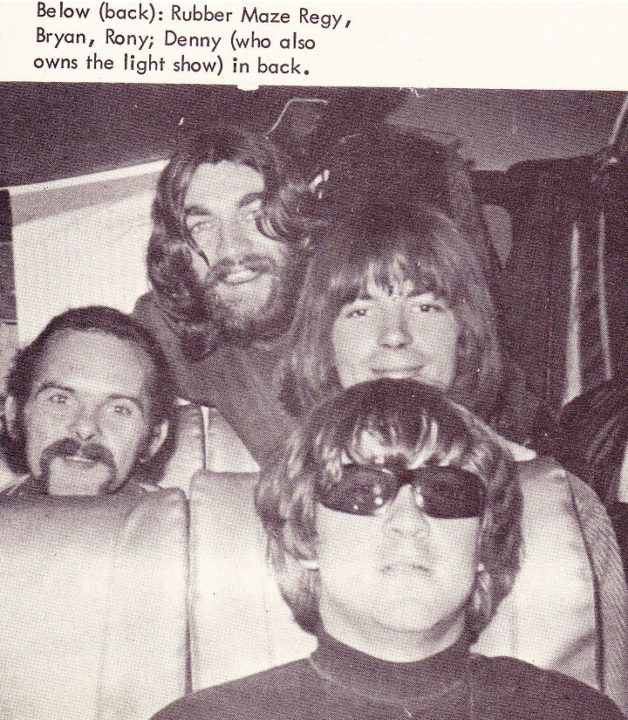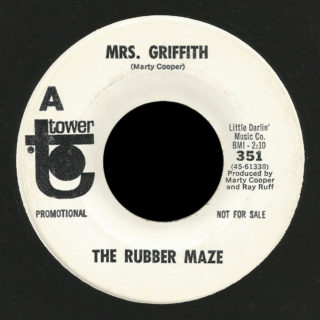 The Rubber Maze released one excellent double-sided single on Tower 351 in July 1967, featuring two different styles. The A-side is "Mrs. Griffith", typical of the soft psychedelia of the era, written by Marty Cooper, who co-produced the single with Ray Ruff.
Ray Ruff and Marty Cooper ran the Ruff and Sully labels, based out of Amarillo, Texas. Their publishing companies Little Darlin' Music Co. and Checkmate Music BMI published both songs. I've read this single came out on the Ruff label but haven't yet seen a copy.
I really dig the flip, a straight-up garage song "Won't See Me Down", written by Rubber Maze member Dennis Swinden.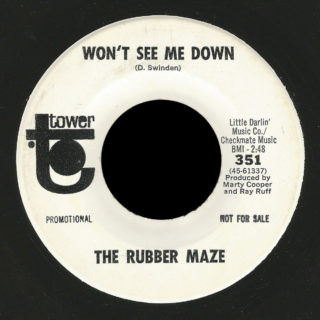 Bassist Ronnie Verge commented on a video of "Mrs. Griffith":
The Rubber Maze formed in 1965 in San Francisco and moved to Orange County, CA. They started up as The Young Men From Boston, shortly there after change to The Maze, and in 1967 changed to The Rubber Maze. They disbanded in late 1968.

Lead vocals and drums: Reggie Boyd
Vocals, lead guitar and keyboard: Dennis Swinden
Vocals, rhythm guitar: Brian Blanchard
Vocals, bass and cello: Ronnie Verge
Alternate Member on vocals and lead guitar: Chad Blanchard
The clipping at the top comes from Mike Dugo of 60sgaragebands.com, part of a two-page write up on a Dick Clark tour with The Split Ends and Yellow Payges in 1968 in Teen Screen.
The Rubber Maze had no connection to the Maze who had the LP Armageddon on the MTA label.