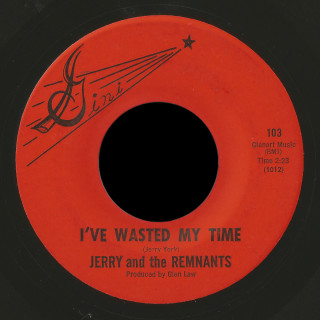 "I've Wasted My Time" by Jerry and the Remnants is a single I've been looking for and finally found last month. The song has tough rhythm guitar, sharp drumming and bass playing, swirling organ fills and very fluid transitions from verse to chorus and back. The production is not as distinct as one might like, but the performance overcomes that deficiency.
Members of Jerry and the Remnants were:
Jerry York – lead guitar and lead vocals
David Donahoe – rhythm guitar and lead vocals
Frank Larsen- bass and vocals
Jerry Solberg – keyboards and vocals
Buzz Minson – drums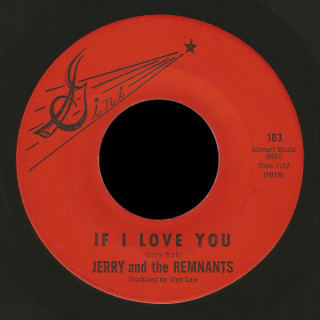 60sgaragebands.com has a history of the Remnants by lead vocalist and rhythm guitarist David Donahoe: how the band had formed out of the Plaidsmen and Vectors, and how members of these three bands eventually formed the Todes, who I've covered on this site before.
The Remnants cut their 45 at Gold Star Studios in Los Angeles in the summer of '66. It was the swan song of the band, who broke up immediately after as members went their separate ways. David Donahoe immediately joined the Todes, who cut their 45 in Los Angeles just a week after the Remnants, though in a different studio.
The 45 was released as Jerry & the Remnants (at live shows they were simply the Remnants) on Gini 103 in October, 1966.
Jerry York wrote "I've Wasted My Time" as well as the ballad flip, "If I Love You". It was produced by Glen Law, the songs published by Glenart Music BMI. Glen Law was from Utah but had been writing songs and producing music in Los Angeles since at least 1959, when he released the first record by C. Carson Parks (Van Dyke Parks' older brother) and Bernie Armstrong as the Steeltown Two "Wolves" / "Tarrytown" on Gini 1001. I don't know of any other releases on Gini.