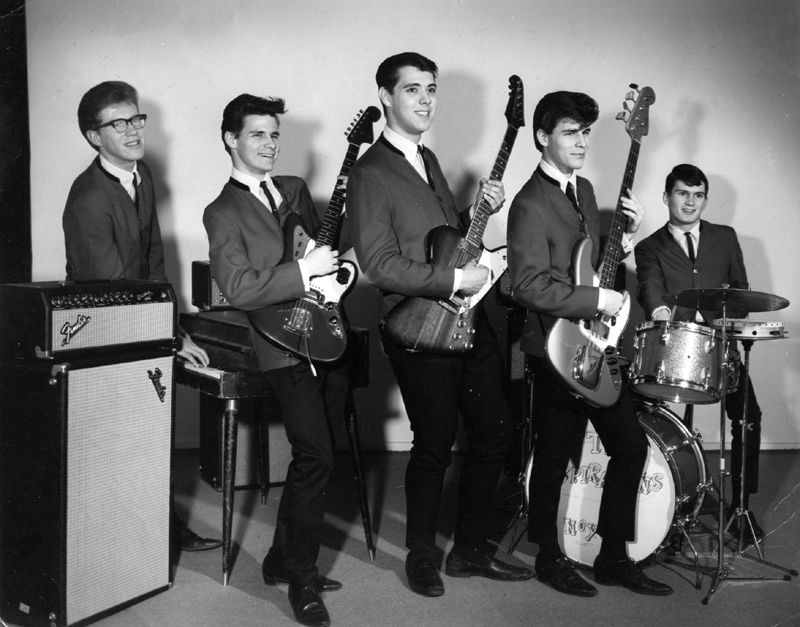 Updated February 2011 with info from comments below and Gary E. Myers book On That Wisconsin Beat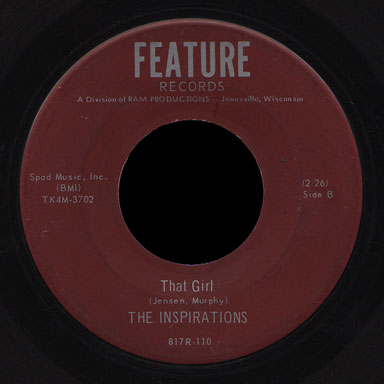 The original lineup of the Inspirations included Keith Newell on guitar, his identical twin Ken Newell on bass, Dennis Milby on drums and Michael Murphy on keyboards. The band was from Rock Falls and Sterling, Illinois, two hours drive west of Chicago.
Bruce Jensen joined on guitar by the time of their 45 on the Feature label. At some point the Newell brothers left the band and Don Dowd came in on bass.
Both songs on their August, 1966 single were written by Jensen and Murphy, with (I believe) Murphy singing lead vocals. "That Girl" has a brittle guitar sound and a loping bass line, with good lead and backing vocals. The organ takes a fine, trebly solo before the last chorus. "Baby Please Come Home" has a moodier sound that works well.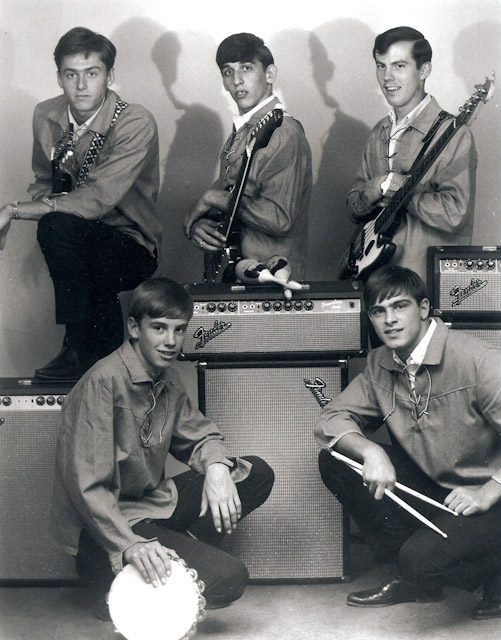 Feature Records was owned by Ken Adamany, a legend in the Madison area. Janesville, Wisconsin is about 25 miles southeast of Madison, just short of the Illinois border. Adamany also ran Rampro Records, then became a major promoter of bands in lower Wisconsin and owner of the Factory club in Madison, but he's best known now as the first manager of Cheap Trick. In an interview with the band back in the 70's, Rolling Stone described him as "the son of Lebanese immigrants …. a slight, swarthy fellow … with the cool, disinterested air of a camel trader." Nice profiling RS!
Ken had himself played in a band callled the Nigh Tranes who had one release, "Hangover" (aka "Swamp Fever" / "Rockin' Abe" on Cuca. That band included Boz Scaggs, Tim Davis, Ben Sidran and Steve Miller in later lineups (as the Ardells?).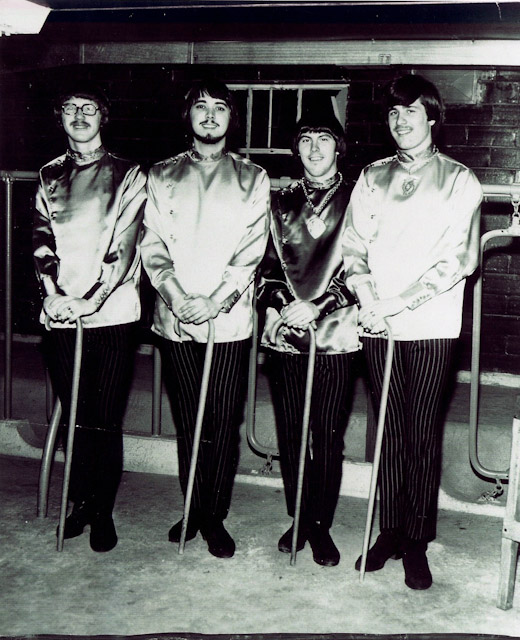 In 1967 the group changed it's name to the 13th Precinct, with a lineup of Mike Murphy, Bruce Jensen, Don Dowd and Dennis Milby, and cut some demos in Chicago.
Gary Myers wrote in On That Wisconsin Beat, "These caught the ear of New York producer Paul Tannen who took them to Nashville for sessions that resulted in the TRX release ["Junk Yard" / "You Gotta Be Mine", January, 1968]. The 13th Precinct worked often in Oshkosh and Appleton, and as the house band at The Barn outside Sterling. Drummer Dennis Milby was forced to leave with an injury shortly before the band appeared on ABC-TV's Happening '68 with Paul Revere & the Raiders in Los Angeles."
Michael Bryan Murphy left the band in 1969 to join the One-Eyed Jacks in Champaign, Illinois, and then went on to sang with REO Speedwagon on their third, fourth and fifth albums.
Tom Kurtz replaced Dennis Milby on drums, and then Tim Dowd joined on guitar and vocals as the 13th Precinct continued into the 1970s.
Thank you to Kevin McLaughlin for the top photo and to Heidi Dowd for the second photo.
Sources include: Gary E. Myers book On That Wisconsin Beat, the FolkLib Index and Like a Rolling Stone: Why Madison's Music Scene Is Slightly Discordant.