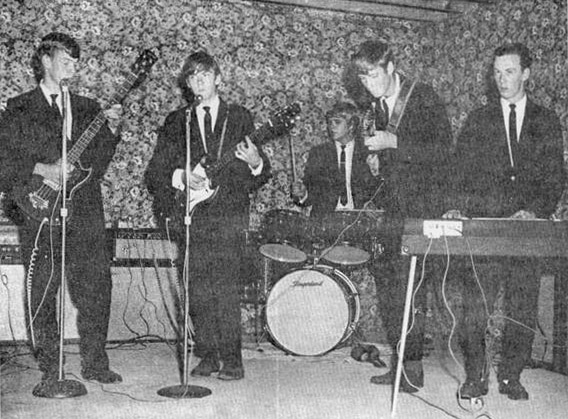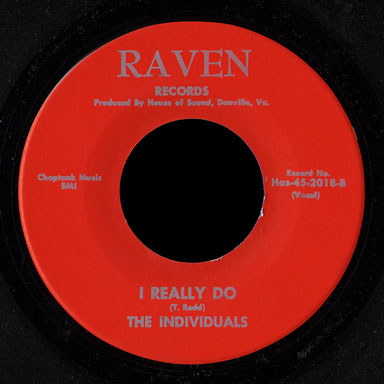 Revised February/March 2010
The Individuals cut their only 45 at the House of Sound in Danville, Virginia on July 11, 1967, both songs written by Tommy Redd. On "I Want Love" the band runs through standard blues changes as Tommy delivers snotty, half-strangled lyrics "I want my love, baby!" A slow fuzz riff and gloomy organ anchor "I Really Do" for Tom's garbled vocals and fake Cockney-accented recitation.
The group was from rural Halifax and South Boston, Virginia. The group had started in 1965 as the Rhythm Makers, changing to the Individuals in 1966. Members were Ben Vaughan lead guitar, Ronnie Vaughan rhythm guitar, Sammy Moser organ, Ronnie Couch drums and Tommy Redd on bass and vocals. Someone told me Ray Ferrell took over on keyboards later on, but Ronnie says Ray wasn't in the band and that Mike Oakes was their second keyboard player.
As the article below states, 500 copies were pressed, of which 300 were mailed to radio stations across the country. The 45 received some play on WHLF in South Boston and also in Danville. Someone told me that some of the leftover copies were used for target practice, a not-uncommon occurrence at the time, but Ronnie Couch wrote to me:
Not true on the left over Raven 45s. They were put in local stores such as Leggett's Deptartment Store, Roses, J.J. Newberry's and some others. We sold them and put in another order for more copies. I still have a few left.

I have copies of a radio station playlist in Brookneal, Virginia that we were on the local charts. We also played live many times on our local radio station WHLF on a radio show ran by a DJ named Al Mapes.
The article announces the group planned to cut a second record, "The Fire Is Out", but Ronnie Couch tells me it was never recorded.
Contrary to what I've read elsewhere, the Individuals' Tommy Redd was not the same person who went on to play with Stax of Gold in Jacksonville, North Carolina, a band which later became Nantucket, with releases on Epic Records.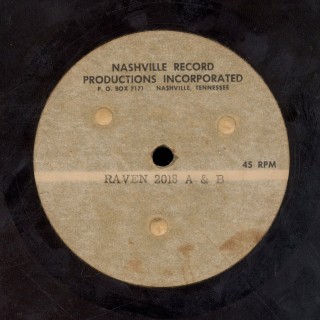 Special thanks to Marty Key for loaning the 45 for me to scan and transfer, check out his site Funky Virginia. Thanks to Ben Brown of Raleigh for info on the Ralph Viar 45.
Thanks also to Ronnie Couch for providing the scan of the article, and to Jack Garrett for the scan of the acetate and many of the photos seen here.