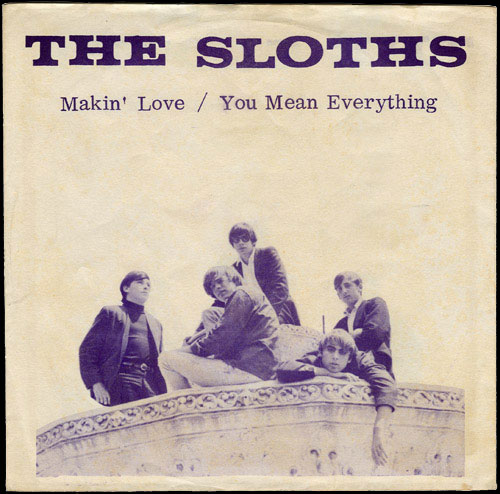 I planned an entry on the Dirty Shames for their great "It's A Shame" 45, but when I discovered the flip side, "Makin' Love", was a cover of an earlier 45 on the same label by the Sloths, I thought I may as well feature whatever I can find out about Impression. It turns out there were a good number of fine 45s on this Hollywood, California label run by two brothers, Al and Sonny Jones.
There were two sets of Impression releases, a first on a blue label with plain logo, and the second on yellow labels with the new, somewhat psychedelic Impression logo.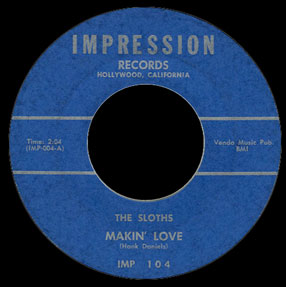 On the blue label is the Sloths' song "Makin' Love", which was covered by the Dirty Shames a year later. The Sloth's version is far cruder, but both are fine perfomances. The Dirty Shames label gives writing credit to Hank Daniels. I had heard a rumor that the two bands shared some members, but Marty Wons from the Dirty Shames says this isn't true. The Sloths record happens to be by far the rarest garage 45 on this label.
Update June 2011: I've included more on the Sloths on a separate page.
Of the releases on the yellow Impression label, first was a release by the Dillons, produced by Dorsey Burnette. See the Dillons' entry for more on this release.
Next up is one that I hadn't heard until recently. The Mark Five of San Bernadino featured brothers Danny and Jimmie Faragher, who released "I'm Through With You" b/w "I'Il Keep On Trying" on Impression 102 in 1965 before they went on to form the Peppermint Trolley Co. The Mark Five also recorded as the Intercoms and the C-Minors for Impression, as well as helping back Jimmy Robins on his great soul song, "I Just Can't Please You". See their entry for the full story on all four of these Impression releases.
The Tangents have the distinction of releasing two 45s on Impression, "Good Times" / "Till I Came Along" (Impression 105) in 1965, and "Hey Joe, Where You Gonna Go?" / "Stand By Me" (Impression 111) a year later. "Good Times" starts off like Heat Wave then gets very pop sounding. Their version of "Hey Joe" is one of the best. Like many 45s on this label it was arranged and engineered by Al Jones. Members were: Jim Janesick (Jim Janesich?) lead guitar, Bob Shelton rhythm guitar & lead vocals, Terry Topolski bass guitar and Warren Brodie drums.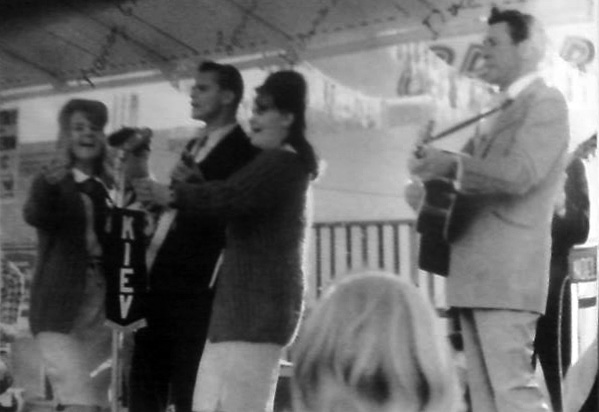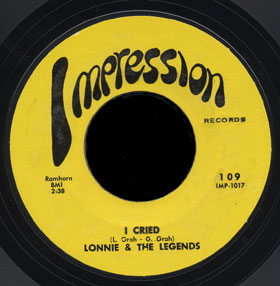 Lonnie and The Legends recorded one of my very favorite songs on this label. "I Cried"/ "Baby Without You" (Impression 109) was released in Mar. 1966. Lonnie Grah's niece Becky Lynn Ray sent me some photos of Lonnie and info about Lonnie & the Legends. The band was from Sylmar, California, near San Fernando. It may surprise the listener that they were actually more of a country & western band, performing on bills with many big names like Doye O'Dell, Joe and Rose Maphis and Lefty Frizzell, and were friends with early rock 'n roll performers like Ritchie Valens and the Rivingtons of "Papa-Oom-Mow-Mow" fame.
Songwriting credits are George and Lonnie Grah, but Becky tells me "I Cried" was actually written by Lonnie and her mother, Nancy Grah, who was also in the group along with Donna Grah. Other musicians included Kenny Ray on bass and Gene Gunnels on drums, who was in Thee Sixpence just before they became Strawberry Alarm Clock, and then joined Hunger. (See SAC's website.)
Lonnie & the Legends had other 45s:
Rev 1006: Lonnie & the Legends – "Penguin Walk" / "Crazy Penguin" (George Grah, Laucan Music BMI)
Danette Records: Lonnie & His Legends – "Cause I Love You" (Lonnie Grah, Nancy Grah, produced by George Grah) / ?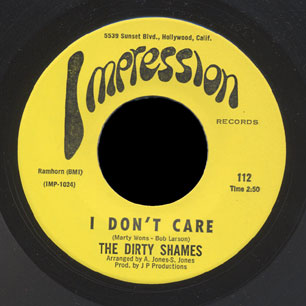 The Dirty Shames have one great double-sided 45, the garage classic "I Don't Care" with the flip "Makin' Love" (Impression 112) released Sept. 1966. Band members include Marty Wons and Bob Larson. Marty wrote a little to me, but hasn't answered my responding emails. He wrote:
We recorded until we lost two members to the Vietnam war draft. Al Jones did the majority of the engineering with Sonny occasionally sitting in. By the way, the Sloths and the Dirty Shames were two different groups. No crossover members. We were given a copy of their record to create our version of Makin' Love.
A discussion of the Grodes would take up a whole entry in itself. From Tucson, Arizona, they tried to break out to national success with some 45s released on California labels. Their most famous is the original version of "Let's Talk About Girls", covered by the Chocolate Watchband. Over a year later, they released "What They Say About Love" on Impression 114, but it made no mark at all.
Impression discography (any help on finishing this would be appreciated)
Blue label series:
?? – (Impression 101)
Tommy Lee – If You See Me Cry / One of These Days (both written by Al Jones & Joe Osborn, produced by Al Born) (Impression 102)
Big Dave Washington & the Zensations with the Buddy Harper Orch. – You Stay On My Mind / Don't Say We're Through (Impression 103)
The Sloths – Makin' Love / You Mean Everything (Impression 104)
Yellow label series with new Impression logo:
The Dillons – Simple Way of Living / Night Winds (Impression 101)
The Mark Five – I'm Through with You / I'll Keep on Trying (Impression 102)
Teddy Durant – The Beast Of Sunset Strip / The Night Stalker (Impression 103)
Bob & Judy – We'll Try It For Ourselves (Gregory Dempsey) / We've Got Something Going (Impression 104)
The Tangents – Good Times / Till I Came Along (Impression 105)
The C-Minors – Just a Little Feelin' / Don't Go (Impression 106)
The Intercoms – Unabridged, Unadulterated, Unextraordinary, Ordinary, Mediocre Unoriginality Blues / Please Try and Understand (Impression 107)
Jimmy Robins – I Just Can't Please You / I Made It Over (Impression 108)
Lonnie & the Legends – I Cried / Baby, Without You (Impression 109)
?? – (Impression 110)
The Tangents – Hey Joe, Where You Gonna Go? / Stand By Me (Impression 111)
The Dirty Shames – I Don't Care / Makin' Love (Impression 112)
Jan Crutchfield – Front Door, Back Door / It's Now (Impression 113) (both by Crutchfield and Fred Burch)
The Grodes – What They Say About Love / Have Your Cake and Eat It Too (Impression 114)
Thanks to Rich Strauss, Jason and Max for help with the discography. According to Rich, the Teddy Durant 45 has a couple of good novelty monster songs, and #113 is mediocre country. The Tommy Lee, Big Dave Washington and Jimmy Robins are r&b/soul releases, everything else is rock.