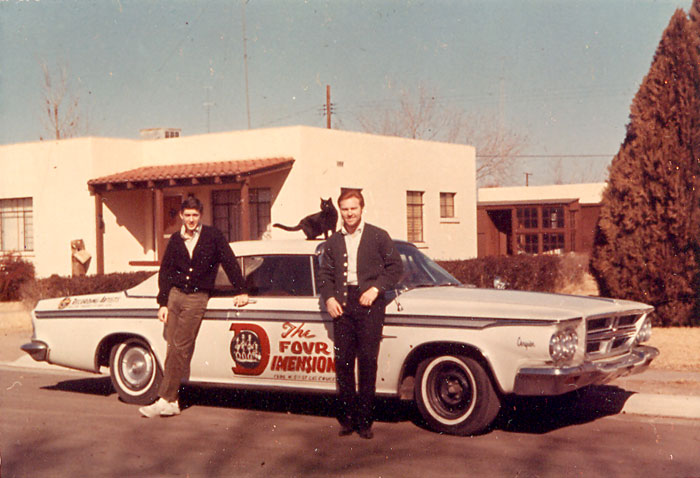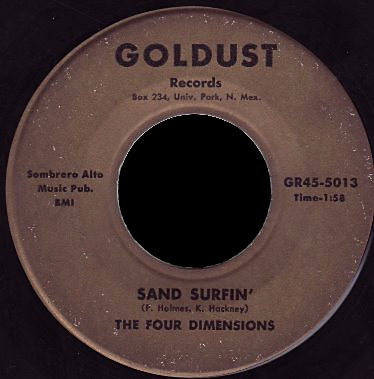 The surf craze of the early '60s wasn't limited to kids living by an ocean coastline – the Astronauts from Colorado and the Trashmen from Minneapolis are two of the most famous examples. The Four Dimensions of Las Cruces, New Mexico had their own take on surfing – riding plywood down sand dunes! More than just a laugh, their song "Sand Surfin'" will hook you, and it has some of the wildest screams ever waxed (hear it at at Lone Star Stomp, where I nabbed the label scan.) Prior to the Four Dimensions, Jack played with The Vibrations.
Jack Starkey of the Four Dimensions answered a batch of my questions about the group:
I was in the Four Dimensions. Members were: Keith Hackney, Phil Holmes, Jack Starkey, and Billy Conger. Keith Hackney and Phil Holmes started the group. They played in a local bar as a duo. Later they added a drummer and then asked me to join the group.This was in early 1965. The original drummer quit because he didn't want a cut in pay when I joined, so we found Billy Conger to play drums. Billy and I were both from other towns and had come to Las Cruces to go to college.

I had met Keith in Los Alamos, NM through a mutual friend, Tommy Edwards. Tommy was a student at New Mexico State University and brought Keith home with him during a school break. They had a band called the Keymen.

The Four Dimensions played at several locations in the area and usually worked 6 nights per week. The clubs were: The Palms Motor Inn, The Cork and Bottle and a club in El Paso. The Cork and Bottle was our base. We eventually worked there 6 nights a week and in El Paso on Sundays.

There were many good bands and musicians in the Las Cruces and El Paso area back then. There was a band called the Outer Limits that did original music. They were in high school at the time and had some good songs.

We all used to hang out in Juarez at the Lobby bar. There was a blues guitar player that packed 'em in every weekend and most week nights. I was there watching him at every opportunity. His name was Long John [Hunter] and did mostly original material. He played guitar with one hand while hanging from the rafters with his other hand. I ran into him a few years back and he plays here in the Phoenix area on a regular basis. He has several CD's out.

Gold Dust records was a local studio and Keith and Phil knew the owner. His name was Emmit [Brooks] and he played in a country music band. We had a great relationship with Emmit and he shared in the cost and profit of the record (I don't think there was any profit). We backed other performers at the studio also.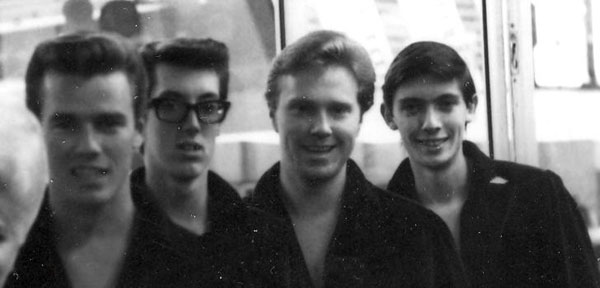 We didn't have many original songs. "Sand Surfin" was written by Keith and Phil as a novelty and "I Love You For What You Are" was written by Keith. We put our spin on most of the covers that we did. Sand Surfin proved popular locally, because many of the local kids sand surfed at the Whites Sands site.

In the fall of 1965, we won a battle of the bands in Las Cruces and then headed to California. We had an agent in Hollywood and played the club circuit in Southern California. We ended up in a Las Vegas Lounge and had to split up early in 1966 as we received draft notices. Billy left Vegas with another band and Keith, Phil and I returned to New Mexico. We played a few times in Las Cruces before we finally broke up. After, Phil and one of the Keymen started a group. I believe the guy's first name was Stan but his last name escapes me.

Keith is the only one of the group that actually went to Viet Nam. He made it back safe. I never had any contact with Phil after that but I heard that he formed another band that included his wife and played the club circuit. During those times you could make money playing the clubs and Vegas. Billy and I had another band for a little while after he returned from California. He played organ after the 4 Dimensions broke up. He still plays I the Seattle area. He was by far the best musician in the group, followed by Keith and Phil.

I really never played in a group. The group Billy and I had broke up because I got another draft notice. I had received a deferment earlier. I still have guitars and amps, but rarely play.

My kids took my copies [of the 45] back in the 80's. One of my kids' friends had a punk a band and did a cover of "Sand Surfin". I would like to get my hands on some of the tapes we made at Gold Dust records. Although I would probably be disappointed. Our memories have a way of making things better than they really were.

Jack Starkey