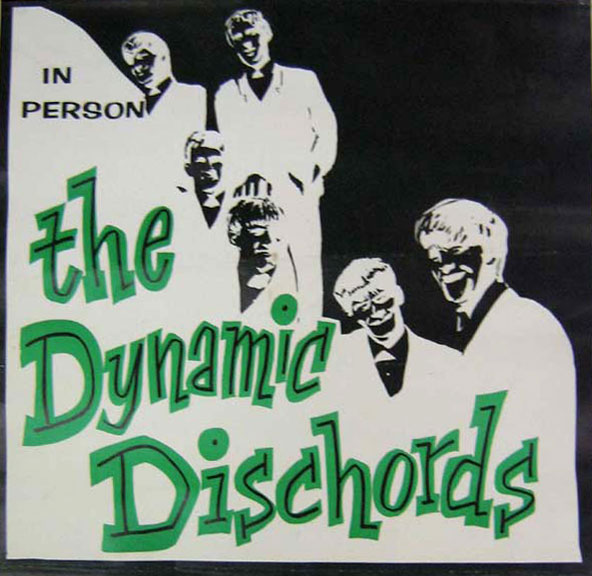 The Dynamic Dischords came from the small town of Oakes, North Dakota, in the southeast part of the state. Members were: Mel Bruns, Dave Enquist, Tom Rodine, Bob Vorachek and Tim Weatherhead.
In 1967 the band played the Roof Garden in Arnolds Park, Iowa, 330 miles from Oakes, but not an unusual distance for a band to travel in the upper Midwest. After their show the band visited Iowa Great Lakes Recording in nearby Milford, Iowa, where they cut their first 45, released on IGL 45-150 in November, 1967.
"Passageway (to Your Heart)" starts with a gloomy four-note riff then settles into something resemblings "You Keep Me Hanging On", with heavy fuzz breaks between the verses. The IGL Rock Story, Vol. 2: 1967-1968 has a slightly longer version with an alternate vocal, though I prefer the 45.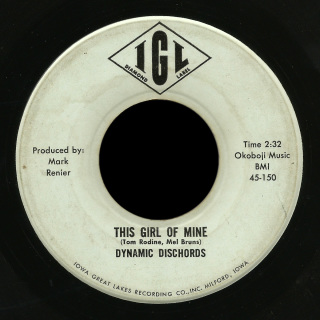 I'm a fan of the flip side, "This Girl of Mine", an upbeat harmony song without any psychedelic influence at all.
Tom Rodine and Mel Bruns wrote both songs and Mark Reiner produced the single. I don't recall Mark Reiner appearing on credits for any other IGL singles so he may have been part of the Dischords' management. The publishing was by Okoboji Music BMI, a common credit on IGL 45s (and named after the lake where all this fun was happening).
The band did not record again until 1971 when they released "The Age of Caesar" / "I Love Life" (another Rodine & Bruns original) on Mark Custom Records from Moorhead, Minnesota, distributed by Midwest Booking Authority in Grand Forks, ND. I haven't heard either side of that 45 yet.
Info and top poster taken from http://www.nightlifemusic.com/HOR/Dynamic%20Dischords/index.html. Poster below sent to me by Philippe Wegmuller.