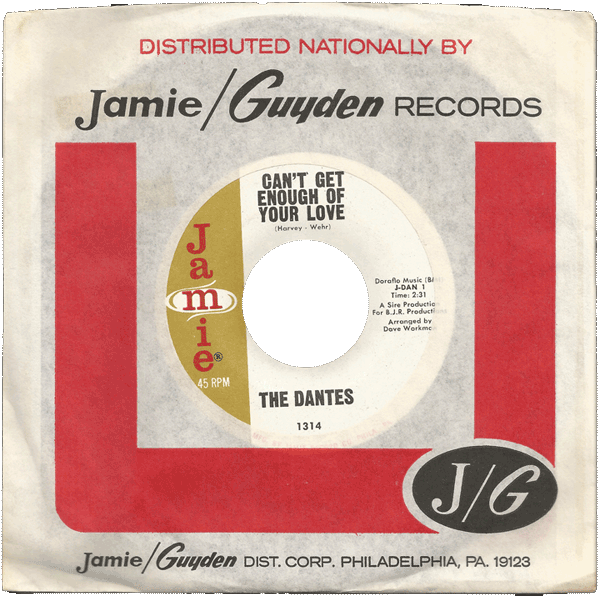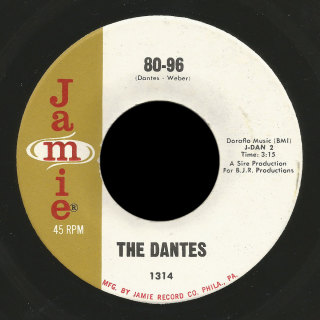 I found mint copies of the first two 45s by the Dantes in company sleeves, and they were so cool I had to put scans of them up on the site with something about this quintessential mid-60s band.
Barry Hayden – lead vocals
Dave Workman – lead guitar
Lynn Wehr – rhythm guitar
Carter Holliday – bass
Joe Hinton – drums
The Dantes formed about 1964 in Columbus, Ohio suburb of Worthington. Though they drew inspiration from the Rolling Stones and covered Stones songs live and on their records, their first single displays an original and catchy style. "Can't Get Enough of Your Love" begins with quick finger picking more like something from the Byrds until the opening vocals come blasting out at the listener. The rhythm section chugs along with a sound peculiar to styrene discs.
Although it made #1 on Columbus station WCOL, the single didn't break out nationally. Song writing credits are to Harvey-Wehr for Doraflo Music BMI, arranged by lead guitarist Dave Workman.
The flip "80-96" starts out like the Yardbirds' "I Ain't Done Wrong" then settles into a bluesy instrumental. According to Buckeye Beat the band wanted to call this song "8-69" but Jamie insisted it was too suggestive a title. Writing credits are to Dantes-Weber. Released in March 1966 on Jamie 1314, both sides are listed as "A Sire Production for B.J.R. Productions".
According to an article in the Mansfield News-Journal, their manager was DJ Johnny Garber, while a later article from January 1968 discusses Garber and Chuck Swisher co-managing the group.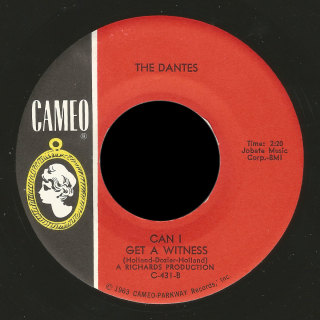 In late September, 1966 the Dantes released their second 45, this time on the Cameo label, a cover of the Stones "Under My Thumb" with a good version of "Can I Get a Witness" (which the Stones also did) on Cameo 431, the labels reading "a Richards Production".
An article in the Newark Advocate from May 9, 1968 mentions Dave Workman had left the band and formed Dave Workman's Blues Group with other Columbus musicians. Dave's leaving may have led to a softening of the band's sound, evident on their last 45 in October 1968. Featuring horns and a pop sound, the A-side was a cover of another Stones song, "Connection" backed with the band original "Satisfied". Walt Masky produced the record, coordinated by Jerry Sharell; it was released on the Main Line label.
The band lasted until about January 1969, at which point they changed their name to Moonstone. The Circleville Herald has an ad for one Moonstone gig in January with the Fifth Order and the Young Generation, and another in April '69 with the Tree and the Fifth Order. After this Moonstone and the Dantes seem to disappear.
Any photos or info on the band would be appreciated.