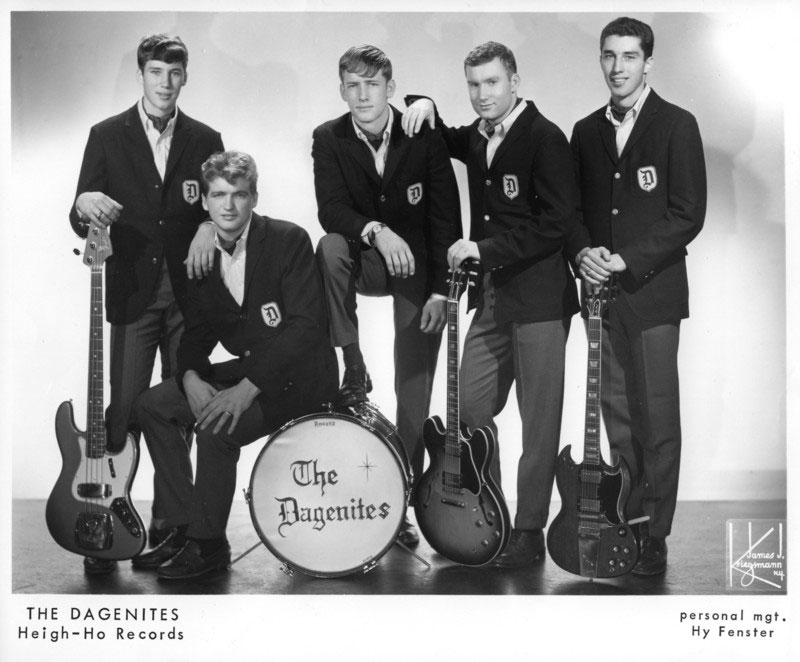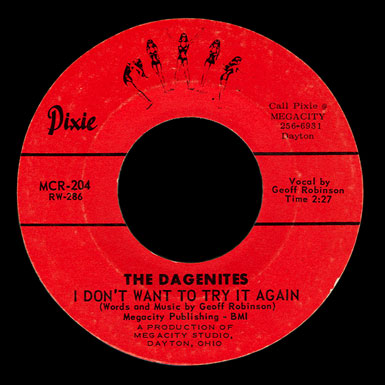 The Dagenites were a great band from Oxon Hill, Maryland who formed in 1964 and cut two crucial garage 45s in their short time together. Original members were John Bardi lead guitar, Bruce Kennett rhythm guitar, Geoff Robinson bass and Roger Fallin drums. Their name came from Dagenham, a working class suburb of London where John Bardi's mother grew up.
They shared a manager with Link Wray, leading to weekly bookings with Wray at the 1023 Club.Because of a connection Bruce's father had with the owner of Pixie records, the band traveled to Megacity Studio in Dayton, Ohio in the early spring of 1965 to record their first 45, "I Don't Want to Try It Again," an original by Geoff Robinson. John Bardi's guitar drives the verses and before his wild lead break you can hear someone shout "Play it J.B.!" Lyrics are hard to make out, though it's clear the singer is trying to get out of an entanglement with a girl.
The flip side is Bruce Kennett's original "Now That Summer's Gone," which the band would re-record for their second record. The Pixie label also released also released 45s by Bittervetch and Dave and the Stone Hearts.
Record collector Mike Markesich told an interesting story about this 45:
The initial pressing run for promo copies of The Dagenites 45 printed the name of the group on the label incorrectly as the Joy Boys, and the label name as Fencoe. I own a copy of this 45. Someone at the record company affixed corrected labels by pasting them over the errant labels (I also have the detached corrected labels for both sides). There were probably a few hundred that went out this way. The rest were correct, as are the yellow label stock copies.
After the band members graduated from high school in 1965, the lineup changed. Geoff Robinson and Bruce Kennett left to be replaced by Bardi's brother Julian on bass and Jon Rowzie on guitar. Jimmy Musgrove was added as vocalist.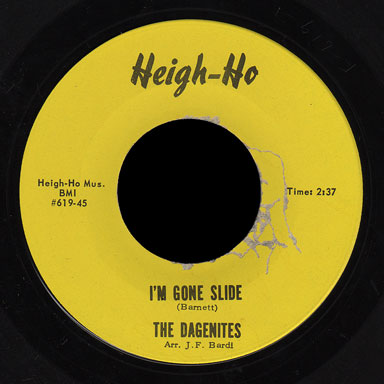 John Bardi describes the next phase of the band's career:
Ron Barnett got us the contract with Heigh Ho records. There was what we were told was a nationwide talent search. My brother and I applied, Ron (a beatnik looking character probably in his mid-20's, maybe a few years older) auditioned us and we won! He wanted to call us the "Howling Wolves" and have a trained wolf appear with us when we performed. We of course mocked the idea, but he had such an air of certainty about him, and he DID have this recording contract, that we went along. He had big ideas. I once heard that he had become a successful producer (I can believe it), but apart from that, I never heard anything about him after our short time together.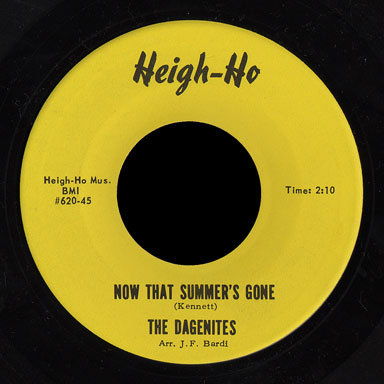 The band traveled to New York City to record their next 45 "I'm Gone Slide" released on Heigh-Ho in September, 1965. The song is credited to Barnett, who supplied the words and idea for the song, though John Bardi arranged the music. John says, "A studio musician was hired to record an organ part for 'I'm Gone Slide.' He had played on the Wilson Pickett 'Mustang Sally' sessions (which at the time had not yet been released) and during breaks regaled the band with stories about those recently completed sessions. He played a rough cut of 'Mustang Sally' in order to try to influence the band in their approach to 'I'm Gone Slide.'" For the flip they included a new version of "Now That Summer's Gone."
Two other tracks were recorded at the New York sessions, "The Fugitive" and "Poison Ivy,". These songs were pressed with a Heigh Ho label and released in early 1966, though perhaps on a promotion-only basis as copies are extremely rare now. "The Fugitive" earned a pick hit review in Record World Magazine.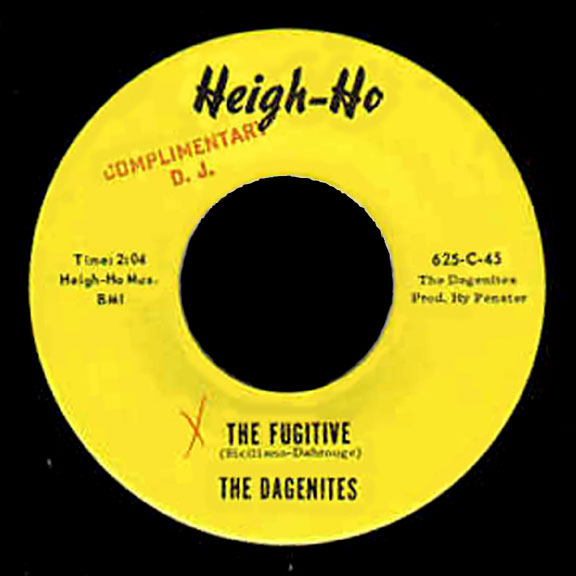 "The Fugitive" ("Once I was a respected man, but then they said I killed with my hands….") was going to be offered as the theme song for the TV show the Fugitive, but the show was cancelled that summer. John believes it would have been the first rock style TV theme song.
There was also a second version of "I Don't Want to Try It Again" recorded. This one had smooth vocal harmonies and a wild guitar break, and it was also released on the Heigh-Ho label. Like "The Fugitive" it was not released widely, and in fact only one copy is rumored to exist.
John wrote to me, "I still play, but the innocent immediacy of those days is long gone" – as fine a summary of the appeal of this music as I've ever seen.
Gina C. writes, "On June 28, 2008 Jimmy Musgrove threw a party in Benedict, Maryland reuniting all of the members of the Dagenites. They were tighter then ever and brought the house down of close to 200 class mates and friends of Oxon Hill High School."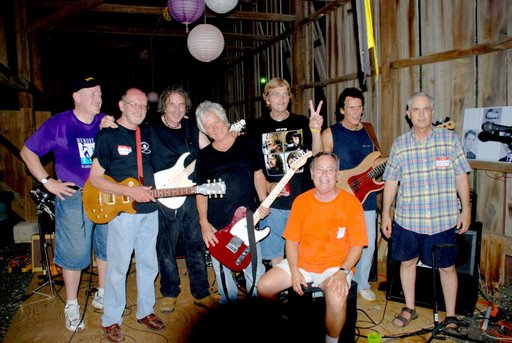 I'm sorry to report that Jimmy Musgrove passed away on September 9, 2010.