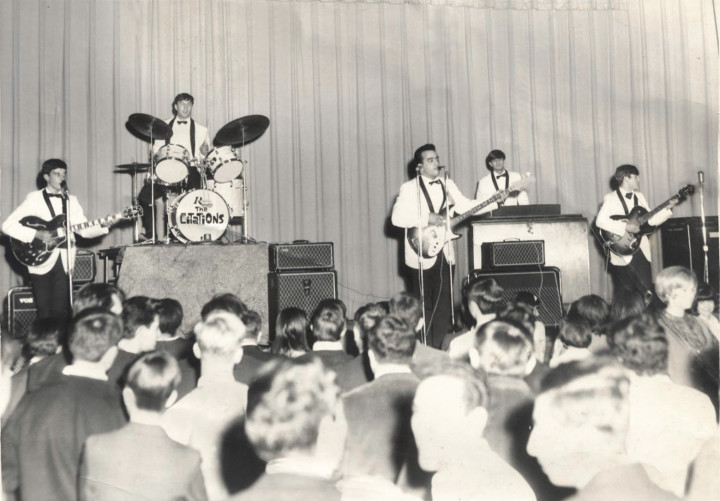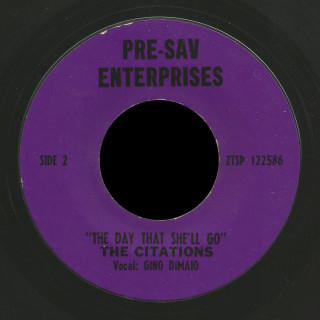 There were several groups called the Citations recording in the '60s including ones from Alabama, Maine, Ohio and, most famously, the band from Milwaukee who cut "Moon Race" / "Slippin' and Slidin'".
The Citations I'm featuring today were from Lawrence and Methuen, Massachusetts. Though obscure, their July, 1966 release on Pre-Sav Enterprises has two excellent original songs.
"Long Time Wanderin'" was the A-side, a good upbeat cut, but most garage fans prefer the flip, "The Day That She'll Go", a good example of the New England sound – moody and with a dense, almost murky production but plenty of atmosphere and emotion.
I had almost no info on the group until I heard from James DiResta, the brother of guitarist Mike DiResta. He sent in the photo seen at top and gave me the names of the band members.
Gino DiMaio – bass and lead vocals
John Grasso – lead guitar
Mike DiResta – rhythm guitar
John Fichera – keyboards
Mike Messineo – drums
James wrote to me, "My brother Mike is on the right playing the single cut-away Guild guitar, and wrote the songs on the record. The Vox amps were the original tube amps from England with adapters to play in USA. The club that they use to practice out of, and were the house band for, was the Raven on the Methuen – Haverhill line in Massachusetts. The record had its debut at Turn-Style in South Lawrence and later they showcased at the Hampton Casino."