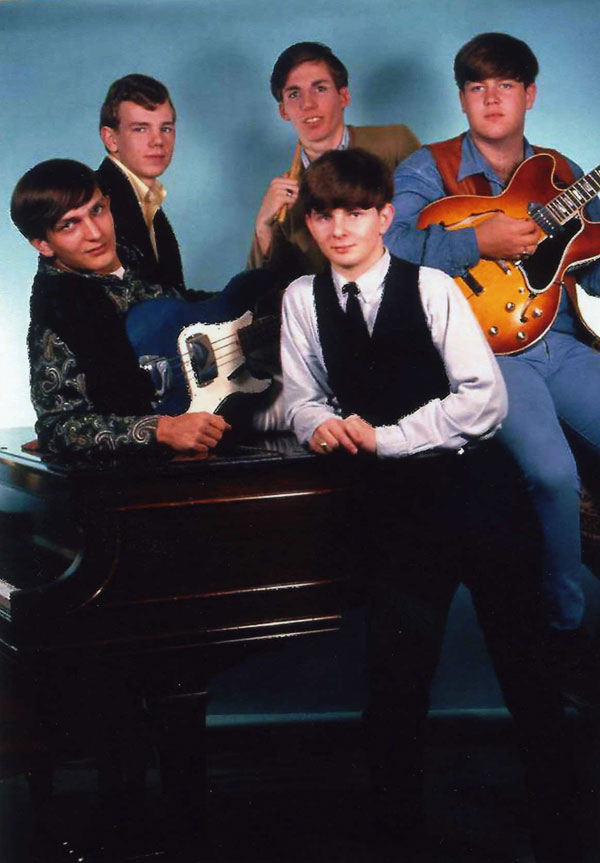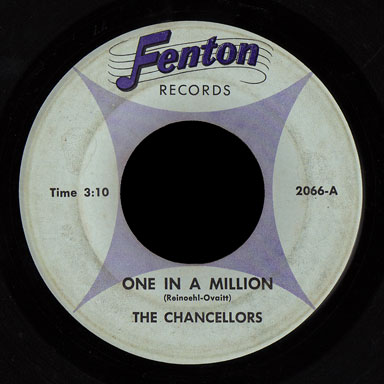 The Chancellors were a quintet from Lansing, Michigan with two 45s on the great Fenton label. Since my original post I've been in touch with Chancellors rhythm guitarist Bruce Reinoehl, who wrote up a short history of the band:
The Chancellors was a mid-Michigan band which was active between mid 1965 and late 1967. The band formed around the direction of keyboard man and lead singer Jim Ovaitt. During the summer of 1965, the group underwent several personnel changes before its final composition of Jim Ovaitt, keyboards and lead singer, Rick Garfield drums, Rick Blomstrom lead guitar and vocals, Mike Gilliam bass guitar and vocals and Bruce Reinoehl rhythm guitar and vocals. At the time we were all high school students in East Lansing and Okemos, Michigan.

Our first jobs consisted mainly of high school dances. As we continued to improve we moved up to Michigan State University fraternity parties and local night clubs. In early 1966, we cut our first record. This was the "Journey" / "One in a Million" record of which only a few hundred were pressed. Today that record is quite scarce. I can remember the fairly primitive by today's standards studio which at that time did not have the ability to double track recordings. That meant everyone had to play all parts of both songs well enough to make a record. That sounds easy especially with all of the rehearsing we had done before going to the recording studio. As with anything one makes, the builder is the one who knows where the blemishes are. There always seemed to be something that just was not good enough. By the time we were finished, I never wanted to play or hear either of those songs again. That changed when I heard "Journey", an instrumental, used by one of the local radio stations as a lead up to one of their news broadcasts.

By late 1966, the Chancellors were becoming fairly well known in the mid Michigan area. We were playing jobs in Saginaw, Bay City, Jackson and as far away as Harbor Springs. We played at nightclubs where the Byrds and Beach Boys had played a week or two previously. We also cut out second and final record around this time. This was the "Dear John" / "5 minus 3" record.

The picture which was staged on the piano was taken in at the studio of Jim Ovaitt's piano teacher. The on stage pictures taken while playing were taken at the Band Canyon a nightclub in Bay City, Michigan. Among other bands playing there were the Byrds. The pictures of the equipment were taken at Club Ponytail in Harbor Springs, MI. The Beach Boys also played that club. The motel photos were taken in Harbor Springs. Neither club is still standing.

Playing with the Chancellors was a great experience but it was also obvious that we were not cut out to be professional musicians. All of the members of the band ended up going into professions other than music. In looking back, it was a lot of work but also a lot of fun. I treasure the friendships and memories that have resulted from my experiences with the Chancellors.

Bruce Reinoehl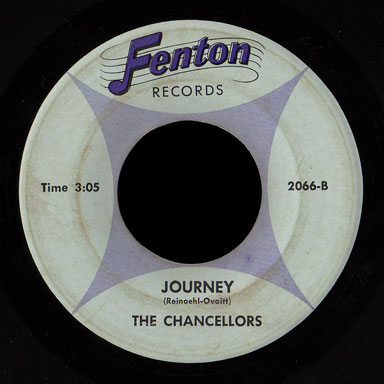 Bruce Reinoehl and Jim Ovaitt co-wrote both songs on the first 45, "One in a Milliion" and "Journey". "Journey" and "5 Minus 3" feature Jim Ovaitt's organ playing, but "5 Minus 3" is especially interesting for being a raucous duet by just Ovaitt and drummer Garfield.
The organ also dominates their first vocal song, "One in a Million". "Dear John" gives the guitarist and vocalist more room and succeeds as a pop song.
Thank you to Paul Reinoehl for helping me get in touch with his brother and for sending in these great photos, and to Bruce Reinoehl for his history of the band.
Note: one source lists this group as cutting a third 45 on Chamus: "Places We Once Knew" / "Something for Sure". However, this was a different Chancellors band out of Lincoln, Nebraska featuring Keith Goins and Max Carl Gronenthal. That band had another release on El Cid: "Everbody's Got To Lose Someone Sometime" / "It Was A Very Good Year", both singles are good blue-eyed soul with horns. Tip of the hat to Martin Hancock for pointing out this was a different band.