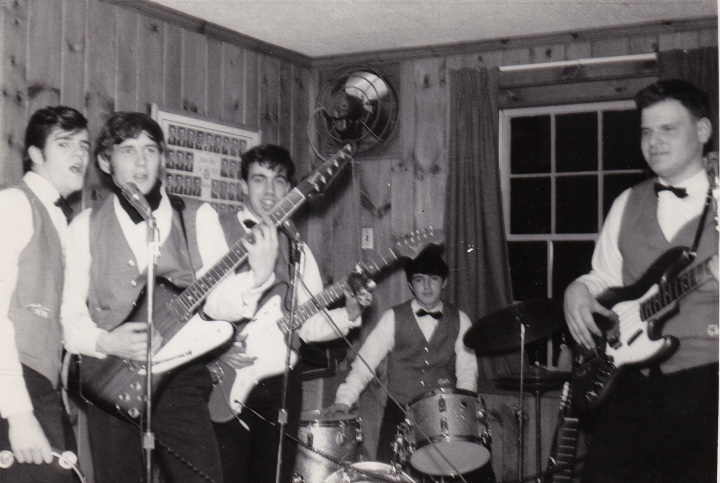 C.C. & the Chasers have just this one 45 on the Cori label from 1967, "Hey, Put the Clock Back on the Wall" / "Two and Twenty"
C.C. was Charles Currie Wicker, lead vocalist for this group from Boston. Both songs are by Gary Bonner. "Put the Clock Back on the Wall" is more famously done by the E-Types. The flip, "Two and Twenty" is well-turned twee pop.
It was recorded at Continental Studios in Framingham, MA, the same studio used by the Rising Storm. Dan Flynn ran both the studios and the Cori label.
Richard Barnaby wrote to me about the band, and Jack Bruno sent me scans of the two photos seen here. I will have a fuller story soon but for now here is a little info from Richard:
Members:

Charles Currie (CC) Wicker – lead vocals
Ted Demos – lead guitar, vocals
Richard Barnaby – bass guitar, vocals
Joe Castagno – rhythm guitar, vocals
Jack Bruno – drums, vocals

We switched from Bonner and Gordon, done largely with George Papadopolous's (Unicorn) input to a more psychedelic format called "The Sacred Mushroom", and then went to New York. After that we changed to Applepie Motherhood Band without Currie, and taking on Ann Tansey. After Applepie, the group went in many directions. Jack and I went to Florida and played with The Second Coming, and shared a house in Jacksonville with the Allman Brothers. Then Jack went with Shakey Legs Blues Band with Ted, and then Jack went with Tina Turner, and was her drummer for 15 or more years, and then he went with Elton John for about 2 years.
Thank you to Jack Bruno and Richard Barnaby for the photos and info about the band.