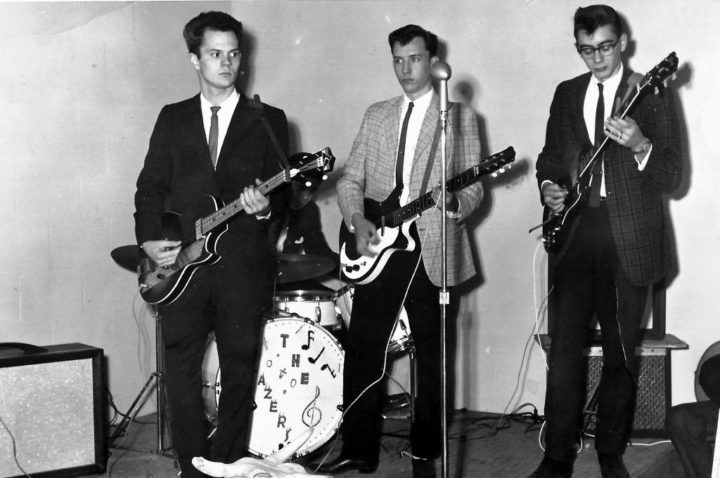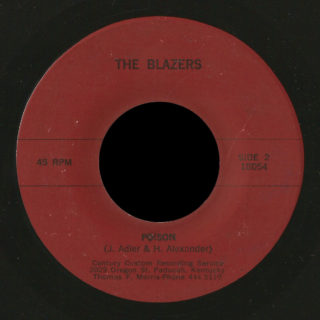 The Blazers were an obscure group who cut one fine instrumental single "Poison" / "Blue Blazin" with a Century Custom franchise out of Paducah, Kentucky, in the far west of the state.
Members were:
Bob Houghland – drums
Ron Griffith – rhythm guitar
John Adler – lead guitar
Harry Alexander – bass
Lead guitarist John Adler sent in the photo at top. Check out the skull in front of the bass drum, not to mention the instruments: a Kay Value Leader bass, a Danelectro Shorthorn double-cutaway, and a Gibson SG.
"Blue Blazin" was the original A-side, a bluesy guitar workout with plenty of room echo, written by Bob Houghland and Ron Griffith.
"Poison" has achieved some fame since appearing on an early volume of Strummin' Mental (available now through Crypt Records). John Adler and Harry Alexander wrote "Poison".
Bob Houghland passed away in 2014.
The Blazers recorded through the Century Custom Recording Service of Thomas F. Morris at 3029 Oregon St., Paducah, Kentucky. Fellow Paducah band the Moxies recorded their great last single, "I'm Gonna Stay" / "Drinkin' Wine" through Century.
The Century Custom release number 18054 dates it to 1964.