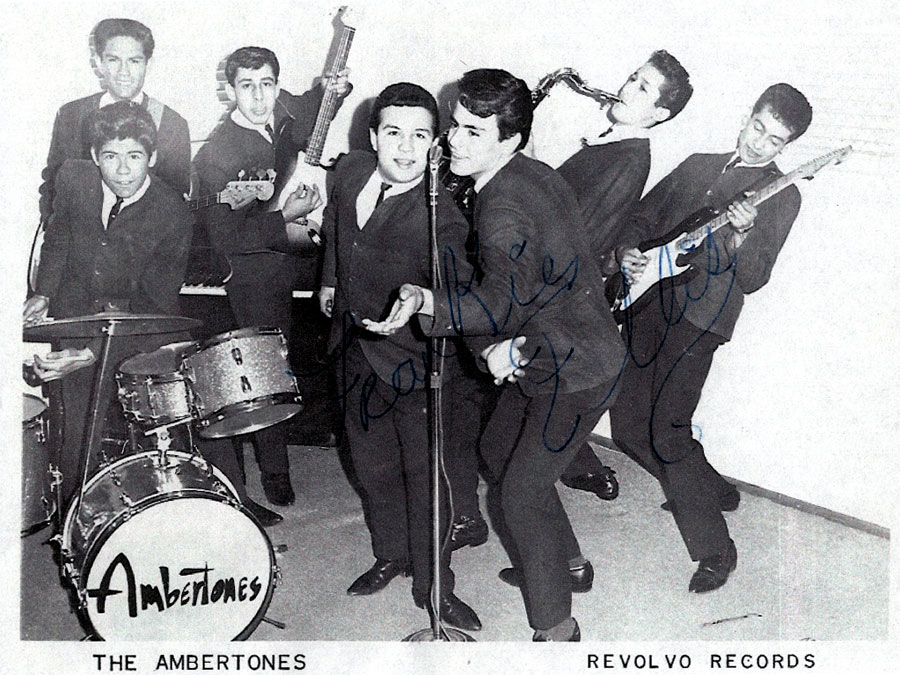 The Ambertones, from left: Jimmy Alvarez (on drums), Eddie Delgado (above on bass), Mike Sandoval (guitar), Frank Vasquez, Danny Medina, Tony Cardenas (sax), and Henry Hernandez (guitar).
The Ambertones were part of Los Angeles' fabled East Side scene along with dozens of legendary bands like Thee Midniters, the Premiers, the Romancers and Cannibal and the Head Hunters. All these groupos could play in several styles, from garage to straight soul to r&b shouters and ballads.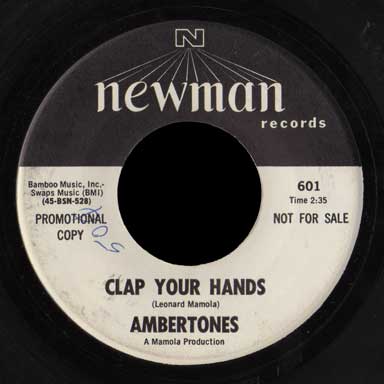 The original lineup was:
Ray Arriola – sax
Henry Hernandez – lead guitar
Mike Sandoval – rhythm guitar
Eddie Delgado – bass and vocals
Danny Medina – keyboards
Jimmy Alvarez – drums
Later members included:
Frank Vasquez (Frank Olvera?) – vocals
Charlie Muñoz – vocals
Tony Cardenas (or is it Tony Duran?) – saxophone
Henry Sarnoff joined on piano and organ in 1966
Ruben Alvarez – drums
They began releasing records in 1963, with "Charlena" / "Bandido" on the GNP/Crescendo label. Next came two 45s on the Dottie label. I have never heard the first, "Chocolate Covered Ants" / "One Summer Night".
Their second Dottie 45 is a ballad, "I Need Someone" backed with an excellent garage original "If I Do", written by Eddie Delgado. The sound of the organ, vocals and guitar solo make "If I Do" my personal favorite of their records.
Originally released on a dark blue Dottie label in October of '65, it was reissued with a pale blue label, pictured here, in 1969 or later, probably because of interest in the ballad, "I Need Someone".
Their next two releases were on Rayjack. "Clap Your Hands" is a great party record, and "Cruise" is a riff on Thee Midniter's "Whittier Blvd". This 45 was also issued on the Newman label, pictured here, in 1966. Both of these were written by Leonard Mamola, who also produced all their records except their first.
"I Can Only Give You Everything" is another of their garage recordings, it too was issued on a second label, Treasure Chest.
In 1967 they signed with White Whale for two 45s in a soul style, giving them probably the best nationwide exposure of their career. "Ninety-Nine and a Half" is a fine cover of the Wilson Pickett hit, with a Sam and Dave song on the flip, "You Don't Know Like I Know".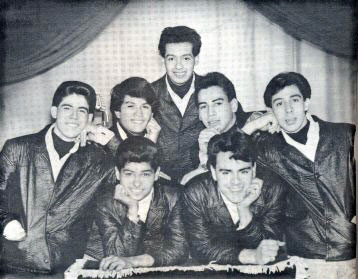 top center: Henry Hernandez
middle row, l-r: Jimmy Alvarez, Eddie Delgado, Ray Arriola, and Mike Sandoval
bottom row l-r: Charlie Muñoz and Danny Medina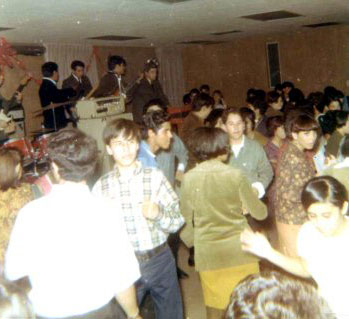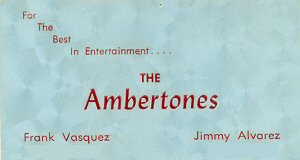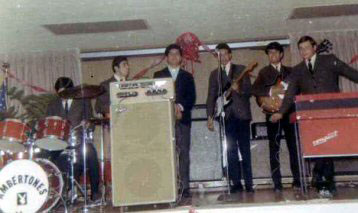 Source: Photos from collection of Victor B. and from Mark Guerrero's excellent site markguerrero.net.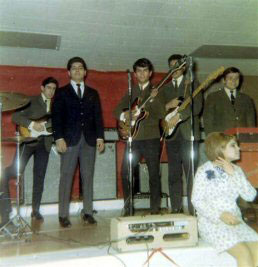 Leader of Mark & the Escorts of the classic "Get Your Baby," Mr. Guerrero has also written extensively about Los Angeles music, including articles on the Romancers, The Premiers and the Blendells. I highly recommend setting aside a few hours to look through his site.
Thanks to Danny Medina for correcting the IDs on the photos.
Ambertones 45 releases:
Charlena / Bandido (GNP Crescendo 329) – 1963
Chocolate Covered Ants / One Summer Night (Dottie 1129) – 1965
I Need Someone / If I Do (Dottie 1130) – October, 1965, repressed on pale blue label in 1969.
Clap Your Hand / Cruise (Rayjack 1001) – December 1965
Clap Your Hand / Cruise (Newman 601) – 1966
I Can Only Give You Everything / I Only Have Eyes for You (Rayjack 1002) – 1966
I Can Only Give You Everything / I Only Have Eyes for You (Treasure Chest 001) – 1966
Ninety-Nine and a Half / You Don't Know Like I Know (White Whale 242) 1967
A Million Tears / Little Bit Of Lovin' (White Whale 302) 1969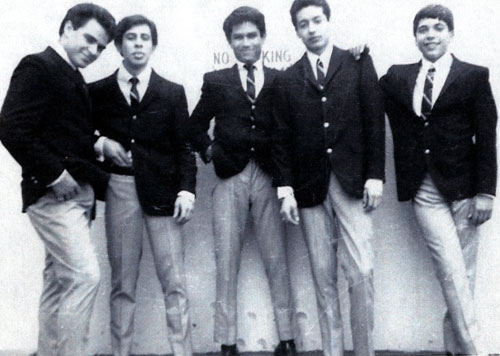 from left: Danny Medina, Mike Sandoval, Eddie Delgado, Henry Hernandez and Ruben Alvarez