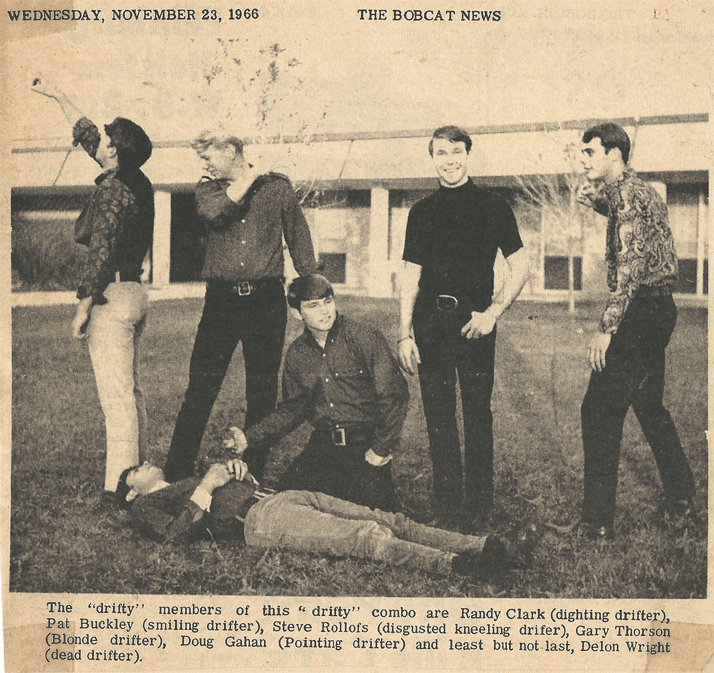 Gary Thorson sent in the news clippings and wrote to me about the Haustofs:
I grew up in Pharr, TX during the 60s and was a member of a garage band there known as "The Haustofs" (supposedly named after a German beer known for its strength). We never cut a record, but played all the popular venues (the Valley Bowl was one of our favorites), sock-hops and private parties. We even shared the stage with some of them, like the Headstones and the Playboys of Edinburg. The Souls' David Lott and I were good friends.

Our band was primarily know as being from Mission, TX because that's where our lead singer Pat Buckley (of the former Arturo and Pat hit record), our drummer, Doug Gahan, and our keyboard player, Bob Doty were from. Stephen Roelofs our bass player, Delon Wright our manager, and myself were all from Pharr, TX and Randy Clark our lead player was from Edinburg, TX.
Pat Buckley has released a single with another Mission student, Arturo Longoria as Arturo & Pat with the Invaders on the Pharaoh label, "Oh Yes Tonight" / "So Tenderly & Faithfully".
The Bobcat News profiled the band on November 23, 1966, saying the band "was assembled by Doug Gahan, a senior at Mission High."
An article in the Mission Eagle has many interesting quotes, such as Dough Gahan saying he was "'an ardent admirer of Bill Reed,' who plays drums in the Kavaliers." Another is "As far as the other groups that the Haustofs admire are concerned, the Headstones are their favorite Valley group. They like the Kinks best of world-famous groups, although they also like the Beau Brummels and the Yardbirds." It also mentions that Randy Clark of Edinburg High School had played rhythm guitar in the Tempests.
Gary Thorson adds the status of the individual band members as of today is:
Pat Buckley – Retired and living in southern Colorado
Stephen Roelofs- School teacher living in the Dallas, TX area
Bob Doty – Works for a large tool company living in Arkansas
Gary Thorson – President of a computer consulting firm living in Fairhope, Al.
Randy Clark – still pursuing his musical career in San Antonio, TX
Doug Gahan – unknown