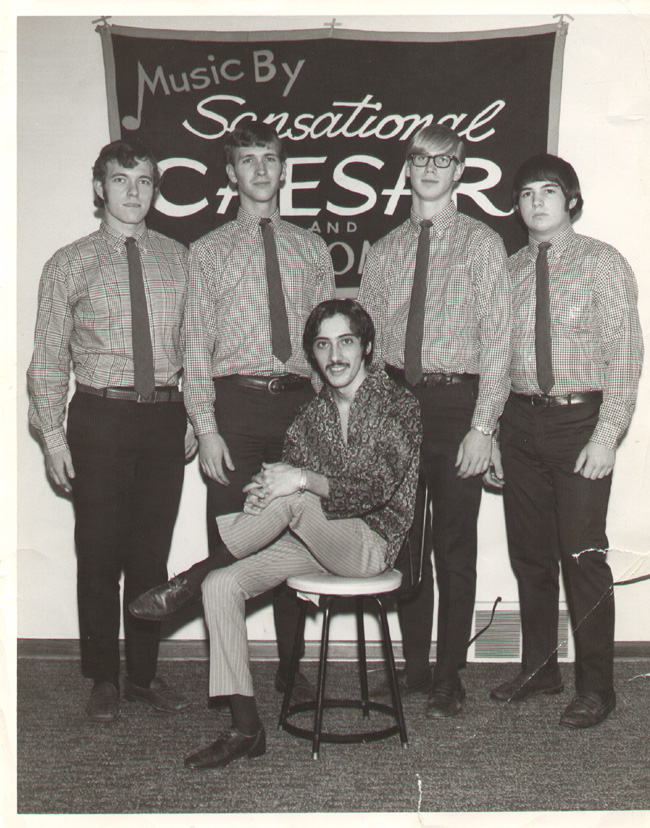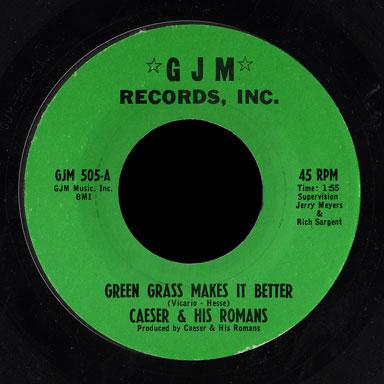 Caeser & His Romans were from Buffalo, recording two 45s on the GJM label in late '67 and 1968 before signing to Scepter for two more singles. I hadn't been able to find much about the group but some emails and comments have helped.
Vocalist Chuck Vicario stayed with the group throughout its career. Bassist John Sia co-founded the band with Chuck in 1964, and left for college in '67. Joe Hesse replaced John and then Vinny Parker replaced Hesse. Joe DeSantis was the original drummer with the group. Other members of the group included Joe Hesse's brother Jim Hesse on keyboards, Bill Burt and David Burt, and Dan Cook on lead guitar.
Both songs on their first 45 were written by Charles Vicario and J. Hesse, recording supervised by Jerry Meyers and Rich Sargent.
Rich Sargent wrote to me about his work with the band:
Jerry owned GJM Records, I worked for him, we used a few different studios. I produced "Leavin' My Past Behind" at Audio Recording in Cleveland, the same studio wher Jerry produced the Joe Jeffries gold single "My Pledge Of Love" … great studio in downtown Cleveland. I am a long time friend of Chuck (Caesar/Big Wheelie) and his late manager Fred Caserta. We met in '64 … my band and Chucks finished 1 & 2 in a number of "battle of the bands" back then.

I haven't heard "When Will I Get Over You" in about 15 years… my favorite may have been "Leavin' My Past Behind" (sure wish I could remix it) and "Baby Let's Wait". That one came close to breaking, but the Royal Guardsmen put out a version and we were done.

There was a core of players that was consistant but also a number who left, came back, left again. Dan Cook was the guitar player through all of the incarnations of Caesar and Big Wheelie. The keyboard player on "Green Grass…" was Jimmy Hesse who left to join The Road and was part of that band when they had a mid chart dingle on Kama Sutra with a cover of the Zombies "She's Not There" which was produced by Joey Reynolds (now doing late night talk radio on WOR 710 NYC and also carried on over 200 stations).

Caesar & His Romans became Caesar & THE Romans, [then] evolved into Friendship Train which was a successful club & lounge act. During one set each night as part of the act they became Big Wheelie & The Hubcaps. This became so successful that Friendship Train was dropped in favor of a full night of Big Wheelie. Their final album was released on Amherst Records in 1976. Chuck stlll performs as Big Wheelie about 10-12 times per year. He was brilliantly managed by the late Fred Caserta who went on to found Kingdom Bound which is one of the largest concert events in the Christian Music field.
"Green Grass Makes It Better" is one of their catchiest numbers, and sure seems like a drug reference to me: the world is "going psycho" but "good green grass makes it better." "Why Make a Fool of Me" on the flip is denser but excellent as well.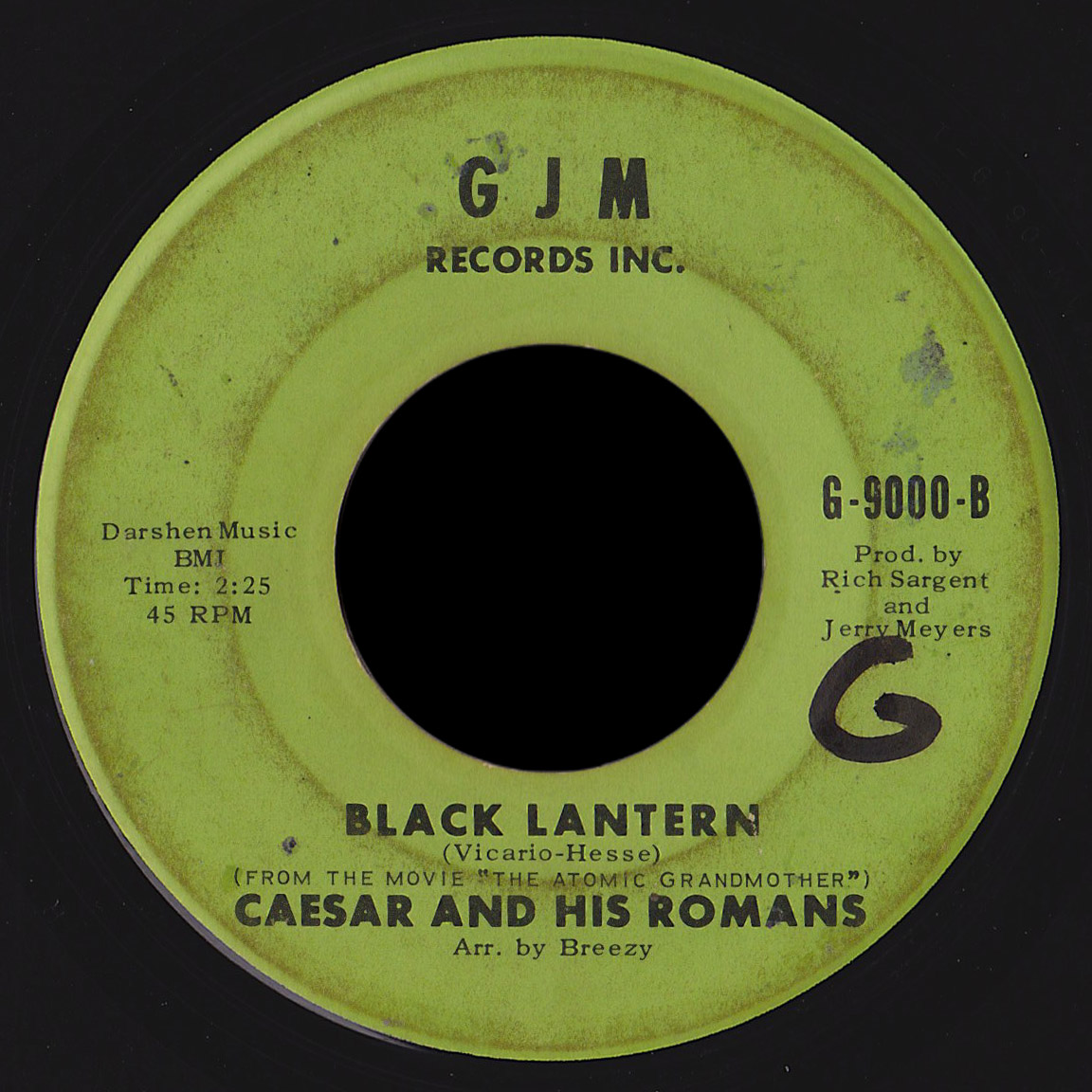 Their second record is one I haven't yet heard, "Baby, Let's Wait", backed by the great "Black Lantern", a bass-driven lament written by Vicario and Hesse. The A-side has the credit "Arr. by Beaver", while the flip says "Arr. by Breezy" and "(from the movie 'The Atomic Grandmother')" – a real production or another joke?
Instead of publishing through GJM Music like the first single, Darshen Music published "Black Lantern".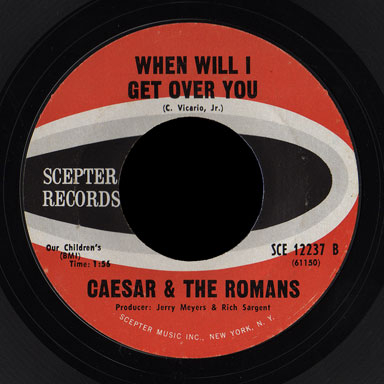 Moving towards a much more commercial direction, they signed to Scepter Records as Caesar and the Romans, releasing two 45s in 1969, both minor hits in the Buffalo area. "Baby Love" uses some fuzz guitar and heavy beats on the Supremes song, but I prefer the upbeat flip, "When Will I Get Over You", written by C. Vicario, Jr.
The A-side of their next Scepter 45, "Leavin' My Past Behind" / "Jailhouse Rock" continues their pop sound. Mike Dugo sent me photos of two more Scepter recordings by the band, "Come Little Girl" and "Come Live With Me" that were never released to my knowledge. Both are funky soul numbers.
Thank you to Diane Burt for the photo of the group at top and additional info, to Mike Dugo for the Scepter acetate photos, the promotional flyers and ads, and to Ryan Lalande for the scan of "Black Lantern".