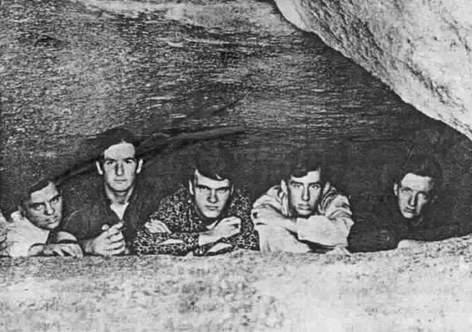 Bob Sutko vocals and harmonica, Greg Farley guitar, Allan Chitwood bass and Paul Bennett drums were the Bitter Sweets of Scottsdale, Arizona.
Their first single is the slow and melancholy "She Treats Me Bad", written by Bob Sutko and Paul Bennett with P. Boynton. I'm not sure who P. Boynton was, but a Tony Boynton played with another Phoenix group, the Young Men. It was released in June or July of 1966 on the Hype label.
For the flip, "Cry Your Eyes Out", Sutko and Farley wrote new lyrics to the music of the Byrds' "I'll Feel a Whole Lot Better", and it worked well enough to reach the charts on KRUX AM in Phoenix in September of '66.
A few months later they released "She Treats Me Bad" again on the Chari label a with a different b-side, "Road to Rann", written by Bob Sutko and Allan Chitwood. By this time Paul "Skip" Ladd from the Laser Beats joined on lead guitar.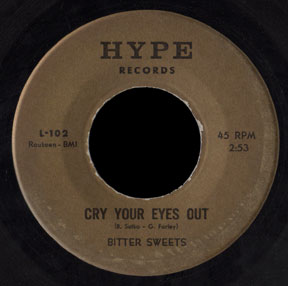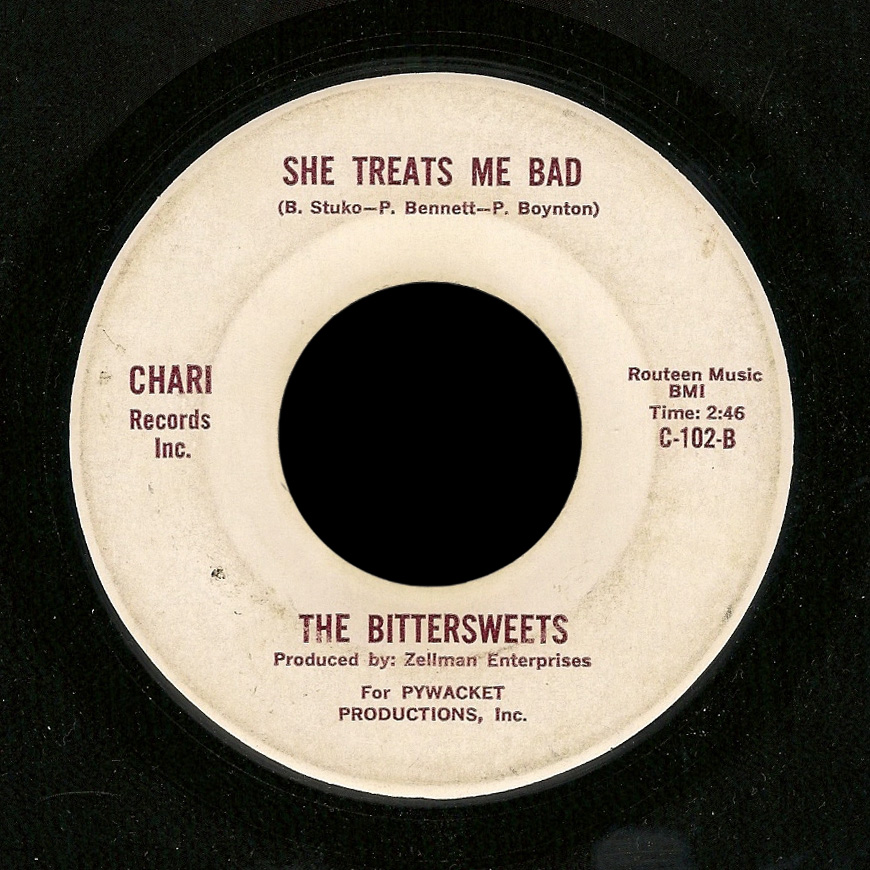 Skip Ladd wrote to me:
The manager Chari Zelman hired me to change the sound of the Bitter Sweets because they sounded too much like the Byrds. I wasn't on the Hype label 45 and hated playing "She Treats Me Bad", depressing, but it was a gig and loved playing lead guitar with Twentieth Century Zoo. I wrote the oboe parts, played 12 string parts, and the piano parts, wrote and sang the harmony parts when I was 18.

"Road To Rann" was recorded at Audio Recorders on 7th Street in Phoenix. Only rock song to start with an oboe solo.
The band moved out to Los Angeles in 1967 and released one final 45 on Original Sound: "In the Night" / "Another Chance", both written by written by T. Evans and Bob Sutko. After this 45, the band became the Twentieth Century Zoo with two 45s on Chari A. Zellman's CAZ label, plus two more singles and an LP Thunder on a Clear Day on Vault. At some point Randy Wells replaced Paul Bennett on drums.
The Chari and Original Sound 45s list the band as one word, the Bittersweets.
According to a comment below, Bob Sutko and Paul Bennett have passed away.
Thank you to Garry Baur for the scans of the Chari and Original Sound 45s and to Skip Ladd for the photo of the band.