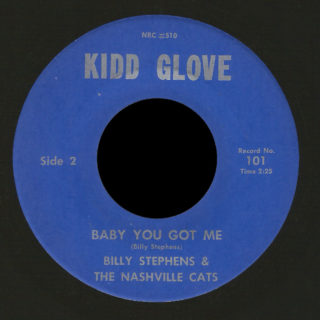 Billy Stephens seems to have been based in Belmont, Mississippi, about 45 miles north east of Tupelo, and three hours southwest of Nashville. According to a comment online, he died at age 55, which would be sometime around the year 2000. I can find no obituary or biography, but here is what I know:
Billy Stephens registered two songs in June 1963, the intriguingly-titled "Rice Paddies" and "I Need Wanda". Unfortunately, neither seem to have been released. I wonder if demo acetates exist of these songs.
Starting around 1966, he did release three singles of excellent original songs on his own Kidd Glove label.
The first was Kidd Glove 101, credited to Billy Stephens & the Nashville Casts. One side was the amazingly brooding "Baby You Got Me" while the flip is the country "Lumber Jack". "Baby You Got Me" almost defies description, not exactly garage and really has to be heard.
I'm not sure of the date for this one, the NRC # 510 indicates pressing at National Recording Corporation's plant in Atlanta, sometime between late 1966 to mid 1967.
Next he released an excellent instrumental, "Sneak Attack" backed with one I haven't heard yet, "Shirley", on Kidd Glove 301 with a redesigned label and motto, "The Sound That Leaves You Breathless".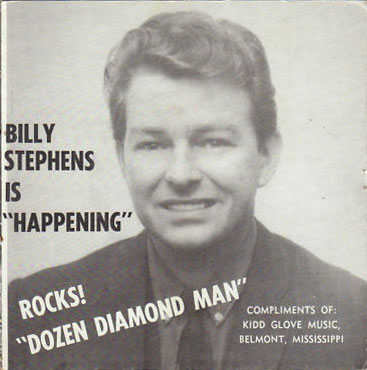 The third single was the rockabilly "Dozen Diamond Man" b/w an offbeat harmony jangler, "There's a Time" on Kidd Glove 302. Lyrics for "There's a Time" are hard to make out, but seem to be about how his teenage queen got locked up "they took her far away, said she had to pay". This single was released in 1967 with a b&w photo sleeve.
All of his songs were published by Kidd Glove Music BMI, though I can't find registrations for all of them.
Certainly this was an artist with a lot of talent and originality.