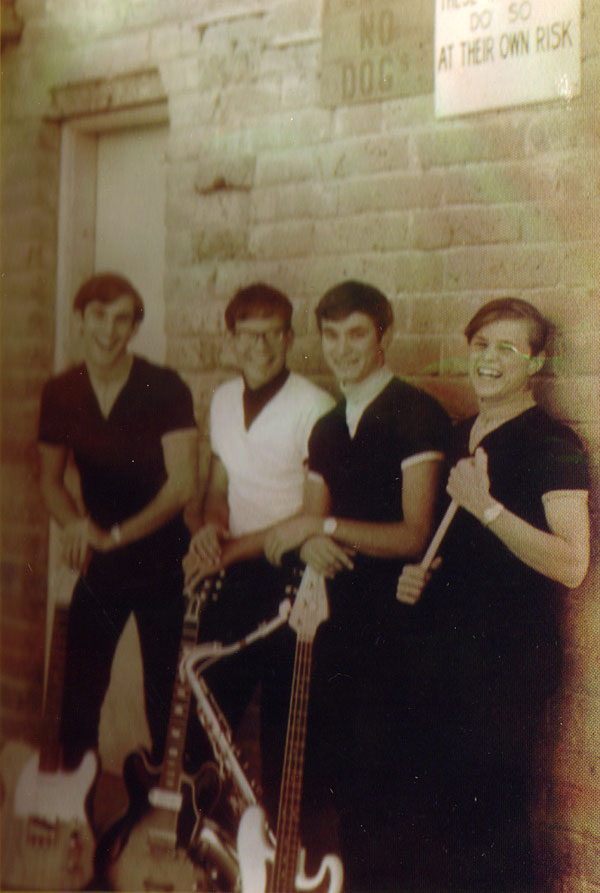 The Banshees
Updated August 7, 2008

The Banshees were students at Mills High School in Millbrae, just south of San Francisco. They had started in 1962 as an instrumental group the Black Knights, changing their name to the Banshees when they added a vocalist in '64. Members were Jack Walters, Chris Guiver and Paul and Dennis Studebaker, and for a short time Bob Morelli.

They released two records on the Solo label including the crude and energetic "They Prefer Blondes" / "Take a Ride with Me". "They Prefer Blondes" was written by Jack Walters, while "Take a Ride with Me" was by Paul Studebaker, and both songs were arranged by Paul Studebaker. Lou Dorren, a high-school friend of the band produced both of their Solo 45s, and also recorded them in a later incarnation as the Kensington Forest.

With the help of his brother, George Guiver, I've heard from founding member of the band Chris Guiver, who kindly gave a detailed history of the band. Jason Sweitzer spoke to the Banshees' friend and producer Lou Dorren about his early years as a sound engineer. Fascinating in itself, Lou's story sheds light on the Banshees progression from garage act to professional musicians.

Chris Guiver:

Jack and I knew of each other from Lincoln School kindergarten. They lived within walking distance in old Burlingame. Later, in early high school (1962-63), we became best of friends through music and life. My mom was a great singer and dancer from the 40's and apparent genetics rubbed off. I elected to learn saxophone in the 4th grade, taking school lessons. Jack was taking guitar lessons from early on too, found surf music an attraction and moved to electric – always a Fender Telecaster.

Paul and Dennis, the Studebaker brothers, were talent and intelligence beyond belief. Paul played lead trumpet in the Mills High band and orchestra. Dennis played tenor sax in the band. Paul, Dennis and I all went crazy for swing and were members of the award-winning jazz band at the high school. The three played in jazz combos, free-lance and otherwise and actually played "gigs" This is also where we connected with Jack Walters, who to this day, is viewed as a genius song writer.

At the end of that freshman year and in summer, the foursome started to play rock together. Songs like "What'd I Say" and "La Bamba" were played over and over at the YMCA dances and eventually at San Jose State frat parties. Many practice hours in the Studebaker basement began to bring proficiency, style and a great joy in music and friendships. And that is when the first recording of "They Prefer Blondes" and "Take A Ride With Me" was recorded in the hall of the Presbyterian Church (couple of mics and shared amplifiers).

Later in the sophomore year (1964), Jack, Paul and Dennis met Bob Morelli who sang like Gerry of Gerry and the Pacemakers. The four of them linked up and established great harmonies together and won the California Band Wars as The Banshees. Shortly after, missing the sax, I was asked to join again. The five-some played together for about 6 months, playing once as a greeting band for "Chad and Jeremy" and "Sonny and Cher". Bob went his way, leaving the four-some alone as the Banshees.

For the Banshees around these times, four gods began to walk the earth – naming themselves "The Beatles". Went to both San Francisco concerts.

The original "geek" of the high school, Lou Dorren, heard the group and wished to record them in his garage. That was the beginning onslaught of fantastic original material written by Jack.

Jason Sweitzer notes Lou's perspective on the first Banshees record:

The SOLO imprint was Lou's conception. He was 15 when he recorded and produced "They Prefer Blondes" in the Millbrae Presbyterian Church recreation room, with full permission of the priest! Prior to this he hadn't made any garage recordings of them.

Originally, the song was going to be titled "Gentlemen Prefer Blondes" but Marilyn Monroe had recorded a song with that title for a movie of the same name.

Using a Roberts Crossfield 770 reel-to-reel recorder and two cardioid dynamic microphones, which Lou and his friend Don purchased for the occasion from Lafayette Electronics in San Francisco, they recorded five or six takes each of "They Prefer Blondes" and "Take a Ride with Me" until the band got the one they liked.

Lou had the tracks mastered and sent to Monarch Record Mfg Co., Los Angeles. Two thousand copies were pressed circa July 1965 and the majority of them were sold for 99¢ at LeCor Camera & Hi-Fi in Millbrae, where Lou worked a part time after-school job, and at White Front Department Store in Sunnyvale, where Lou's uncle was manager.

Despite being a local success, Lou was unhappy with the sound of SOLO 1 and decided to book time at Coast Recorders at 960 Bush St. in San Francisco to record a follow-up.

At Coast they recorded "Never Said I Loved You" and "So Hard to Bear" on a ½" 3-track vacuum tube recorder. This was Lou's first shot at mixing, and SOLO 2 was pressed mid-September 1965.

These songs show the band developing their melodic side which they would improve upon in their next incarnation. Both songs were written by Jack Walters and arranged by Paul Studebaker.

With this brief stint at Coast under his belt, Lou begged manager Mel Tanner for a job and began helping out in the studio under the supervision of chief engineer Don Geis. It wasn't long before Lou made his first master cut of the Beau Brummels "Don't Talk to Strangers."

Meanwhile the Banshees continued performing, soon landing their first recording contract.


The Banshees playing in front of the Hyatt Theater, before a Chad & Jeremy and Sonny & Cher concert.





from the 1966 San Francisco yellow pages

The Ariel

In the fall of 1966 the Banshees received a deal with Bob Shad's Mainstream label, and traveled down to L.A. to record one single, the very beautiful "It Feels Like I'm Crying" b/w "I Love You."

This 45 was released as "The Ariel" on the Brent label (another company owned by Shad). In sound these songs are a world away from They Prefer Blondes, with excellent harmonies, introspective lyrics and a delicate melodic sense.

The words of "It Feels Like I'm Crying" are agonizing:

Many times I feel like screaming,
Many times I feel like dying,
Cause you you, you you, you you, you …
Lied and it feels like I'm crying, crying, crying.

Never will I show my feelings,
Never will I show the reason,
Why she she, she she, she she, she….
Lied and it feels like I'm crying, crying, crying.

Chris Guiver:

Through '65 many concerts and performances with largely original material brought an inquiry by a large record label and the band was asked to "try out" at a studio in the city. One of the other bands had a pretty good singer named Janis Joplin. Both bands were contracted to go to L.A. and record in the same studio the Rolling Stones used. What a difference from the old church recordings. Big Brother and the Holding Company could just go. The Banshees had to get parental approval. The producer then didn't feel Janis had a present enough voice and, yes, required her to double-track her singing!

Local fame had risen and a highlight moment was a senior dance at the high school. The air was sparked with excitement. Regrettably, Paul took ill and couldn't perform leaving the 3 to fake it. Paul was a year ahead and had gone off to Berkeley leaving the band without its leader and at the end of the '65/'66 year the band dispersed.

Kensington Forest

In early 1967 Jack Walters brought Lou a demo of his new song "Bells." Lou suggested Jack assemble a band and invited them over to Coast Recorders to record it. The newly named Kensington Forest included Jack Walters, Chris Guiver, Dennis Studebaker and Jack's sister. As the flip to "Bells," they recorded another Jack Walters original, "Movin' On."

While "Movin' On" was mixed to mono only, Lou made both stereo and mono mixes of "Bells," and cut separate master plates for each version himself. One thousand copies were pressed with both sides in mono and another thousand made with the stereo version of "Bells" and the mono version of "Movin' On." According to Lou, "Bells" was the first stereo 45 engineered to be fully compatible with a mono cartridge.

Pressed at Monarch in mid-to-late May, 1967, and distributed by Melody Sales of San Francisco, "Bells" was a popular regional hit during the summer.

Lou recalls he was driving down El Camino Real listening to "The Emperor" Gene Nelson on KYA when suddenly "Bells" was introduced. It was the first time he heard the 45 played over the radio and he describes it as a peak experience, having stopped his car mid-road to jump up and down ecstatic. Not far away the rest of the band, driving around together in Jack's car, were doing the same on California Drive!

"Bells" has a rougher sound than the polish of the Ariel 45, but the harmonies and melodic talent are still there, along with some fine guitar work. "Movin' On" shows the influence of the early San Francisco ballroom groups like the Charlatans and the Dead. If anyone has a better quality transfer of Bells in stereo, please get in touch.

Kensington Forest – Movin' On
Kensington Forest – Bells (Mono version)
Kensington Forest – Bells (Stereo version)

Chris Guiver:

Dennis and I went to San Jose State the next year as dorm-mates. We stayed in touch with Jack who went to Berkeley too but dropped out after a short time wishing to continue writing songs. After a short time, Dennis met a yogi and disappeared into the spiritual only reuniting with me at the 20-year high school class reunion.

Jack and I, with another Bob, formed a group after high school. Jack's originals, including "Oddie the Troll", were recorded but Bob was an enthusiast of "The Who", which didn't always fly even though Jack was competent in the lead guitaring. I played drums. The group did record probably Jack's greatest work "Wine Flower" for the guy who produced "Go Granny Go!" in L.A. "Wine Flower" included a string section with tremendous arrangement and harmony – along the lines of the Banshees' "I Love You". It is a great misfortune that Jack took mentally ill shortly after.

Gypsum Heaps

Paul Rose of Fantasy Records took an interest in "Bells" and introduced Lou to Max Weiss and Saul Zaentz. After hearing "Bells", Max offered to distribute Lou's fledgling Bay Sound Productions and gave Lou a job as sound engineer with Fantasy.

In late 1967 Lou placed audition ads in the San Francisco Chronicle and Examiner looking for new bands to record for Bay Sound Productions. By the end of the year he began releasing records on his new Onyx label, one 45 each by the Styx (Onyx 2200); the Tears (Onyx 2201); Weird Herald (Onyx 2202); and Gypsum Heaps (Onyx 2203); with Mark Darnell an unconfirmed 5th artist.

Chris Guiver:

I continued in music and minored at San Jose State, studying and playing bass. I hooked up with Rick Quintinel who became a top California drummer. Rick was connected with the East Bay sound and he and I joined together as a funky rhythm section for soul bands. During that time Rick and I played jazz too and hooked up with a group in "the 10th Street House" that was music 24/7. Two cool things transpired.

By chance, I neighbored with Pat Simmons who became the founder of the "Doobie Brothers". I used to back him up on bass when all he wanted to perform was James Taylor and "would never go electric". Tommy Johnson, the Doobie's lead guitar connected with Pat at "the house" and the rest is history (noting Pat did go electric when Tommy's Chicago Blues-style got him and they wrote songs that produced a lucrative Warner Brother's deal.)

Wandering through the East Bay sound playing funk, Rick and I formed a band called "Gypsum Heaps". Full rhythm section, organ and horns. The singers were Rufus Miller, the original lead singer for "Tower of Power" and Rat his gospel cousin. Hot. I wrote a song called "Would You Love", which was recorded at Fantasy Records – the other side of the record was the Banshees' "Movin' On" by Jack Walters. One can easily imagine the song arranged as a "Tower of Power". The release landed a concert for 20,000 people with "Santana" as the headliner. The Banshees lived on.

The Banshees were a unique bunch with a great love of all types of music, deep friendships and many talents. If an arrangement called for it, one might say to the other – "I think it would be better if I played guitar and you played drums so I can sing easier". The other would respond – "Sounds good, lets do it".

It is a great experience and honor to have played with and known The Banshees, The Ariel and Kensington Forest all of whom were the same guys in different musical venues. It is a trip after 40 years to once again hear some of our music through the efforts of Garage Hangover.

Thank you to Dan for the clips of "Never Said I Loved You" and "So Hard to Bear". Special thanks to George Guiver for the photo of the band playing outside the Hyatt Theater, and for putting us in contact with his brother Chris.

This article written by Chris Bishop and Jason Sweitzer.