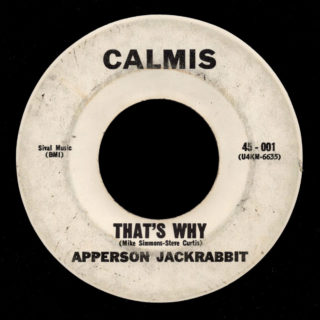 The Apperson Jackrabbit have remained a mystery despite the quality of their single on Calmis. One side is the brooding "That's Why" which has long been a favorite of mine after hearing it on Tony the Tyger's Fuzz, Flaykes, & Shakes Vol. 4: Experiment in Color. The flip is the intense "Shadows Falling".
Both songs were written by Steve Curtis and Mike Simmons, and it was released on Calmis 45-001 in the first half of 1967. The record is most often found in California, but a contributor to 45cat, Deadwax, found an address for the song publisher, Sival Music at 335 N Southland Dr. in Jackson, Mississippi 38212 in the The Musician's Guide: The Directory of the World of Music (1980). If this seems an unlikely connection, it makes much more sense when looking at the label name, Calmis (Cal-Mis, get it?). What that connection is, I have no idea at this time. Nothing else was released on Calmis that I know of.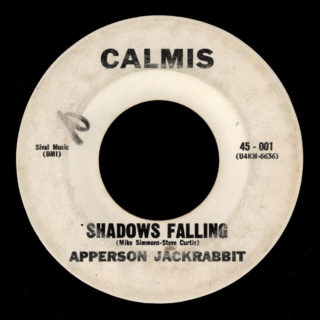 The band was named after a stylish line of autos manufactured in Kokomo, Indiana in the early twentieth century.
There is another 45 by the Apperson Jackrabbit, "Candy Cane Sound" (John R. Bicknell) and "More Than Just Friends" (Stan Smith), on Steamer Records 001 with publishing by Club Miami. I don't have this record, but I suspect it is a different group as the credits are completely different and the pressing was done at King instead of an RCA custom.
I did find one listing for a group called the Apperson Jack Rabbit with Smokey playing at the Sleeping Lady Cafe in Fairfax, CA in 1973, but that seems to be too many years out to be this group.