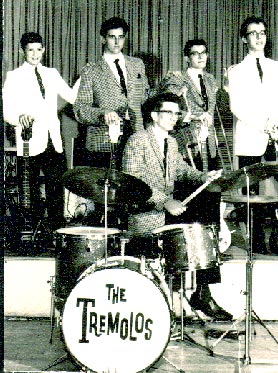 Drummer Tom Durr tells the story of the Tremolos, a band that never released a record but whose name is probably familiar to club goers in the Shreveport area in the mid 1960s.
My name is Tom Durr. In 1964 Bob Fell, Mike Tinsley and I formed the first garage band in Bossier City and possibly Shreveport too. The band was called The Tremolos with Bob and Mike on guitar and me on drums. We played pep rallies and dances at Bossier High School, the Teen Club and Elks Club, dances at Barksdale AFB, the Shriner's and VA hospitals and later when I was at La. Tech, we played fraternity and sorority parties. We started out doing only instrumentals, mostly The Ventures, then later started doing vocal covers of hit songs.

When Bob Fell left to play the N.Y. World's Fair for the summer we got Sonny Williams to replace him. When Bob came back he formed The Group with Noel Odom. Bob asked me to play drums for The Group, but I decided to stay with The Tremolos. This is one of my regrets in life. As a result, he got Fred Engelke on drums.

When Sonny left The Tremolos he joined The Group on bass. The Tremolos went through a lot of personnel changes including Rocky Chalmiers, Pat Huddleston, Richard White and Don MacMurray with only Mike and I remaining constant. Rocky was several years younger than us, it prevented us from playing places where alcohol was sold. He was very talented and I heard he went on to study classical guitar. The Tremolos did record once in a small studio in Bossier City, but no records were ever made. We were also on a TV talent show in Monroe, LA.

My sophomore year of college, the band broke up. I quit school, joined the musician's union and started playing with a trio at The Stork's Club on the Bossier strip. Then I got drafted and had to join the Navy. Meanwhile, The Group went on to do everything I had wanted to do.