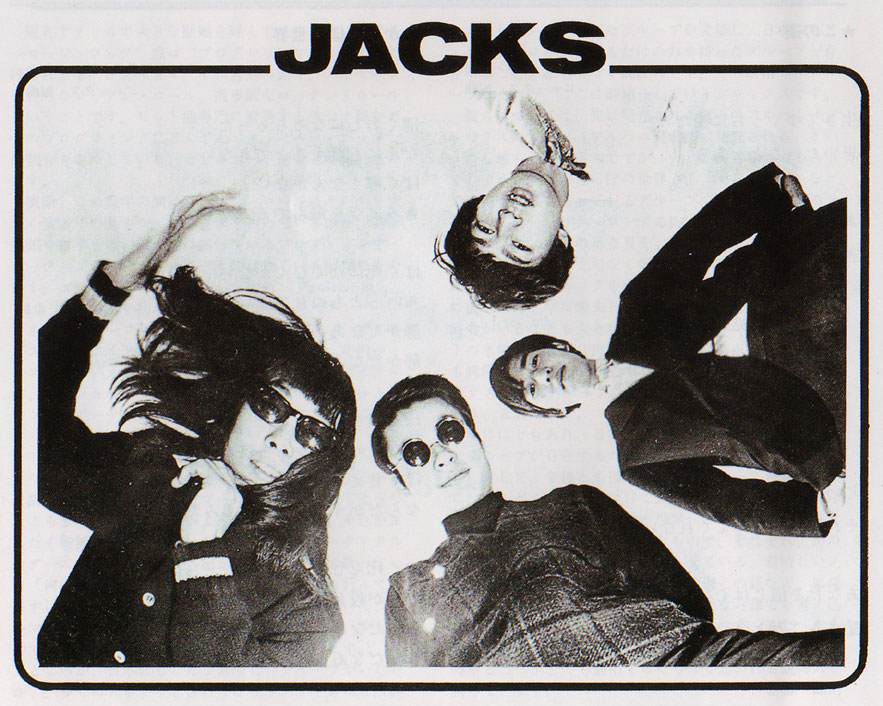 ジャックス – 'Jacks' have always been an outsider group in Japanese music, too original to fit under the Group Sounds moniker of the times. Their music was often slow, dramatic and morbid. What follows is as detailed a story as I can provide on the group without being fluent or literate in Japanese myself (any help with translating some source materials at the end of the article would be appreciated!)In 1965 Yoshio Hayakawa and fellow Wako-Gakuen classmate Suehiro Takahashi (高橋末広) were in a folk group called Eri Matsubara and the Folktrio Nightingale [kana is フォークトリオ・ナイチンゲール]. After graduation in the summer of 1966, Hayakawa and Takahashi performed as a duo at their university with the name 'Jacks'. On February 18th, 1967, the duo performed two songs on the NHK network radio show Folk Village, "Love" (遠い海へ旅に出た私の恋人) featuring lyrics by Hayakawa's girlfriend Yasuko Aizawa, and "Jijoku No Kisetsu" (地獄の季節).
By June of 1967 they had became a quartet with Hitoshi Tanino playing bass and Takasuke Kida on drums. Takahashi soon left the group so Haruo Mizuhashi joined on lead guitar. Each member would make major contributions to Jacks unique melange of styles:
Yoshio Hayakawa (早川義夫) – vocals, rhythm guitar – Hayakaya's singing is always expressive and often distraught with emotion; I would guess his vocal style (and lyrical subject matter) owes more to Japanese enka ballads than 'folk'.
Haruo Mizuhashi (水橋春夫) – lead guitar, vocals – Haruo Mizuhashi definitely plugged into the sounds coming from California in 1967, especially Barry Melton's playing on Country Joe and the Fish's first LP Electric Music for the Mind and Body. He makes good use of contrasting delicate passages with discordant stabs of solos and riffs.
Hitoshi Tanino (谷野ひとし) – Fender bass, upright bass – Tanino's bass playing is original and solid and he was their second most active songwriter after Hayakawa.
Takasuke Kida (木田高介) – drums, flute, vibraphone, tenor saxophone – Takasuke Kida's jazz-influenced drumming gives a special fury to the songs with wild fills and orchestral effects.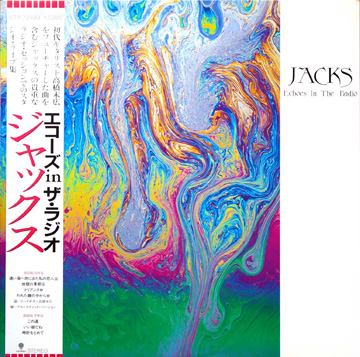 They made their first recording with this lineup on June 10, 1967 as part of another radio broadcast on Folk Village. Kida only uses a snare and cymbals on this session, featuring the earliest recordings of two of their best known songs: "Marianne" (マリアンヌ) and "In the Broken Mirror" (われた鏡の中から).On January 28, 1968 the quartet made another appearance on Folk Village, this time recording "Stop the Clock" (時計をとめて), "Ii Ko Da Ne" (いい娘だね) and "My Road" (この道), which would be re-recorded for their first single on the Express label.
The three Folk Village shows survive on the LP Echoes in the Radio released in 1986. All the songs would be revisited by the band for studio recordings in the next year.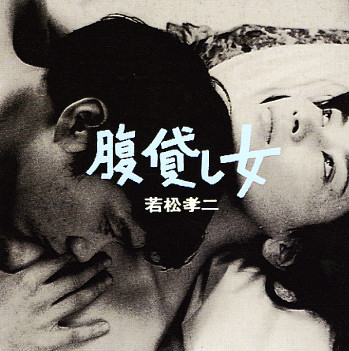 In the summer of 1967, they did well in a contest sponsored by Yamaha. Whether through attention from the radio show, the Yamaha contest or some other source, they were hired for the soundtrack of Koji Wakamatsu's film Harakashi Onna (A Womb for Let), a film unavailable on DVD in the U.S. to my knowledge.In one long session at Meguro Studio on February 3, 1968 they cut twenty tracks for the film. Most of these were released on two LPs released in 1986, Realization and Remains but the complete session is now on CD, Selected Masterpieces by Koji Wakamatsu film music series: Harakashi Onna.
A number of these songs would be re-cut for later single and LP releases: "Marianne" (マリアンヌ), "Gloomy Flower" (裏切りの季節), and "In the Broken Mirror" (われた鏡の中から). "Dm 4-50" would be re-recorded for the Super Session LP in much abridged form – here the band stretches out with a long solo passage and slower pace.
"Omae wa Hinagiku" (お前はひな菊), "Gone My Yumiko" (由美子はいない) and "Jijoku No Kisetsu" (地獄の季節) would not be remade in the studio, but each was a feature of their live and radio shows.
"Vacant World" (からっぽの世界 / Karappo no Sekai) is present, but only as an airy instrumental. Instrumentals take up half the session. "Teki Wa Toku Ni" (敵は遠くに) is slow and has a bleating saxophone throughout. "Umi to Onnanoko" (海と女の子) is also a slow instrumental, but nicely atmospheric. In addition there are six instrumentals written by Haruo Mizuhashi, of which "M-19" is one of the best.
I'm very surprised to hear Jacks cover two songs on these sessions: the Carnabeats' お前に夢中さ (Give Me Lovin' – itself a version of the Great Scots song) and the Tempters' first single 忘れ得ぬ君 (Wasure-Emu Kimi). Both would have been recent hits from late 1967, I assume Jacks dashed these off for the fun of it. To my knowledge, they never again would cover another band's song, either live or on record.
These recordings show Jacks had already established the arrangements of their original songs. On the other hand, the production is definitely rougher than their later sessions. Obviously the band was learning their way around a studio. The guitarists are sometimes out of tune with each other or with Tanino. This is especially apparent on "Omae wa Hinagiku" (お前はひな菊).
Hayakawa sounds the most confident, and has his vocal inflections down. Mizuhashi lacks the great distorted tone he'd have on the later recordings, and at times he seems still to be perfecting his leads, though for the most part he's right on. Takasuke Kida shows his improvisational skills in "Marianne", but his touch would also be defter in the near future.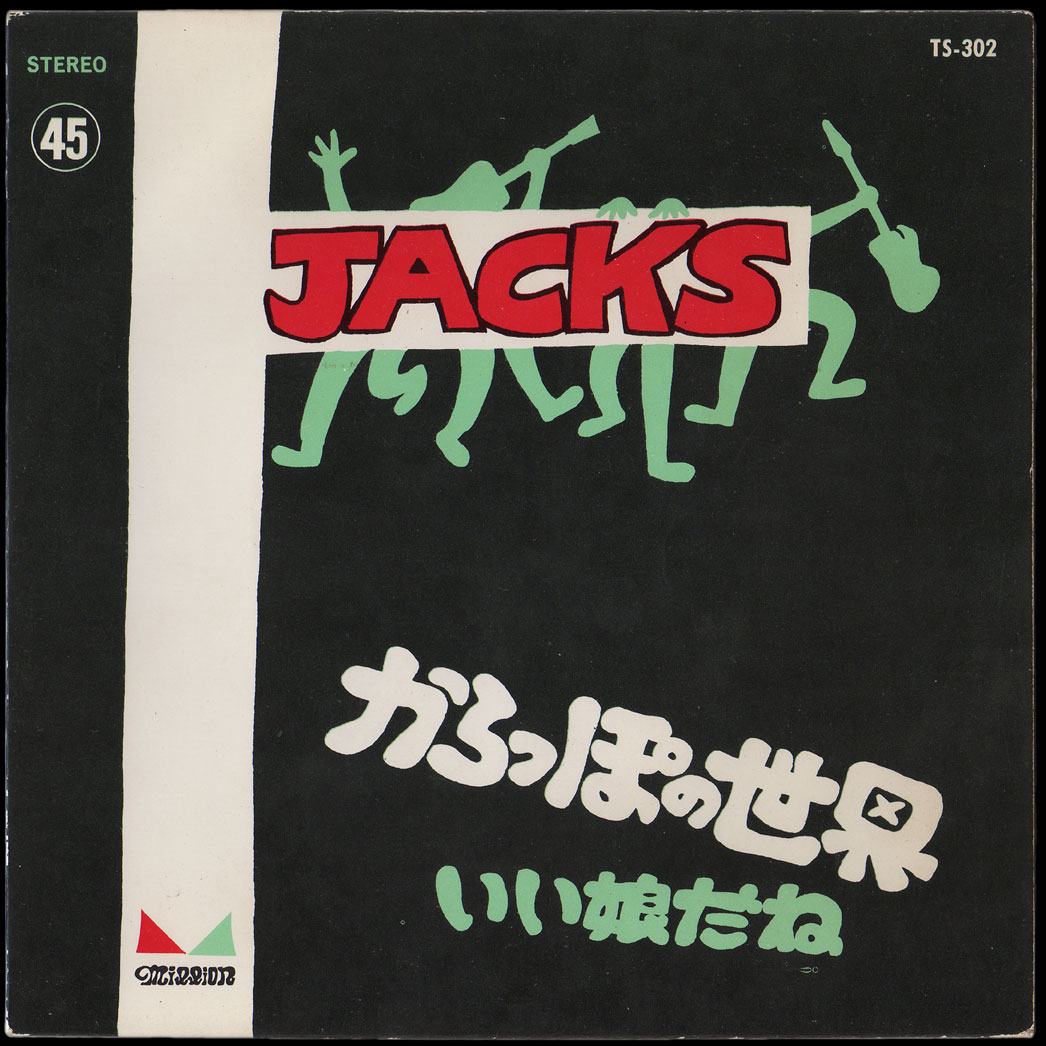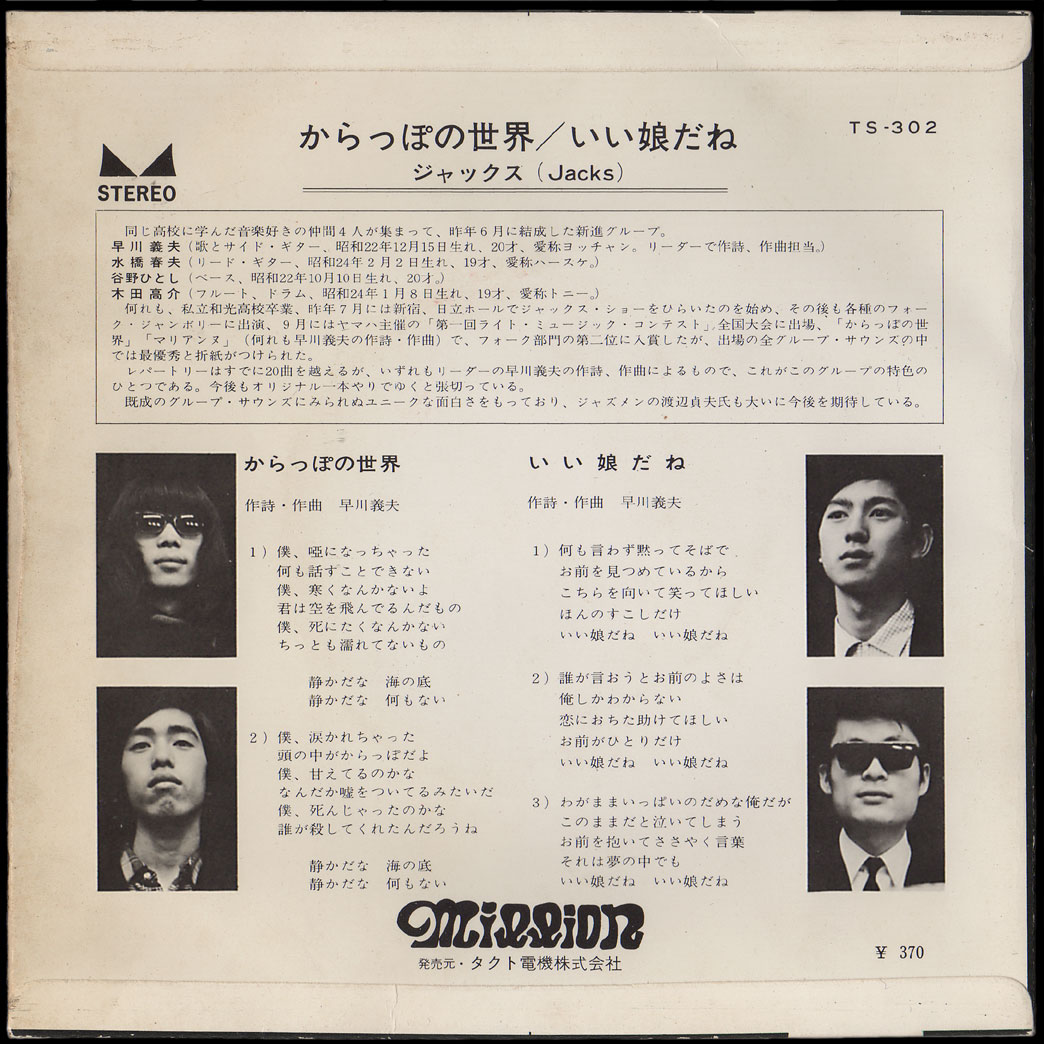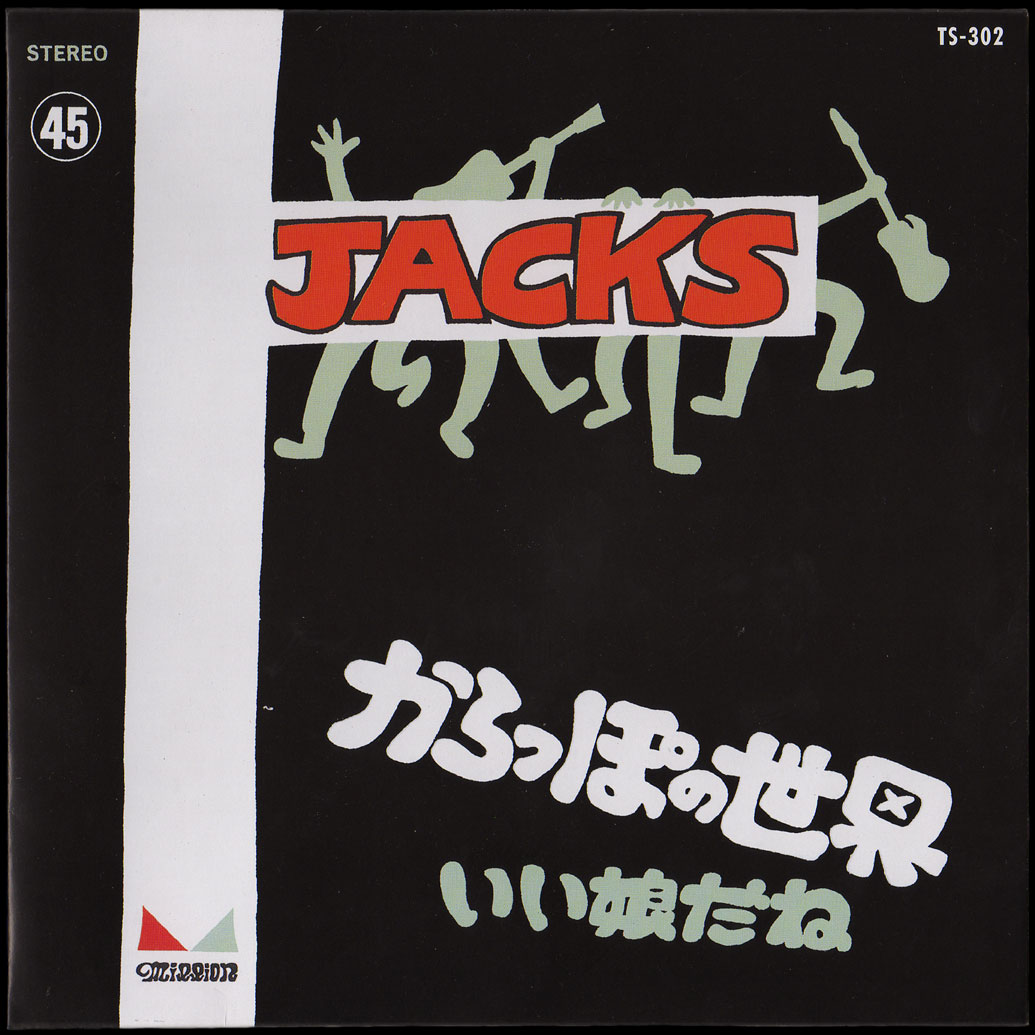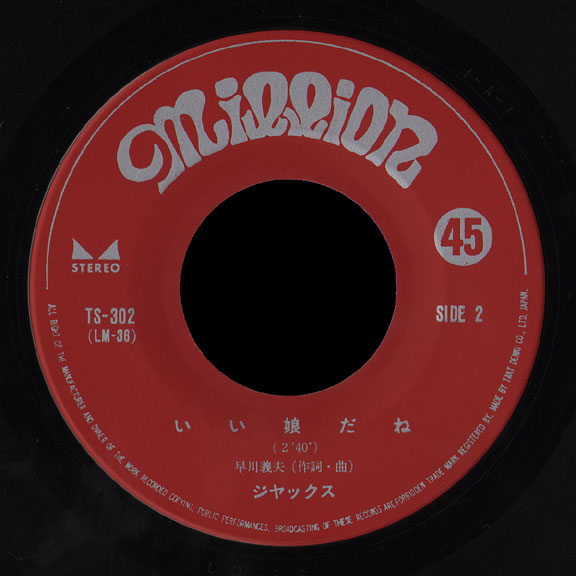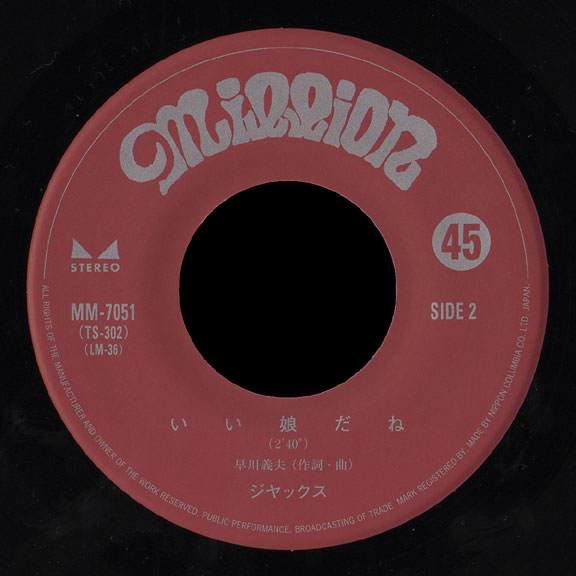 In March of 1968 Jacks released their first 45 on Million, a subsidiary of Takt, featuring "Vacant World", a bleak, languid song with words and music by Hayakawa. I've read the lyrics caused the song to be banned on radio, but since there exists a live performance of the song from a radio broadcast perhaps the ban came later. The word "唖" meaning "deaf" or "deaf-mute" may have become objectionable as an archaic or offensive term. "Vacant World" would appear three more times on 45, once on a Columbia single, and two additional times in a shorter re-recorded version used for the Express singles and their first album.
The b-side to this first 45 was a great song they had done at their first radio show as a quartet in June of '67, "Ii Ko Da Ne" (いい娘だね). I've seen translated as both "Lovely Girl" and ""She's a Good Old Girl", but a snide "Nice Girl, Isn't She" may be more apt. The verse and chorus structure is conventional by their standards. It's definitely their most 'garage' number and one of my favorites. It was not used on their two LPs, so it remains a lesser-known track.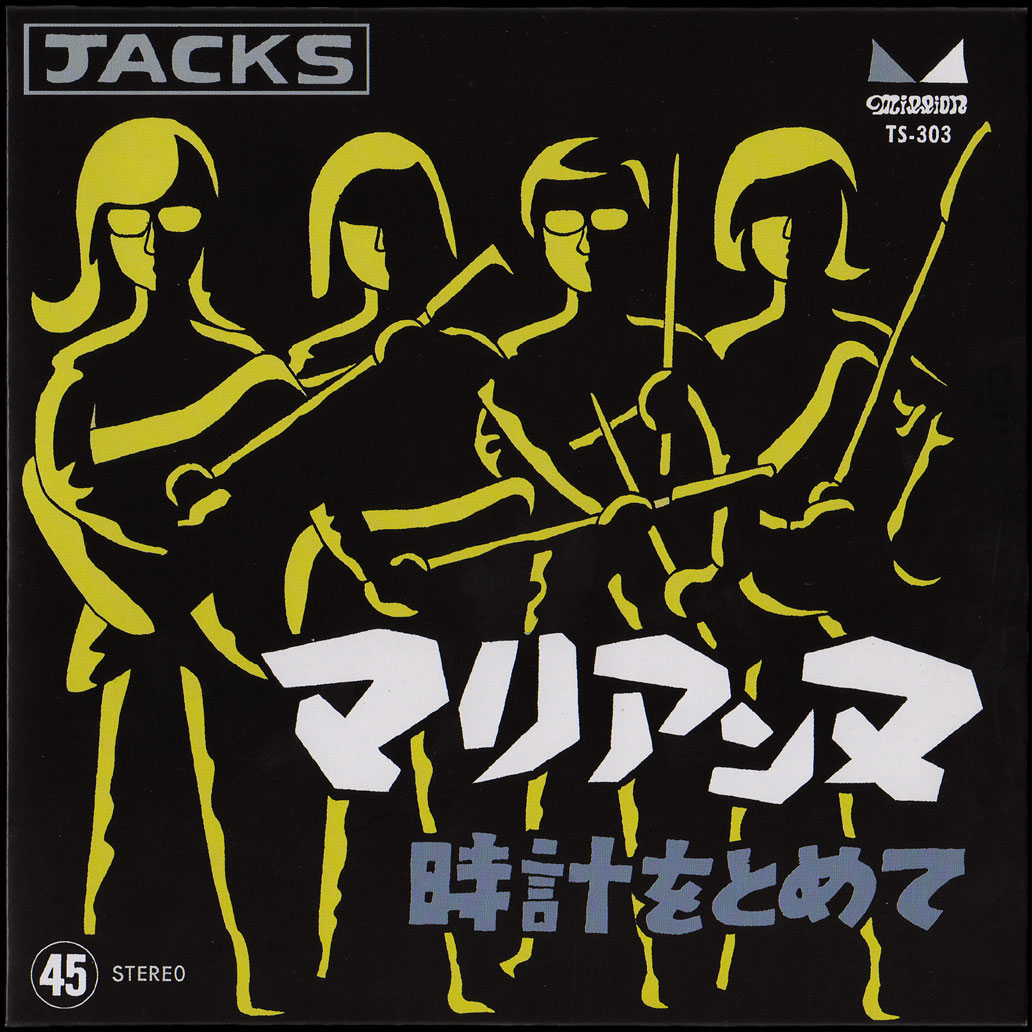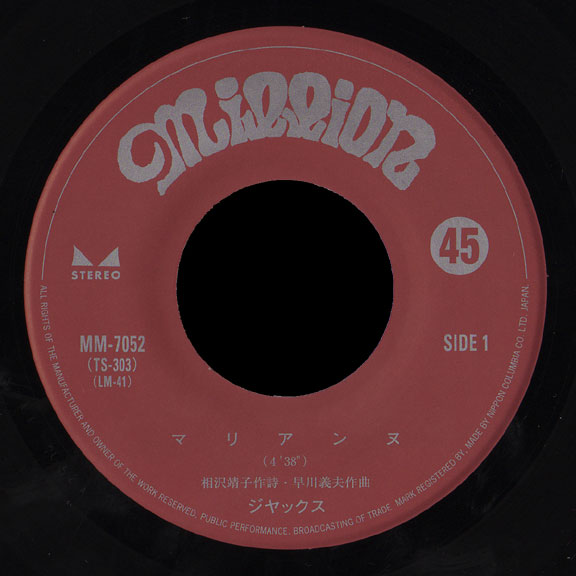 A few months later, in June, they released their second 45 on Million, "Marianne" (マリアンヌ), with lyrics by Yasuko Aizawa. "Stop the Clock" (時計をとめて / Tokei Wo Tomete) is another slow number in the vein of "Vacant World". Just as drummer Takasuke Kida had added flute to that song, his vibes on "Stop the Clock" are counterpoint to Hayakawa's voice.An amateur recording of their concert at Nichifutsu Kaikan on July 24, 1968, billed as the 2nd Jacks show, shows the group were a strong live act, performing their full range of songs with a few new compositions. "Battlefield in My Head" (敵は遠くに) / Dm 4-50 went to over ten minutes with some vamping and a long bass solo. Check out the live version of "Ii Ko Da Ne" to see how together this band could sound. This concert of fourteen songs had a private release in 1973 and a reissue in 2003.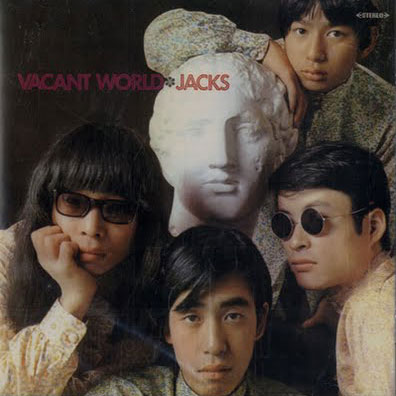 I'm not sure what kind of response or sales the first two singles generated, but Jacks received attention beyond the underground press. They signed to the Express label (a Toshiba subsidiary) and released their first album, Vacant World (also known as Jacks' World / ジャックスの世界) on September 10, 1968. Their album featured re-recorded versions of songs from the Million 45s in nearly identical arrangements.
The original issue is Express EP-7704 on red wax. There are also white-label promo copies with black wax but I haven't seen stock black vinyl of this original press. It was reissued in June of 1971 with catalog # ETP-8089 (usually found with black wax but I have seen one copy with red vinyl), again in 1976 at ETP-72177, with at least two other reissues in recent years.
Below are a few of my favorite tracks from the LP:
"Gloomy Flower" (裏切りの季節 ) is one of Jacks' most powerful songs, with a deadly opening riff by Mizuhashi. Hayakawa wrote the song and delivers the lyrics in a voice that's almost deranged at times.
I'd like to know whether "Love Generation" (ラブ・ジェネレーション) is a sarcastic view of the hippie scene or has a different message. Mizuhashi's solo here is very reminiscent of something James Gurley of Big Brother might play.
Bassist Hitoshi Tanino wrote "Bara Manji" 薔薇卍, a demented-sounding blues with a wild solo passage.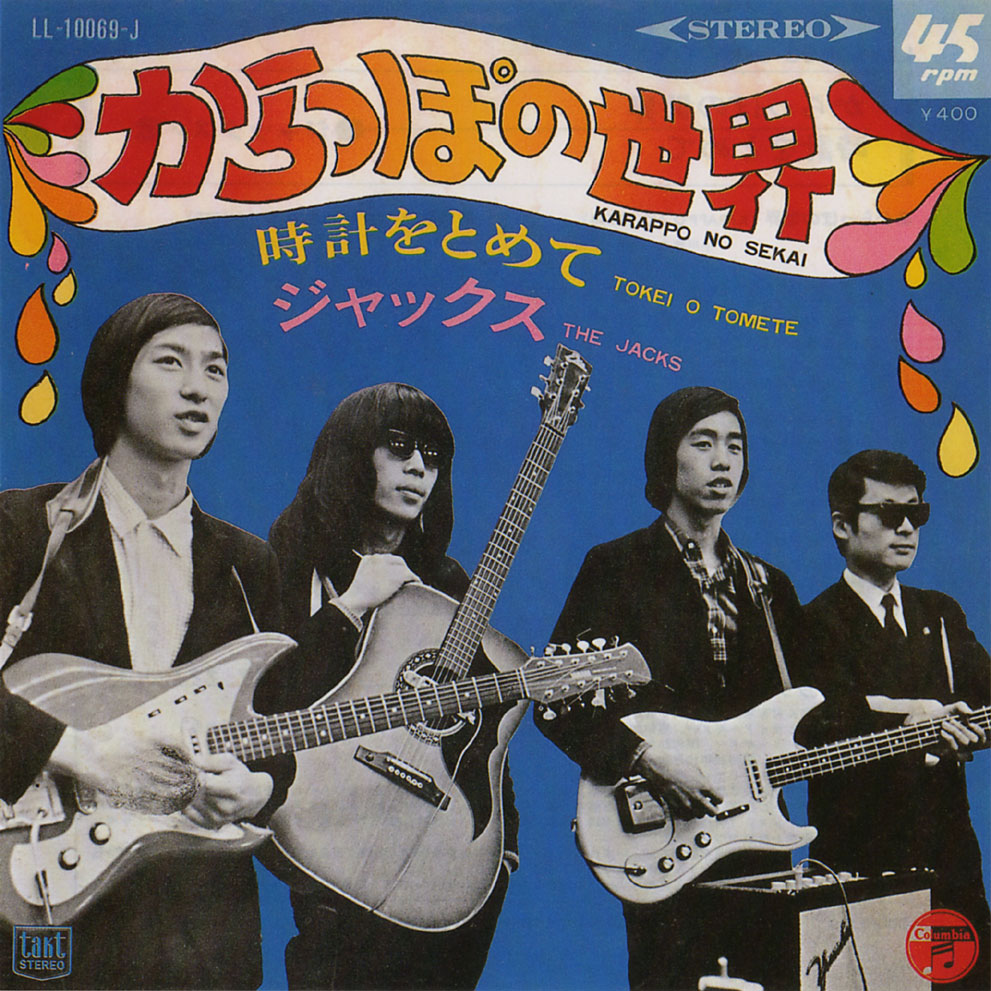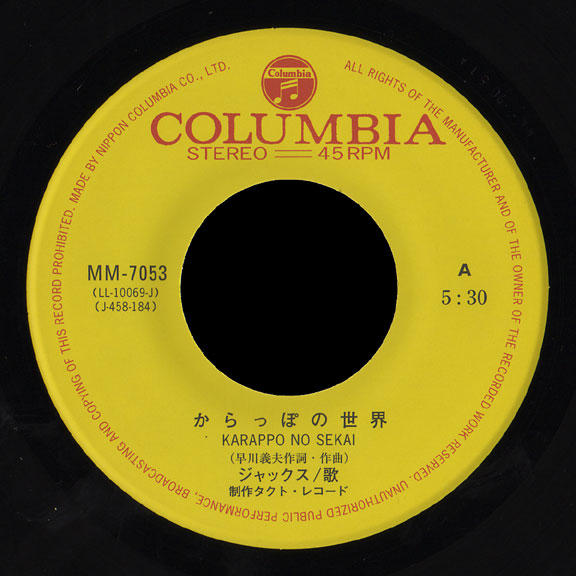 Meanwhile, Columbia picked up the Million label 45 masters of Jacks most famous downer songs, "Vacant World" and "Stop the Clock" for a major release on September 21.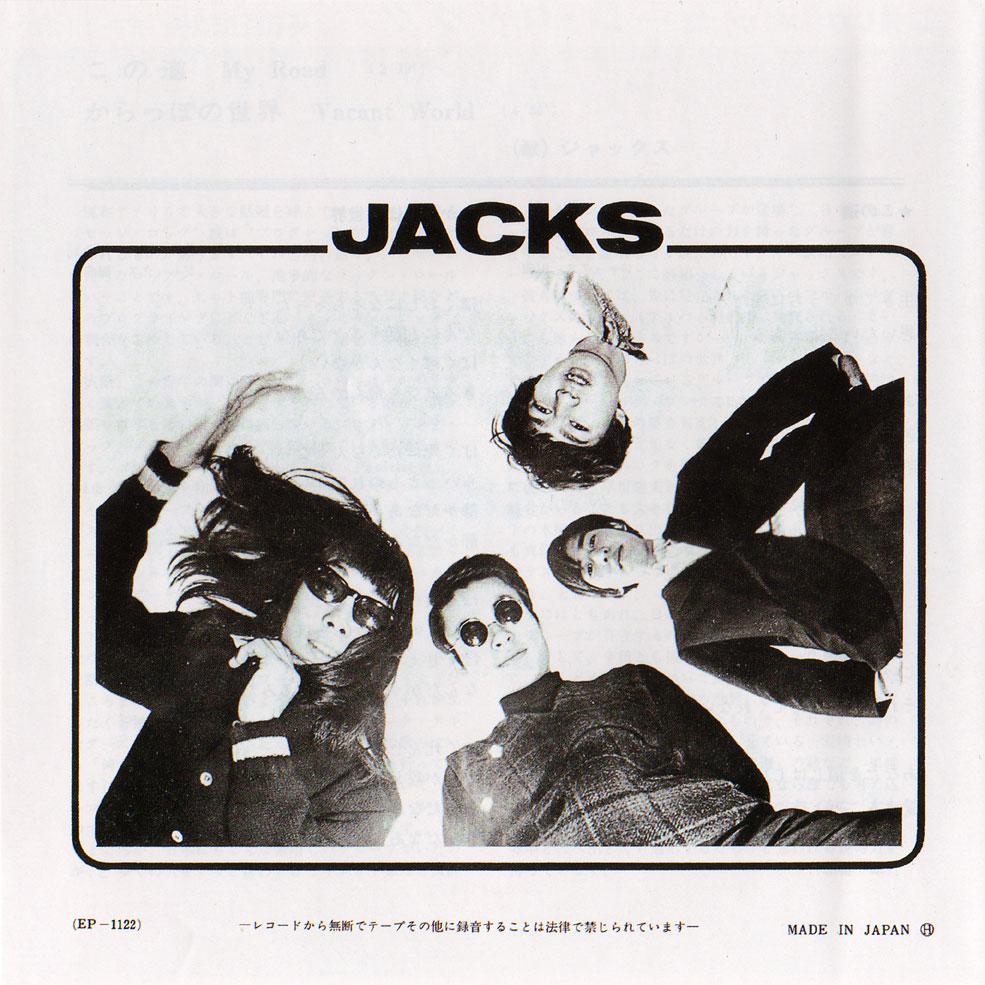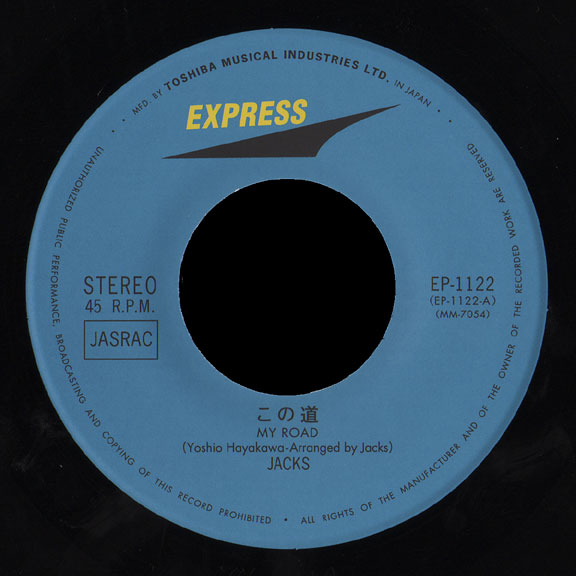 Express followed with a song not on the LP, "My Road" (この道) backed with the new version of "Vacant World" on October 1, 1968. "My Road" may have been chosen for an A-side because of its relative lightness and commercial sound. It was left off both their 60's LPs, but it did make it to their greatest hits package released in '72.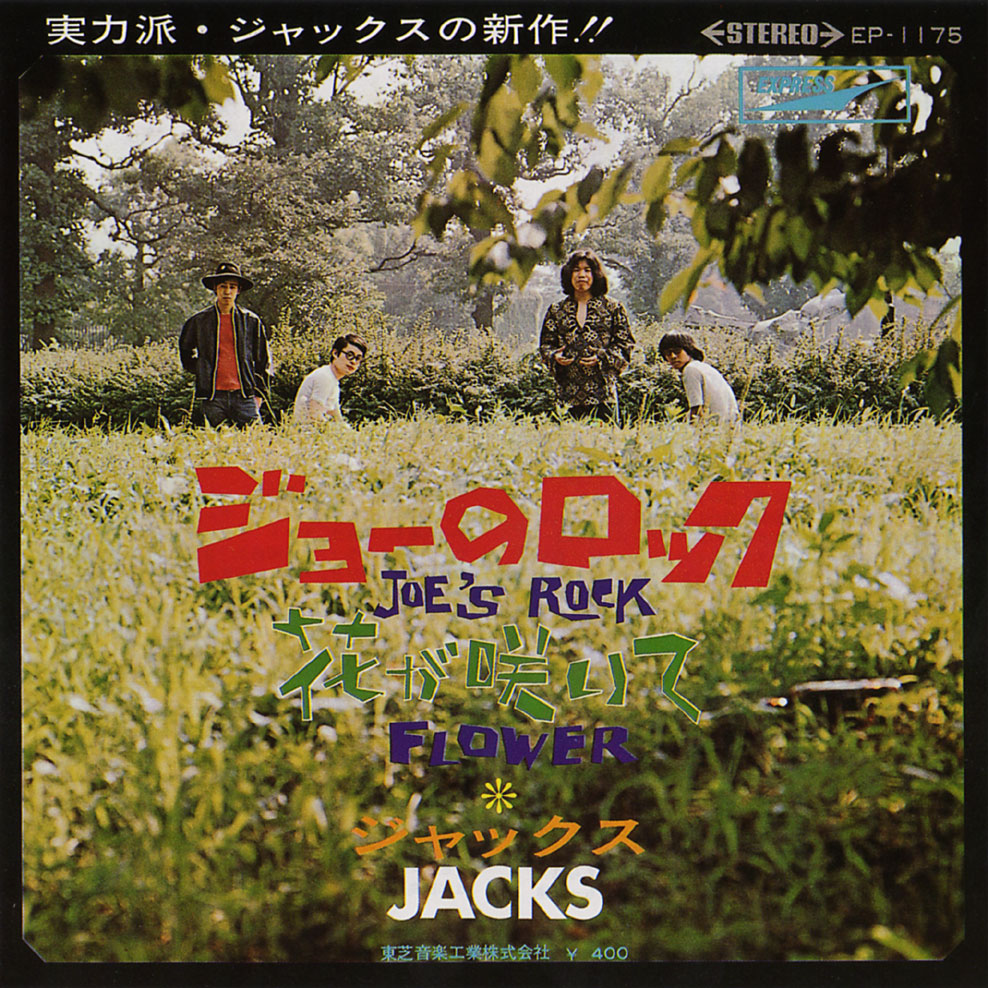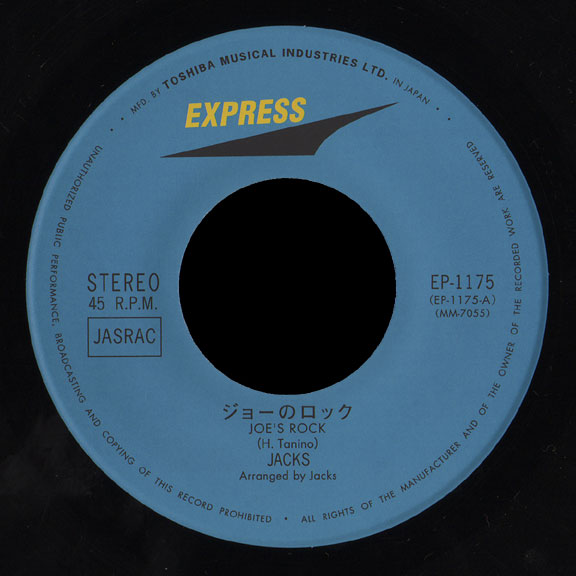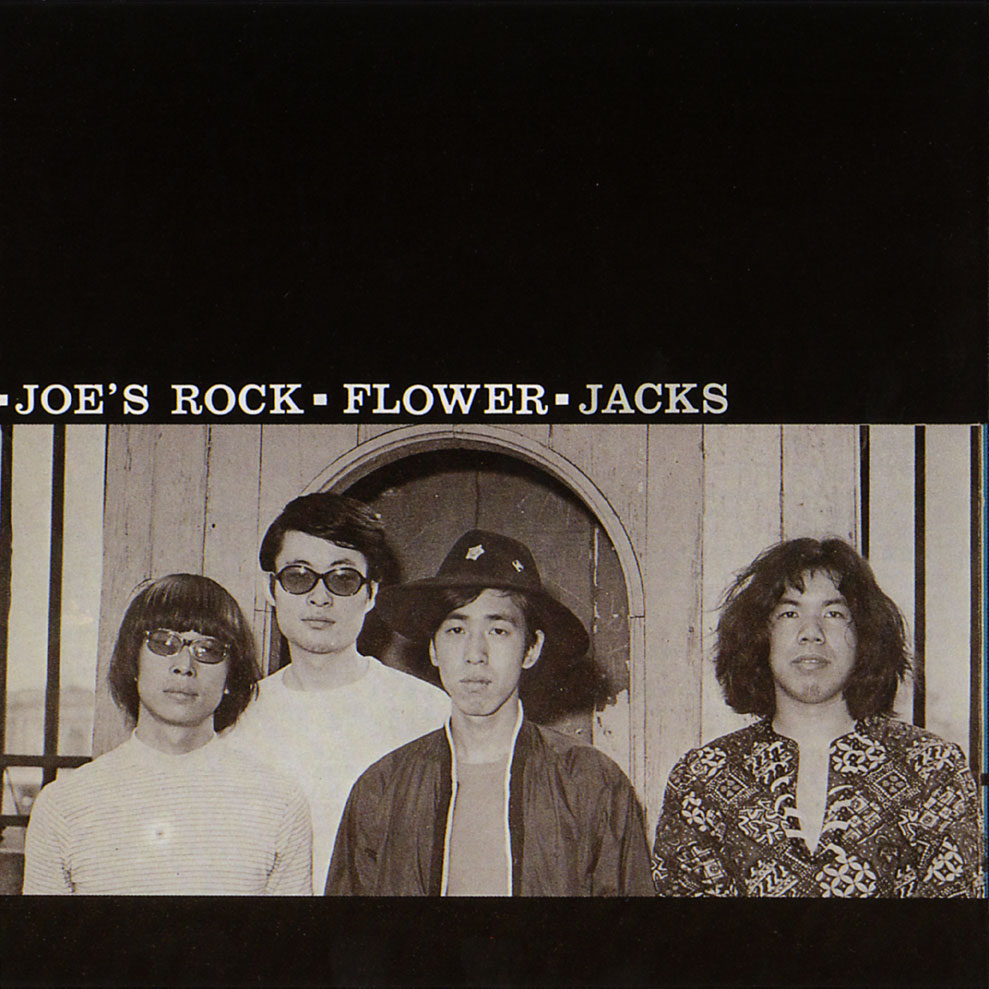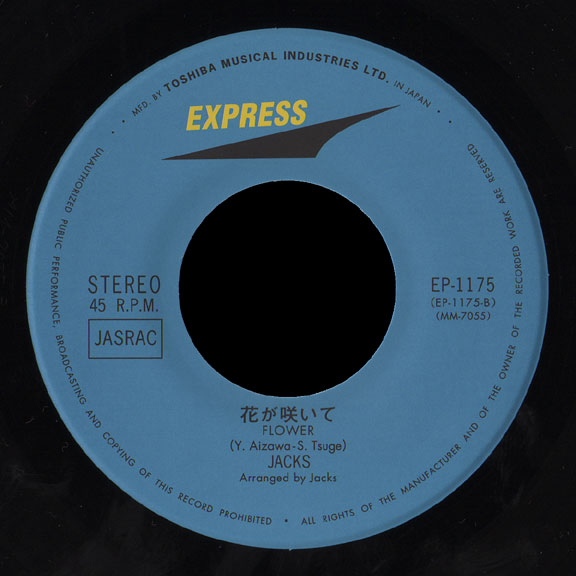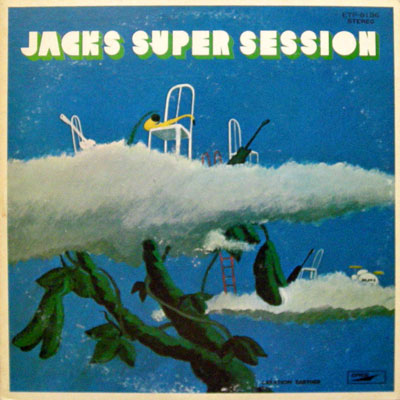 Haruo Mizuhashi left the group in November, signaling the beginning of the end for Jacks. He was replaced by Hiro Tsunoda (角田ひろ) on guitar. A year passed before Jacks released anything new, with one single, "Joe's Rock" / "Flower" out on October 1, 1969, and their second LP, Super Session(ジャックスの奇蹟 /Jacks No Kiseki) out on October 10.Super Session is a jumble of styles, including a couple songs that sound like outright parody. Despite the title, the LP was not cut in one session. Some recordings date to when Mizuhashi was still on guitar, while others feature Tsunoda, including what may be the best cut on the LP, "Rock for Fallen Angel", and his own composition, the 17-second "To Love You".
Hitoshi Tanino's "DM 4-50" dated back to their first session for the Harakashi Onna soundtrack while one of Hayakawa's two contributions to the LP, "Battlefield in My Head" had been in their live repertoire by July 1968 if not earlier. "Rock for Fallen Angel" was written by S. Tsuge, the composer of nearly half the LP and features drummer Takasuke Kida on tenor saxophone.
It appears Jacks' peak creativity came in 1967 and early '68. Perhaps the attention they received, or the task of re-cutting songs for their singles and then again for their LPs took a toll on the band's original output. By the time of the release of Super Session, Jacks had already broken up.
Yoshio Hayakawa released a solo LP that I haven't heard then retired from the music scene to manage a book store until reappearing with a solo act in the 1990's. A car accident killed Takasuke Kida in 1980. I don't know what the other members did after Jacks.The band has had periods of revived attention, first in the early 70's when their LPs were reissued and Live 68'7'24 surfaced; again in 1986 when another set of reissues was accompanied by the first release of the Realizations and Remains LPs of rare cuts and sessions from the Haragashi Onna soundtrack, along with their last 7″, a private pressing of a version of "Vacant World" with a song I haven't heard yet, "Maekojo". Additional releases have appeared in recent years, including a 12″ EP with two versions of "Vacant World" and another song I haven't heard, "Piko no Uta" (ピコの唄) plus a CD box with additional radio broadcasts and two more live shows, none of which I've heard.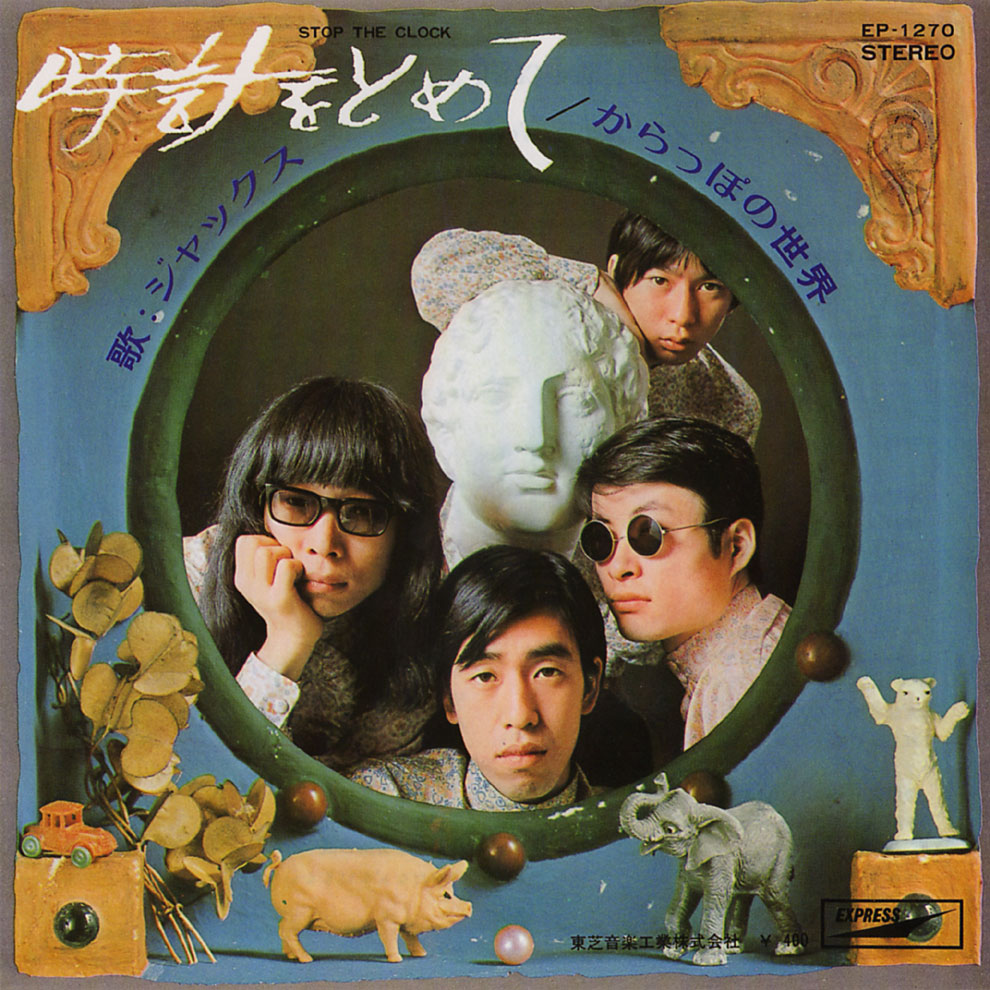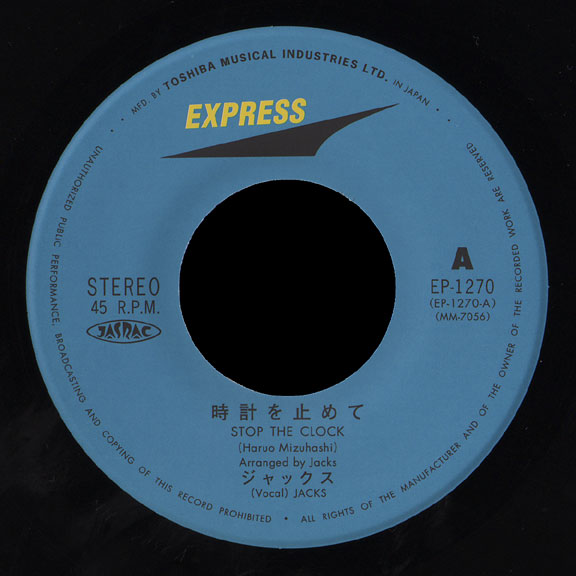 Help! – I cannot read the notes from the LPs, 45s and CDs and articles on Jacks. If anyone can help translate the vital facts and info from these source materials, please write to me at chas_kit@hotmail.com – your help will be credited, and much appreciated!Click for larger images of the scans below: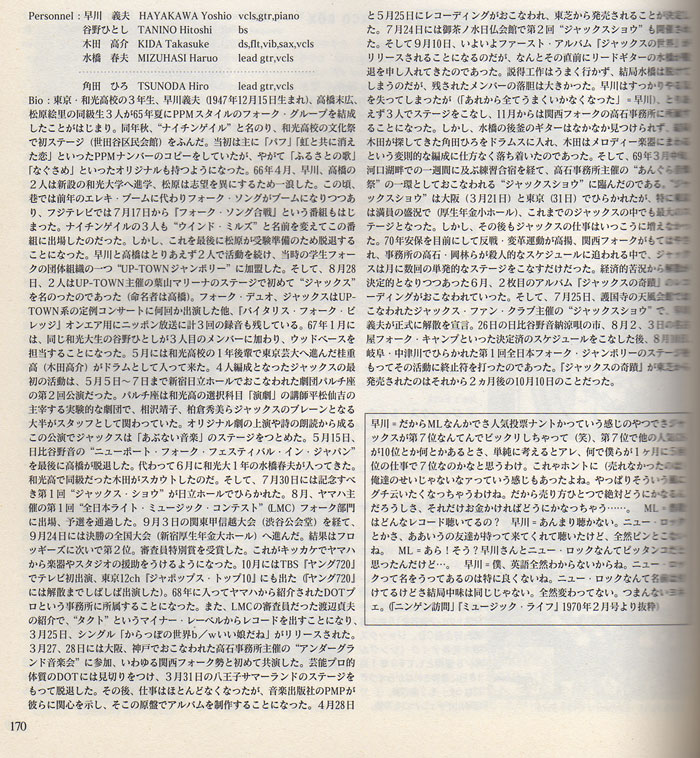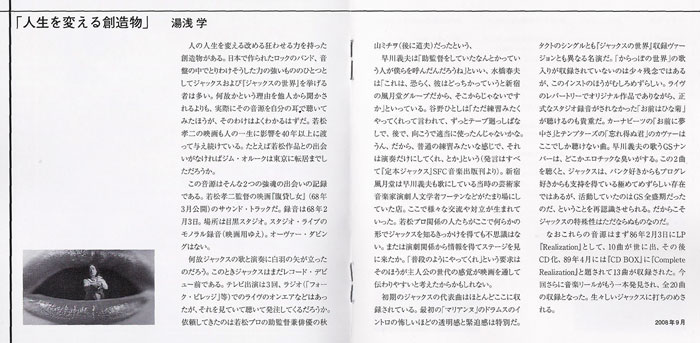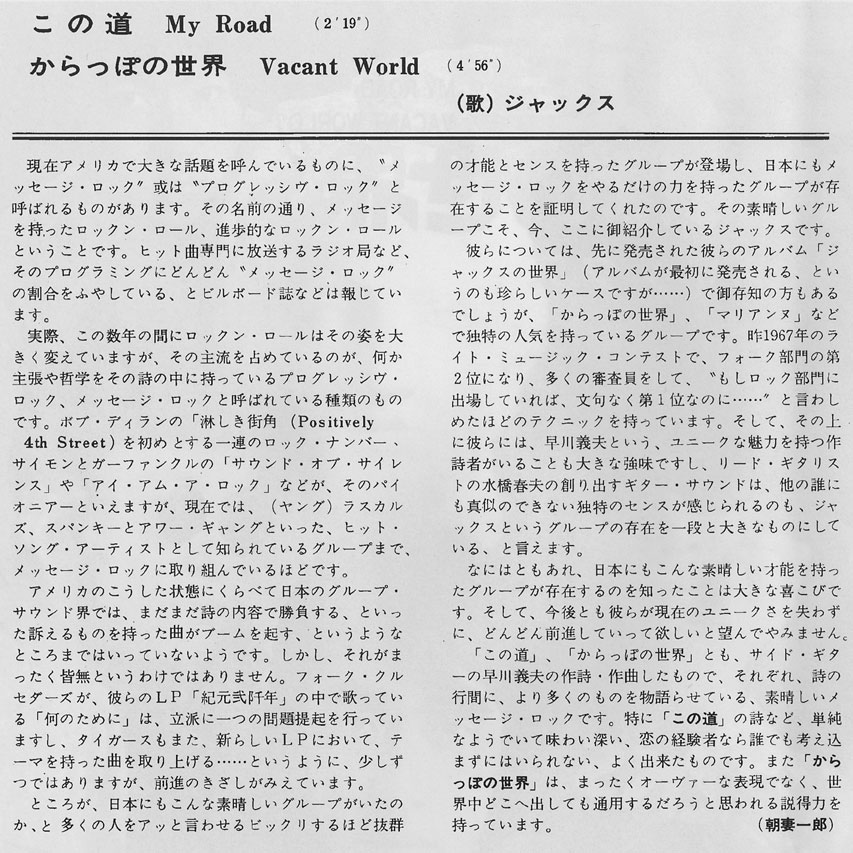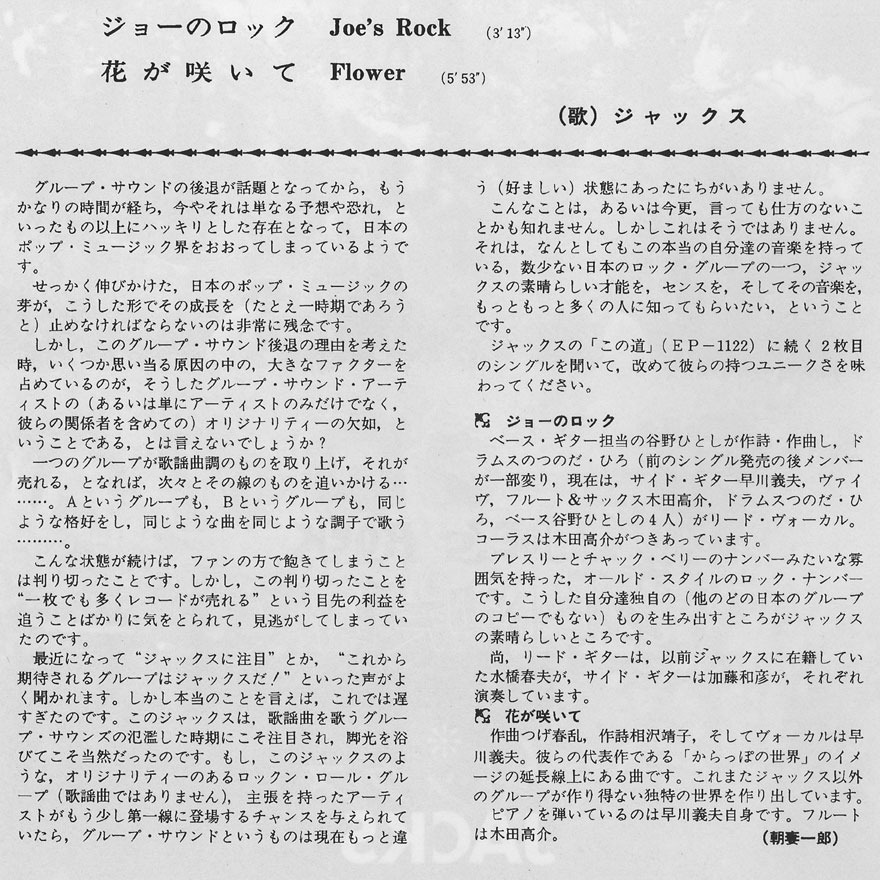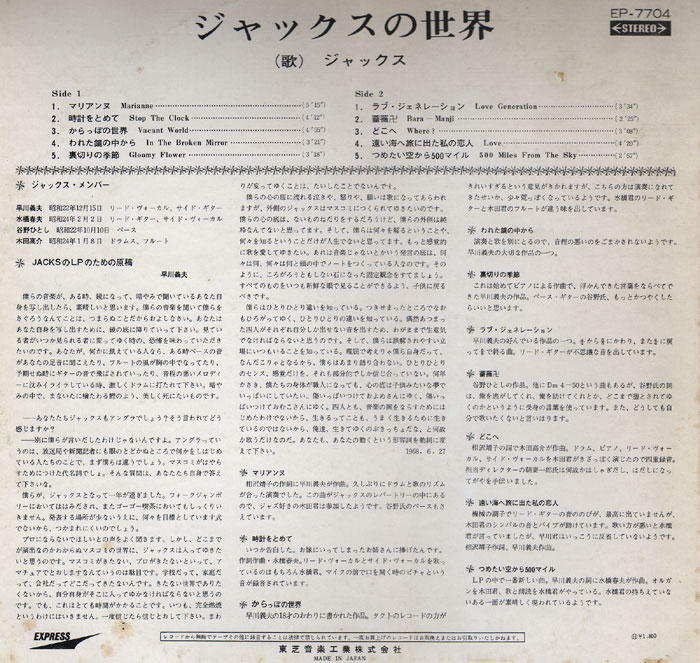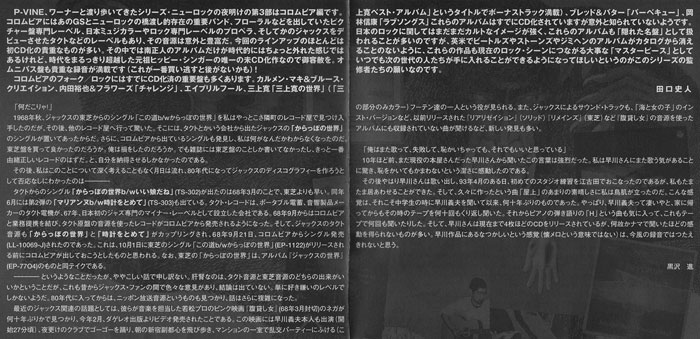 Sources include Top 100 Japanese Pop Artists site.Kurosawa Susumu's (黒沢 進) definitive catalog of 60's Japanese rock and psychedelia, Nihon Rock ki GS-hen (Japan Rock Chronicles: Group Sounds Compendium) is essential. When researching this piece I discovered Kurosawa Susumu passed away in April, 2007, at age 52.
Special thanks to Jeff Hill for helping with the Harakashi Onna sessions and to S.D. for some kana help.
I posted a very brief article on Jacks on August 6, 2004. This update published October 18, 2009.