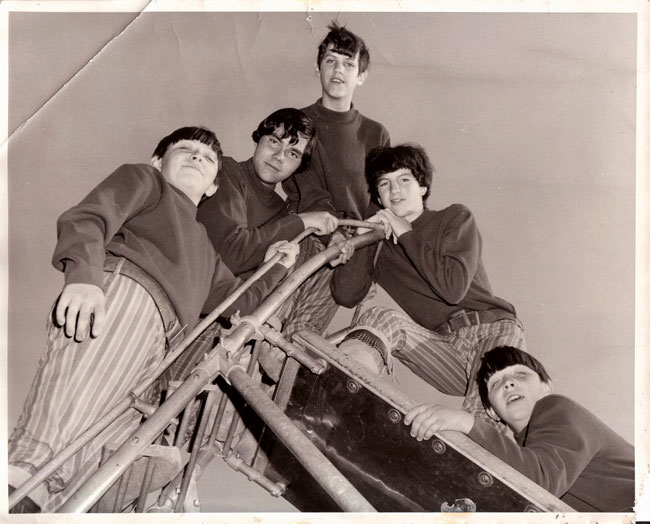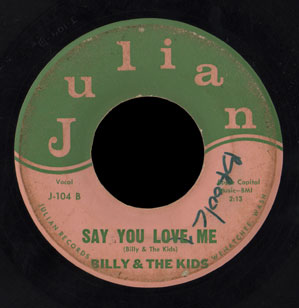 Bob Gourlie – lead guitar
Ken Laymance – rhythm guitar
Mike Rice – keyboards and vocals
Russ Wagner – bass
Bill Burns – bass and vocals
Bob Burns – drums and vocals
In the mid-60's, twelve and thirteen year-old kids regularly recorded better music than most of what has been done since by groups of any age. "Say You Love Me" is such a song, featuring a tough rhythm, vocals tossed off without a care, and some wild high-pitched screams. It even has a good guitar solo! The a-side of their first 45, "It's Not the Same" is definitely lighter pop, but will interest some listeners.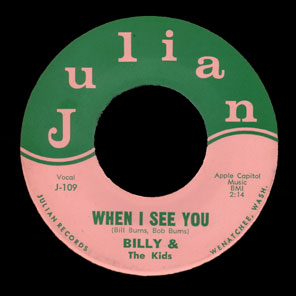 They recorded "When I See You" a year or two later, and the band is even sharper, with a fast bass line and frantic drum playing.
I've seen Loren Bolinger, who played guitar and keyboards for the Talismen also listed as a member, but I'm not sure if this is correct.
A local article wrote about the group:
'Billy and the Kids', five talented junior high school youngsters from East Wenatchee, Wash., make their professional debut on records with 'It's Not the Same,' b/w 'Say You Love Me." Uniquely, this group is comprised entirely of 12- and 13-year-old boys who write all their own material. This group consists of twins Bill and Bob Burns on the drums and guitar, lead singer Mike Rice, lead guitar man Bob Gourley [Gourlie], and Ken Laymance on the rhythm guitar. An attractive and vibrant 'go-go' girl, Pam Cartwright, joins the group for public appearances. 'Billy and the Kids' demonstrated exceptional poise on their first professional recording endeavor. 'They play the good hard rock as well as any group I've ever heard,' was the appraisal made by veteran Wenatchee disc jockey Don Bernier, who helped launch the professional careers of these teenagers by recording 'It's Not the Same' on the Julian label, a Bernier enterprise.
The band was managed by the twins' father, Oliver 'Ollie' Burns, who was also a promoter of shows in the area.
In an interview by Oktay Gurbuz, Bill Burns wrote:
My father Ollie Burns (Jollie Ollie) booked and managed us at that time. My father was the Chief Juvenile Probation Officer of Douglas, County Washington. He also was a promoter. Every weekend he would rent halls, hire bands (Paul Revere and the Raiders, The Shindig Show, etc) and have dances.

I was able to hear live music and ask the musicians questions. There was a local band The Talismen. They were older guys and Bob Burns (my brother the drummer) and I would go watch them practice. They took us under their wing. I was the bass player. I played guitar but, we needed a bassist.

The first single was released between 7 and 8 grade so [it was] juvenile. The second record ["When I See You"] only a year later was a better recording, for 8th graders. The owner of the local radio station was in on the Julian Label. It was certainly exciting.

We played in Washington, Oregon, Idaho…for kids we had a following. Opening for the Wailers, Don and the Goodtimes, Billy, Dino and Desi, etc. The two records helped.

I have a tape (somewhere) of later incarnation of Billy and The Kids that was never released.

Bob and I formed Double Image, then News, recorded with Meredith Brooks, that album was released internationally. We have a project The Called. Bob Gourley I have not talked to since.
Don Julian Bernier owned the Julian label, issuing records by Wenatchee and Chelan acts the Aztecs (actually from Waterville I've since learned), the Talismen's great "She Was Good" (Julian 105) and "I Know a Girl" b/w "I'll Take a Walk" (Julian 108), the Chargers, Blane and the Julians, Linda Jo and the Nomads, and Judd Hamilton and the Furies. Don Bernier passed away on August 30, 2010.
Mike Rice and Bill and Bob Burns formed Double Image, a group that lasted until 1972 and had some lineup changes with members including Loren Bolenger, Steve Burdette (vocals), Don Gilbert, Doug Johnston (keyboards), Steve Nelson, Dave McKibbin (guitar) and Eric Peterson. For later photos of Double Image see PNWbands.com.
Russ Wagner went into Brand X, Inc from Portland, OR, with Jimmy Holt, Greg Johnson, Cliff Leisure and Scott Medler. Ken Laymance became a DJ in the Ukraine. Ken passed away in November, 2006. Mike Rice passed away of complications from lung disease due to smoking on February 25th, 2008.
Thank you to Paul Wentink for sending the top photo of the band on the slide and the poster, and for notifying me of Mike Rice's passing. Bottom photo from the Pacific Northwest Bands site.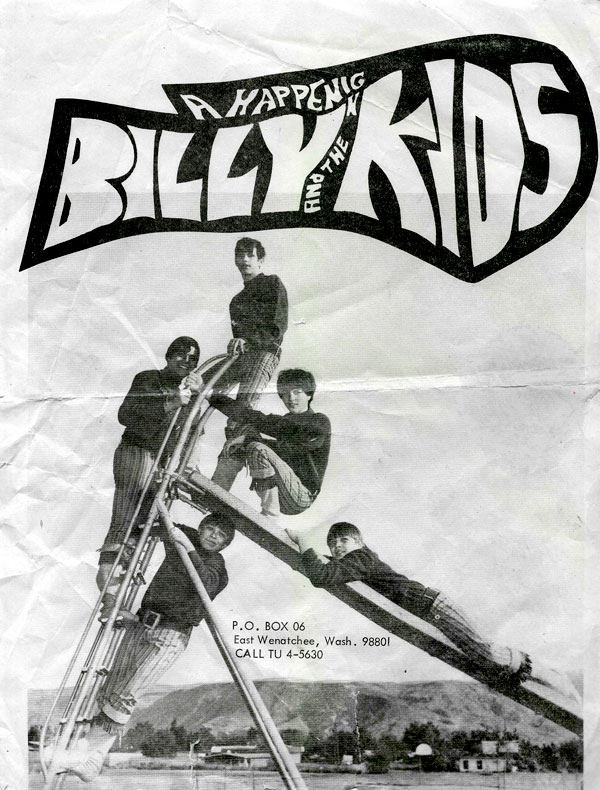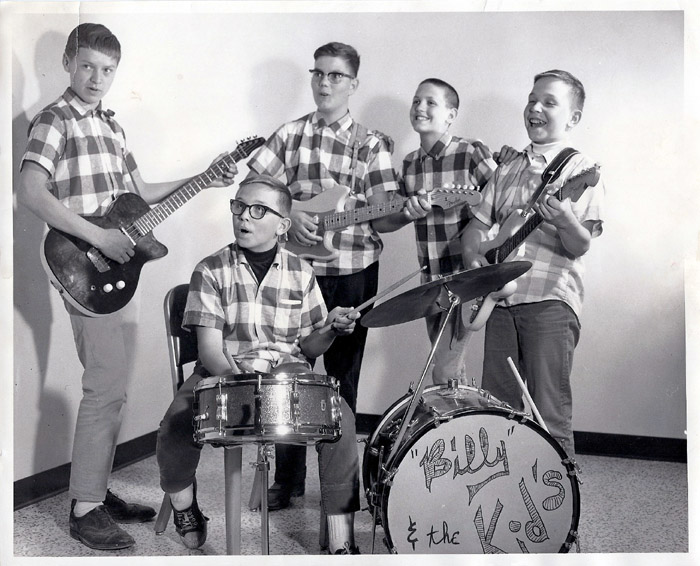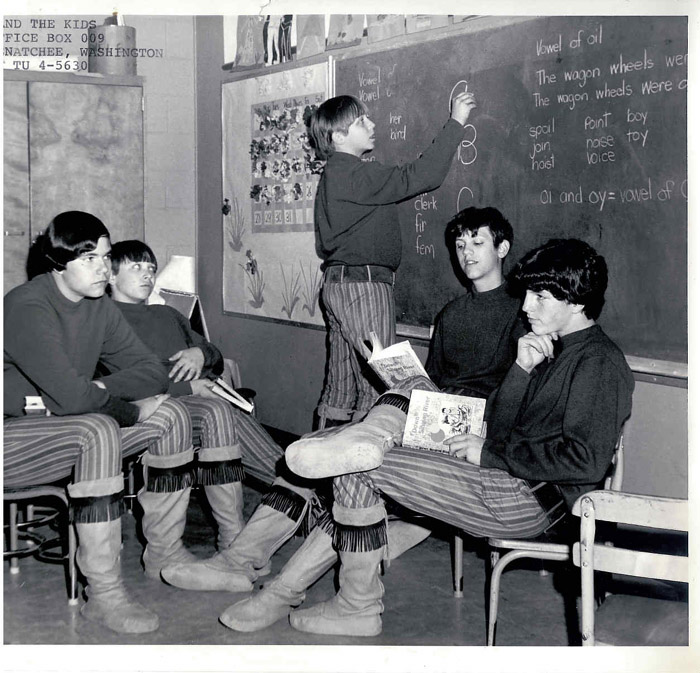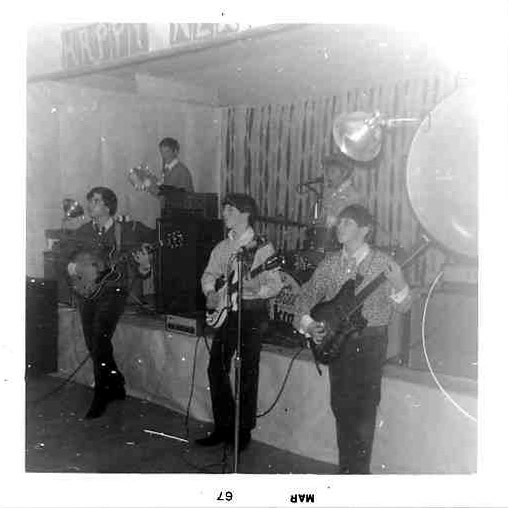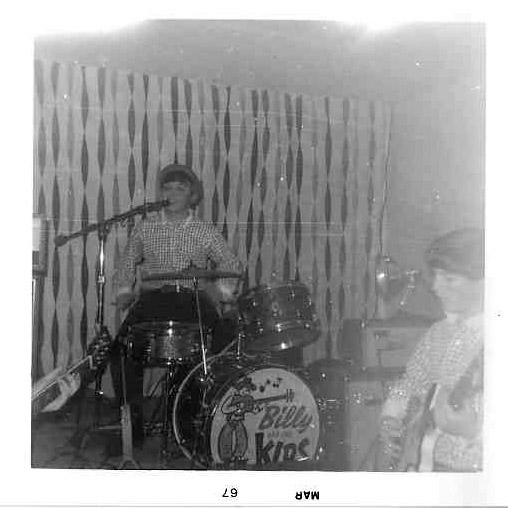 The two photos above and four below, Billy and the Kids in the studio, September 1967