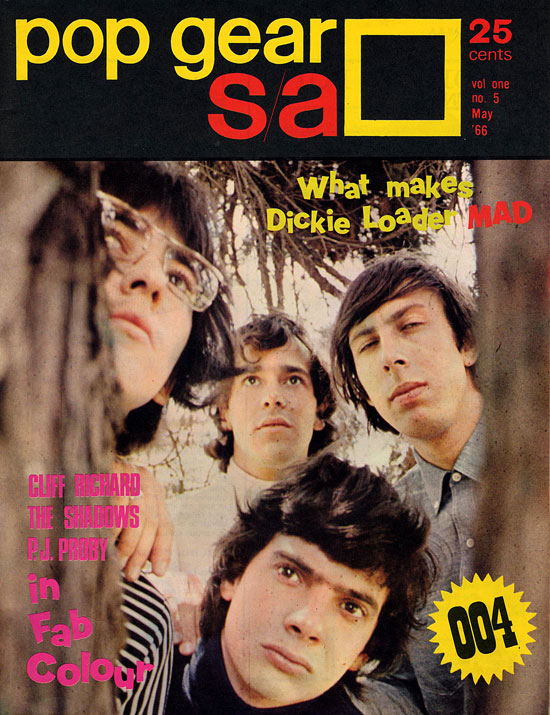 The 004 were a mid-1960s R&B group put together at the suggestion of Trevor Boswell, a partner in the Hugo Keleti agency, after Dusty Springfield's disastrous expulsion from South Africa in late 1964. (Hugo Keleti was the father of Eve Boswell, the South African 1950s star, and Trevor was her husband.) The band comprised of expatriate Britons, who recorded a string of singles and a lone album for the CBS label.Lead guitarist Pete Clifford (b. 10 May 1943, Whetstone, London) had first played with The Jesters and then briefly worked with Georgie Fame in London before visiting South Africa for the first time in 1964 with Dusty Springfield as a member of her backing group, The Echoes. Following the fateful trip, Clifford played with Tom Jones on a UK tour and then formed The 004 to return to South Africa, sailing on the Capetown Castle on 10 June 1965 where the band got its set list together.

Bass player/singer Jack Russell (b. 29 April 1944, Caerleon, South Wales) and rhythm guitarist/singer Brian Gibson (b. 17 March 1942, Newport, South Wales) had first met in Wales as members of The Victors, who had a residency at the Latin Quarter in London's West End. When the band broke up in June 1964, Russell toured the Costa Del Sol and Morocco with French pop singer Teddy Raye while Brian Gibson joined The Laurie Jay combo where he met and socialised with Pete Clifford. In March 1965, after the failed continental tour, Russell got a job as production manager with Vox in Dartford. When Clifford had the call from Boswell and was asked to form a band to return to South Africa that summer, he recruited Gibson, who in turn recommended Russell. The band added Londoner Peter Stember on drums to complete the line up.


Personality, November 25, 1965.
Click for larger image

with Gene Vincent and Jackie Frisco, Daily News, December 3, 1965
After arriving in Durban by boat on 30 June 1965, the group began playing at the Al Fresco Night Club in a hotel on 1 July. The band signed to CBS and recorded a string of singles for CBS, kicking off with "The In Crowd" in November 1965. The following month, the band backed Gene Vincent in Durban for three months.Prior to the release of the group's debut single, The 004 had briefly relocated to Johannesburg and worked the 505 Club in Kotze Street, Hillbrow. Back in Durban in early 1966, The 004 opened Tiles club, playing with The Ivy League in May. The following month, the band's lone album It's Alright was released and contained Gibson's promising originals, "She's Going Back Home Today", "I've Found Her" and "Beverley" alongside covers of Curtis Mayfield's title track and Mann, Weil and Stoller's "On Broadway". The album had been recorded in CBS studios in Johannesburg in late 1965 on an old two-track machine with overdubbing rather than the four-track Studer equipment widely available in Europe. During this time, Clifford and Russell did lots of studio work as session musicians recording with Eve Boswell, The Dream Merchants, The Sandpipers (the South African version), Johnny Collini and many others.

In August 1966, Nick 'Doc' Dokter (b. 24 July 1945, Kampen, Overijsel, Holland) was recruited from The Leemen Limited to replace Stember, who returned to the UK and later became an internationally renowned photographer, based in California.

Two months later, The 004 returned to Durban to play at Tiles and on 24 December joined a number of acts, including The Gonks, The Difference and The Dream Merchants to play a Christmas Eve show at Durban City Hall.

In March 1967 Gibson also left and Barry Mitchell from The In Crowd briefly took his place. Gibson later played with progressive rock band, Abstract Truth and lives in South Africa. Two months later, the band met John Kongos who invited the musicians, by then down to trio without Mitchell, to the UK to record that summer.

Clifford, Dokter and Russell recorded with John Kongos as a group called Floribunda Rose in London during mid-late 1967 before Clifford left to return to South Africa to join The Bats. Dokter also moved back to South Africa, albeit briefly, working as a boilermaker. He soon moved to Holland before emigrating to Canada where he played with Five Man Cargo, a UK band who later morphed in Cross Town Bus. In later years, he did session work for the Bruce Allan Agency and currently lives in Vancouver.

Russell meanwhile stuck with John Kongos until 1969 and recorded a string of singles in London as Scrugg before moving in to an advertising agency. He currently lives near Hampton Court.

Article by Nick Warburton


Pop Gear article, May 1966
Click for larger image
August, 1966, clockwise from top left:
Brian Gibson, Jack Russell, Pete Clifford and Nick Dokter

Article in the Natal Mercury, November 26, 1966.

Final group photo, 1967
List of releases:
45: The In Crowd/Without You (CBS SSC 599) 1965
LP: It's Alright (CBS ALD 8911) 1966
45: Goin' Out Of My Head/Little Miss Trouble (CBS SSC 677) 1966
45: Happening Humpty/Lah To The Power of 6 (Continental PD 9198) 1966Many thanks to Jack Russell, Nick Dokter, Pete Clifford, Vernon Joynson and Tertius Louw

Copyright © Nick Warburton, September 2008. All Rights Reserved

Ed: The oddball single "Happening Humpty" was recorded in order to get Matt Mann to release The 004 from the CBS contract. The band felt suppressed by Mann who offered them no material. Mann refused to release the idiosyncratic and oddball trumpet work by one of South Africa's top trumpeters. The idiotic inclusion of "out of time" bum notes was deliberate. Mann released the band. Graham Beggs then released the single under the Continental label. It has since become a collector's item.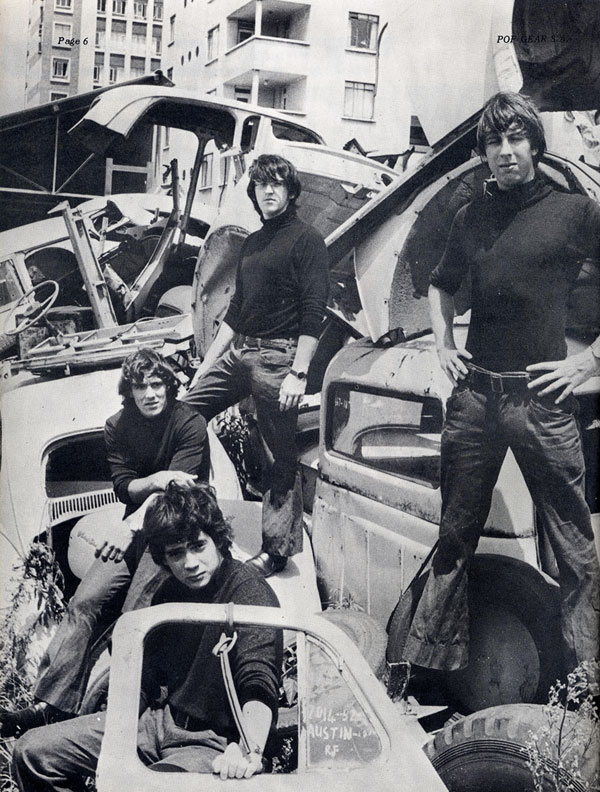 May, 1966, l-r: Pete Stember (foreground), Brian Gibson, Jack Russell and Pete Clifford