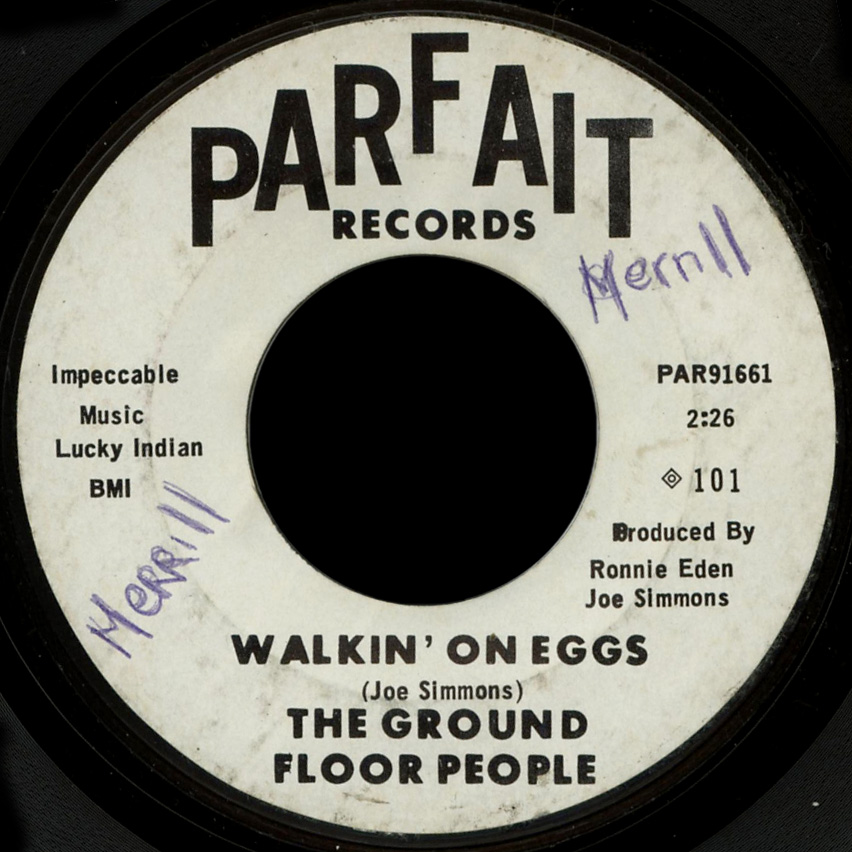 The Ground Floor People cut two fine singles, first "Walking on Eggs" / "It's All Right Now", produced by Ronnie Eden and Joe Simmons on Parfait 101, from September, 1966, then "Treat Me Better" and "Workaday World", produced by Morty Croft and Ronnie Eden, and released on Mercury 72719 in mid-late 1967.
Tom Ciulla wrote to me and answered my questions about the group:
The Ground Floor People was my group and I played drums and wrote songs. My brother Don Ciulla originally put the group together. He played rhythm guitar and lead vocals. Lead guitar, Tommy Morrow and Freddie Davidson on bass and background vocals. I played drums and sang lead, background vocals and did the screaming ("Treat Me Better"). I came up with the name "Ground Floor People". We usually rehearsed in a ground floor apartment or basement. Everyone was from Brooklyn.

We were playing in a club called Freddie's. The owners were trying to sell the place. The group became very popular and after a few months there was a line down the block. The owners decided not to sell and we played there for over nine months. I am pretty sure that was where we met Ronnie Eden (Edelstein).

Joe Simmons was a real sweetheart. I wrote "It's All Right Now" with Joe and collaborated on another song that I wrote and he did the arrangement on. It was called "My Man's a PHD". Ronnie Eden produced the session and discovered a young "Aretha type" singer to record the song. I remember Ronnie saying that he got a drummer, Perdie Persaval [Bernard Purdie?], who he said played for James Brown, and Perdie got the other musicians to sit in on the session.

Q. I haven't heard of a Perdie Persaval, but Bernard Purdie played on tons of NY sessions, including one with James Brown.

That was probably the guy. How many drummers named Purdie could there be?

Ronnie claimed he operated on a tight budget. We never had a chance to correct anything in the studio. Like Don Krantz [of Yesterday's Children, also produced by Eden] said about the bad note on his recording. We all thought the songs "Wanna Be With You" and "Feelings" were really hit tunes. I never met anyone from Yesterdays Children.

I realized later on Ronnie was more interested in having the publishing and recordings of the artists than the quality and promotion of the production. He told me on several occasions he had publishing on several hit songs and recordings that he produced before they were successful. Unfortunately, I made several recordings but was unable to hold on to any of the demos.

My brother was drafted and the group broke up. I played with a few different bands for a while and eventually put together the second Ground Floor People. Sammy Sicalo, lead guitar, George Mandel on keyboard, and Tony Radicello on bass and lead vocals. I played drums and sang lead, background vocals as well. I wrote "Treat Me Better" and "Work A Day World" with Tony. When Ronnie got a recording contract form Mercury records, Tony and I wrote two more songs, "Wanted To Be With You" and "Make A Little Room". All four songs were recorded at the Mercury session. I always felt "PHD" and the last two tunes at Mercury were my best efforts.

Tom Ciulla
"I Wanted to Be With You Girl" / "Make a Little Room" would show up on a 45 by the One Way Street on the Boutique label, both songs credited to Anthony Radicello, Jr., Tom Ciulla and Ronnie Eden for Impeccable Music, BMI, with production by Ronnie Eden.
Ronnie Eden's name only comes up in Billboard in conjunction with Ted Black. Together they sold masters by John Gary to Cameo/Parkway and were sued for it by RCA (Billboard, November 13, 1965).
Tom also tipped me to this article about Ronnie becoming New Orleans record shop legend, Record Ron, who passed away in 1996. I used to go to Record Ron's shop during the two times I lived in New Orleans in the '80s and '90s, but I had no idea of his previous career as a producer.
Thanks to Christian for the Parfait 45 scans.