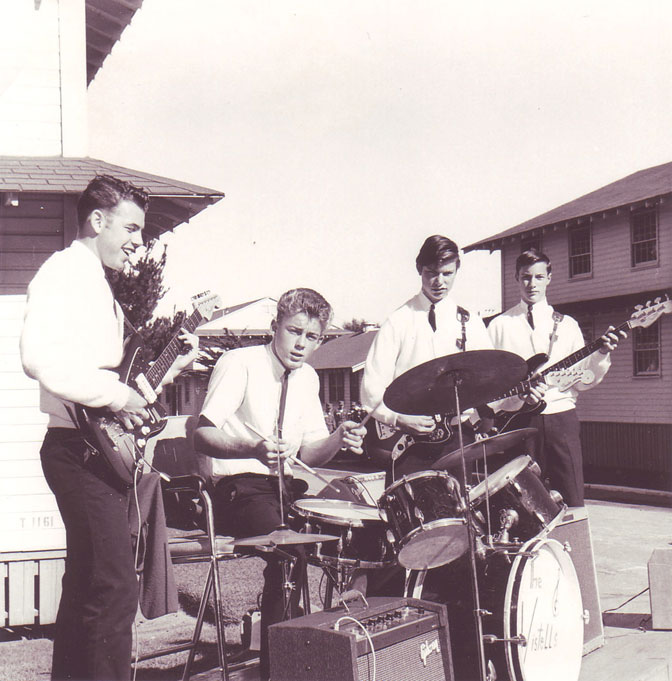 The Vistells, 1963 at Fort Ord, from left to right, Johnny Mullins rhythm guitar, Mike Reesen drums, Dave Kibler lead guitar, and Mike Dokter bass
The Cobras were from Northern California, specifically Pacific Grove, which is right by Monterey. The band had started as an instrumental group called the Vistells, who recorded a few acetates.

The Cobras recorded just one 45, "If I Can't Believe Her" b/w "I'm Hurtin'". Dave's guitar on "If I Can't Believe Her" is original and fluid, with a nice touch of echo. Drummer Mike Reesen's fills are much looser than is usual for garage recordings. "I'm Hurtin'" has more catchy guitar work and a plaintive vocal. Amazingly "I'm Hurtin'" has never been comped before to my knowledge.

In 1966, the draft claimed two members of the Cobras. Meanwhile rhythm guitarist Bob O'Neil formed Talon Wedge. When Dave Kibler returned, he and Bob formed Snail. Taken together, these groups show the evolution of '60s music from surf to garage, to psychedelia and hard rock.

Dave Kibler wrote to me:

The Cobras was a Pacific Grove, California group that evolved in 1963 from two friends who played guitar in different bands. Dave Kibler played lead guitar [in the Vistells] and Bob O'Neill played rhythm guitar. They quit their groups and recruited bassist Mike Dokter of Salinas, and Mike Reesen of Seaside to play drums to form a new combo.

The Vistells recorded in what may have been the only recording studio in Monterey, Meagher Electronics. They made some 78 rpm Audiodisc acetates for us and we were thrilled. The Vistells were Johnny Mullins on rhythm guitar, Mike Reesen on drums, Mike Dokter on bass, and Dave Kibler on lead guitar. On Night Train you can hear what an accomplished drummer Mike was. He started when he was really young, and he knew all the drum rudiments. This is the genesis of the Cobras sound, since this is the same lineup, without Bob O'Neill.

The Vistells – Night Train
The Vistells – Mr. Moto
The Vistells – Summertime
The Vistells – Let's Go Trippin'

Lots of groups were naming themselves after cars, and the Cobra was a fast and sleek car that everybody liked so it seemed like a natural choice. The Cobras started out as a surf music/Ventures instrumental band, but with the advent of the British Invasion, they started adding vocals to their repertoire.


An early photo of the Cobras.
left-right: Mike Reesen, Bob O'Neill, Mike Dokter, and Dave Kibler

Eventually the group was based in Santa Cruz, California and played venues from Sacramento to Carmel. The Santa Cruz music scene was pretty active, mostly because of the Cocoanut Grove Ballroom and the Santa Cruz Beach and Boardwalk. It was originally made in the '20's and it had that old-time boardwalk feel to it. It had real atmosphere. An organization called Neighbors of Woodcraft held dances on the weekends during the summer and everyone in town would attend. They had groups from all over California play there.

Ssome of the groups that the Cobras played with were the Syndicate of Sound, the E-Types, the West Coast Five (they were from Monterey and they had a record. I think it was a cover of the Beau Brummels' "Still In Love With You Baby", they were more of a garage band), The Tikis, The New Breed from Sacramento, William Penn and his Pals, and Corny and the Corvettes (this was a fantastic soul music show band ala James Brown on a scaled down version. Corny Bumpus played with the Doobie Brothers in a later incarnation. They may have made some records.)

When we played, it was mainly covers that were popular at the time. I don't think that many of the groups did originals during that period, because we were playing for dances and people wanted to hear familiar tunes.

At that point a producer in Monterey wanted to team the Cobras with a singer/keyboardist named Gary Thomas of Watsonville, who played piano with a popular local group called the Modestics to record some originals that he had written. Nothing came of those sessions, but Gary was invited to join the group so he bought a Farfisa which gave the group a completely new sound. As a result the Cobras started writing and performing originals in their sets.

I don't think the Modestics ever made a record, but they were a great show band. They had a couple of sax players and everyone had matching blue brocade dinner jackets. They did steps when they played and they looked and sounded impressive. They eventually fell apart after Gary left.


The Cobras, just before Gary Thomas joined.

One night, my dad met a man in a bar who said he was a record producer for a subsidiary of Moonglow Records called Scoop Records. He came to listen to us and decided that he wanted to take us into a small studio in Berkeley to record four original sides.

I can't recall the name of the studio, but it seemed to be under construction at the time we recorded. I think we recorded on a 2-track Ampex, because we recorded the instrumental tracks first and then overdubbed the vocals. I was used to recording on an old Wolensak mono recorder and being in a real studio was an overwhelming experience. We did all of the tracks in the afternoon and evening.

The result was the "I'm Hurtin'"/"If I Can't Believe Her" single. There was no promotion or distribution deal and of course sales of the record were limited to copies that people bought directly from the band or in local record stores. There are no known examples of the other two songs recorded at the session, but they were the similar in style to the two that were released. I think we made 500 copies of the record.

When Gary and I were writing I'm Hurtin' it was during a period when Bob Dylan was very influential in the Folk Rock genre. There were a lot of "wannabes" who mangled his poetic approach and we used to make fun some of the lame lyrics that were a standard on many records. One day I was goofing around with the lyrics and I decided to put in every cliché I could think of just for the fun of it. I showed it to Gary and he thought it was pretty funny and he said we should use that set of lyrics. I was reluctant at first, but when he started singing it, it sounded pretty good. I had a friend who let me borrow his Rickenbacker 360-12 like Roger (Jim) McGuinn played in the Byrds and voila; instant Folk Rock!

The Cobras – If I Can't Believe Her
The Cobras – I'm Hurtin'

Talon Wedge and Snail

In 1966, I was drafted into the Marines, and Mike was also drafted, which spelled the demise of the Cobras as a group. Two of the members went on to form the Talon Wedge in Santa Cruz, which ultimately evolved into a successful band called Snail. The Talon Wedge had a fluid band roster, but the first version had Bob O'Neill, Dick Tasano, and Terry Shehorn on guitars, Ron Fillmore on Drums, and Bob Caloca on Bass.

I have a demo tape that they made. I was uncertain of thet titles, so I used the lyrics as a possible reference. I don't know where they were recorded, or who played on these songs, but I think Bob O'Neill, Ron Fillmore and bob Caloca were some of the musicians on them.

Talon Wedge – Two O'Clock in the Morning
Talon Wedge – Man with the Golden Ring
Talon Wedge – Instrumental
Talon Wedge – See the People


What a lineup!
Does anyone recall this show? Did it actually take place?
Let us know! – See Lost Live Dead for more info.

When I returned from the service, venues were more of a concert setting where people would sit and listen. At that time I joined Snail as the bass player. I was the one with real short hair! Snail was a Cream-style power trio with Bob O'Neill on guitar and Ron Fillmore on drums. [The three Snail songs here] were recorded at a live gig in San Lorenzo park in Santa Cruz. It was a big concert (the one on the pink flyer). You can hear a definite Cream influence. Sittin' Gettin' Stoned was a musical departure, but people liked it probably because of the not-so-subtle altered consciousness reference. The bass was a Hagstrom 8-string, which was set up similarly to a 12-string guitar except with four pairs of strings each tuned an octave apart in the bass register. When it was played it sounded like a bass and a guitar playing together.

Snail – Wading in Dirt
Snail – The Wrinkle
Snail – Sittin' Gettin' Stoned

I played with them for about 9 months, when they got a second guitar player named Ken Kraft. When I was with Snail in the late '60's we opened for The People, H.P. Lovecraft, Clear Light, and Fritz Rabine Memorial Band. The latter boasted Lindsey Buckingham and Stevie Nicks in its roster.

In the late 60's or early 70's, Snail put out two albums featuring Bob and Ken fronting the group. The first record was named "Flow." I don't know if they are available anywhere, but they had a sound vaguely similar to the early Doobie Brothers.

And that's the saga of the Cobras. We loved playing music and being a part of the scene at a time when it was fun and innocent compared to the way things are now.

Thank you Dave Kibler for bringing the story of the Cobras and the Santa Cruz scene to light, and for providing the excellent Vistells photo, Cobra cards, Snail posters, and the unreleased acetates and tapes of these bands. For more info on Dave's current musical work, check out www.thesoundbytes.com

Also, I want to thank JG, who alerted me to the Soundbytes website after my initial post and encouraged me to ask about Talon Wedge.