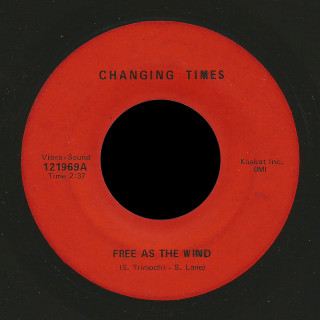 The Vibra-Sound Recording Studio and label started in Schenectady, New York circa late 1966. I'm not sure where exactly the studio was, but New York State business records list a residential address on Crestwood Drive in Schenectady for Vibra-Sound, and also include a later starting date in 1969, with the business closing in 1992. However, several of the singles listed here such as the Heathens and Delirium are earlier, from sometime in 1967.
Nate Swartz appears as engineer and also as a representative of the label in an local news item from the early '70s.
Vibra-Sound had it's own Vibra label, plus variations like Vibra-Sound, VSS, and others that were customized for the artist. Later productions often share publishing by Robert Barry Music BMI.
Below is a general discography in approximate chronological order of records made at Vibra-Sound, with my comments.
Any additions or corrections would be appreciated, as well as info on any of the artists listed here.
45s:
Vibra L-103 – Elaine Brooks & the Pushers (Albany/Schenectady) "I'm So Blue" (Brooks) / The Pushers – "The New Thang" (C. Nelson) both published by Kama BMI
"The New Thang" is a cool instrumental with saxophone, tambourine and plenty of echo. I'm surprised to see what must be some connection to Kama Productions of Utica, NY in the publishing company (see the end of my article on the Roosters for more info on Kama and related productions).
Vibra L-104 – The Heathens (Schenectady, NY) – "The Other Way Around" / "Problems" (both written by Michael Dellario, arranged by Hooker-Stahl, Petticrew, Sheer & Marquez)
Maybe the most well-known garage single of the NY capitol region.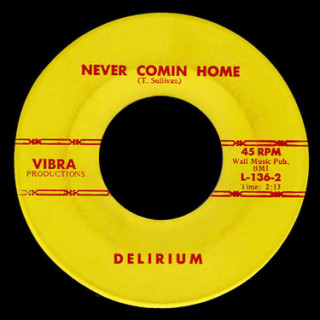 Vibra L-136 – Delirium (Mechanicville, NY) "I Need Your Lovin'" / "Never Comin' Home" (both songs by T. Sullivan, Wall Music BMI)
A very rare single, and musically as good as the Heathens. If anyone has info on this band please contact me.
Vibra L-137 – The Dimensions (Latham, NY) – "The Pilot" / "Dimension Beat" (both by Federici, Federici, Olson and Speciale for Wall Music, BMI)
Another fine garage single, According to copyright records from February, 1967, The Dimensions were Martin Federici, Arthur Federici, Dominick Speciale and David Olson. I've also found a new clip from 1965 verifying the members of the group.
Vibra-Sound 121969 – The Changing Times (Schenectady, NY) "Free As The Wind" / "We Gotta Get Out Of This Place" 1969
Good versions of both songs, the capitol region being one of the few places where the Myddle Class had extensive radio play. Label credits for "Free As the Wind" give S. Trimochi, S. Lane, who must have been members of the band, as the original song was a collaboration between Gerry Goffin & Carole King, and Rick Philp & Dave Palmer of the Myddle Class.
USS 102 – The Chimes of Freedom (Scotia, NY) – "Did You Ever" / "Jungle Rock" (Hamilton, Francis, Pytlovany)
For more info on the Chimes of Freedom see my post on the group.
Hemlock VSS-2/09 – Art Anderson and the Anderson Family – "Don't Come Knockin' At My Door" / "I've Been Searchin' in My Dreams" (both by A. Anderson, Robert Barry Music, BMI, ZTSP 140404, 1968)
W.S. Highway 2710 – West Side Highway – "Spring Song" (J. Hochanadel) / "I've Got a Way" (D. Vroman) (both Robert Berry Music, BMI, Vibra-Sound 2710, ZTSP 140682/3)
Cobb 81935 – The Universal Set – "Ballad For Linda" / "Memphis Express" (both by E. Locke, Robert Barry Music, ZTSP 144640/1)
Hemlock 81946 – Cathy Lee, Anderson Family – "The Dark Side of the World" / "Our Side" (ZTSP 144893, Vibra-Sound 81946)
Kandy 101 – The Essentials (Schagticoke, NY) – "Baby You Get to Me" (S. Wheeler) / "Oklahoma Blues" (F. Stay, S. Wheeler) both Robert Barry Music BMI, 1969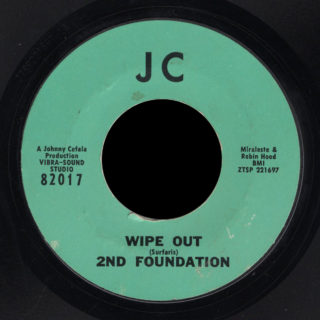 JC 82017 – 2nd Foundation – "Wipe Out" / "I Am The One" (D. Spensley, Robert Barry Music) (ZTSP 221697/8) – instrumentals produced by Johnny Cefala
Kandy 82042 – The Essentials (Schagticoke, NY) – "Sunshine Baby" / "Freedom" (both by Squeeky Stay for Robert Barry Music BMI) / " (Vibra-Sound 82042, ZTSP-221980, 1970)
The Essentials' members were, according to the label: J. Wheeler – lead guitar, Steven Wheeler – rhythm guitar, J. Wheeler – bass and S. Stay – drums. I believe these are Jason Wheeler, Steven Wheeler and Fred Stay but I'm not sure if there was another J. Wheeler in the group or if Jason played both bass and lead guitar on the 45.
Little Records VSS-82043, Jimmy Lane and the Incredible 5 – "Deal With It" (J. Lane) / "What Kind of Man" (S. Brooks, J. Wortham) (both Robert Barry Music, BMI, A Little-Mickens Production, ZTSP 222378, Vibra-Sound 82043)
Brothers Two 6023-13 – The Lightning Brothers – "Crazy Jane" (W. Braemer, S. Hansen, M Ilnicki, P Ilnicki) / "Wild Smoke" (W. Braemer, P Ilnicki) (both Robert Baby Music, an Albert Perrone Production, pressed by Queen City Album in Cincinnati)
unreleased demo – The Concepts (Ravena,NY) – "Faces Come, Feelings Go" 1968. Presumably from an acetate, this track is on the Garage Beat '66 vol. 2 CD
LPs:
The Golden Fox Steakhouse Presents Live the Vito Mamone Trio and Carlos & Rosita (The Chaynas)
Vibra-Sound Recording Studio 82055/6, Lou Mauriello, technical assistant.
The Common People – Come Rest In My Heart (need confirmation of this one)
Max Waller provided several additions to the discography and this info on the Essentials:
Jason Wheeler – lead guitar
Steve Wheeler – rhythm guitar
Jeff Wheeler – bass guitar
Fred "Squeakey" Stay – drums
Jeff Wheeler recalled to Max:
Our ages were 13, 15, 17 and 17 at the time. We played Friday and Saturday nights and threw in a wedding now and then with the old standards on a Saturday or Sunday afternoon. Even went to Atlantic City and Raleigh, NC. cuz we won a few Battle Of The Bands – the Tea Berry song contest too (we didn't win that tho). We made 2 45s in 1968. Never made a million but we sold 1000 records for $1 apiece after spending $500 to do it! It was fun.
Max Waller added, "in 2002 Jeff resided in Poestenskill, NY, Steve was in New Jersey, Jason was reported to be in Texas, and Squeeky Stay had stayed in Schaghticoke."