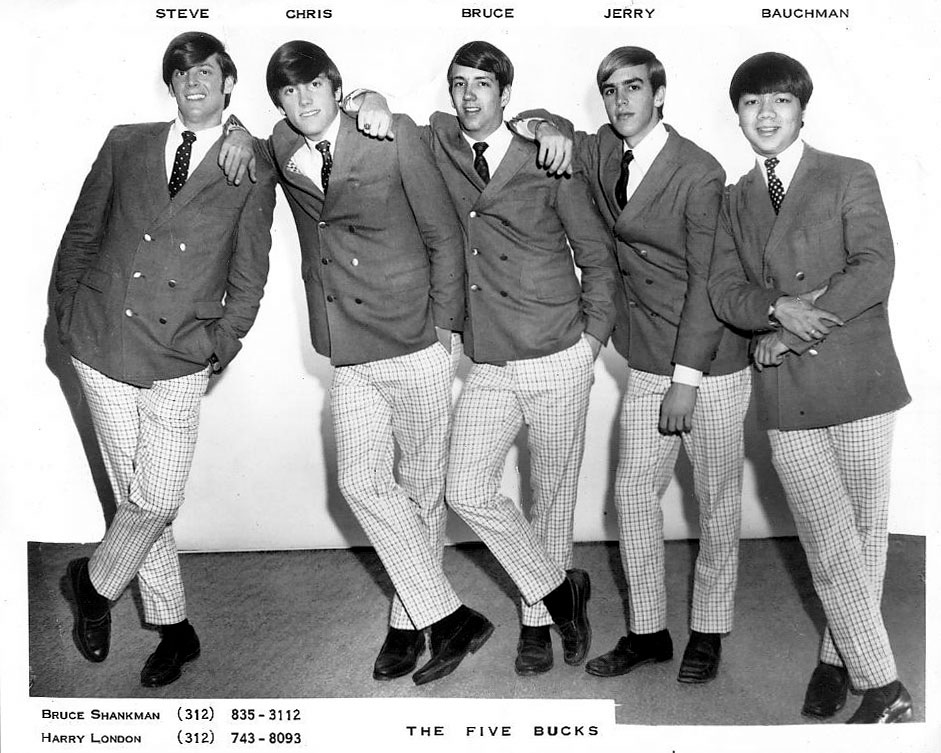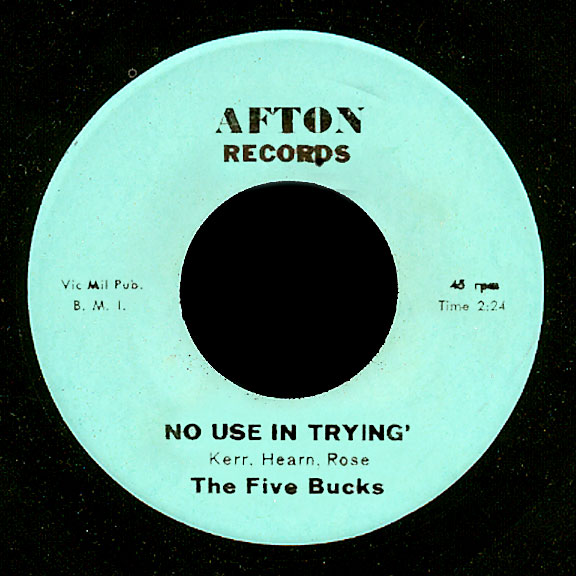 The Five Bucks had two of the finest harmony songs of the mid-60's: "No Use in Trying" and "I'll Walk Alone". The group had a third 45 as the Five Bucks, and then three more releases as the Byzantine Empire. Jim Heddle of Ann Arbor wrote to me and said I should cover the Five Bucks, "WPAG played 'Now You're Gone', which was a ballad, but I remember WAAM playing the b-side, 'No Use In Trying', which is a great rocker."
I contacted Bruce Kerr, the bassist and one of the principal songwriters, who kindly answered my questions about the group and provided photos:
We formed the band days after we all converged on University of Michigan/Ann Arbor in August of '65. Chris Rose and I met in our dorm piano lounge and started harmonizing. He brought in his roommate from Glencoe, IL, Steve Hearn; we grabbed our guitars and had a trio. We then added Jerry Daller across the hall from me who had to call his parents and have his drums shipped up from Detroit. I called my parents to have my amp shipped over from Waukesha, Wisconsin. These are calls parents do not want to receive three days into a frosh year, as you can imagine.

"Now You're Gone" makes #46 on Ann Arbor station WPAG's chart on April 26, 1966

We put up an ad for a keyboard player and Bauchman Tom from Akron, OH, also a frosh at U/M answered it. [He played] a Farfisa organ, that characteristic 60's sound, but he could make it cook. He turned out to be very good, played rock, classical, and jazz, and was Chinese-American which gave the band's look some uniqueness and, right in the middle of the Civil Rights era, some political correctness before that phrase was in use.

We decided to name the band, "The Five Bucks." I recall it was Chris's idea. Our band card was a fake $5 bill with our names and dorm phone numbers in the corners (plus 1).

Chris, Steve, and I were all rhythm guitar players so we decided I'd learn bass, Steve would sing lead and play rhythm, and Chris would play lead. The three of us started collaborating immediately and "No Use In Trying" was our first effort, "Now You're Gone" was our second (misprinted as "Now You're Mine. The band was plagued by label misprints, the "5 Bucs" [on the Omnibus single] was a misprint, we were never anything but the Five Bucks, then the Byzantine Empire).

And after playing frat parties, doing Beatles song with perfect replication of the harmonies, and getting a great reception, the thing in those days was to get out a single (as your website shows). An album was a distant dream but local bands who sustained nearly always got to a single. We had a date with Detroit's Edwin Starr on a Sunday to record. We drove in and he didn't show at the studio.

In the spring of '66, as our freshman year was ending, we all decided to live in the Chicago area where Chris and Steve had their family's homes and play for the summer. When we got to Chicago, Chris's dad had arranged through a friend for us to audition for a label, which turned out to be Afton, eventually. The mistake, we felt, was the promotion ended up going for the ballad rather than "No Use In Trying." So it got played on WLS a few times, got us some good gigs, but never made it.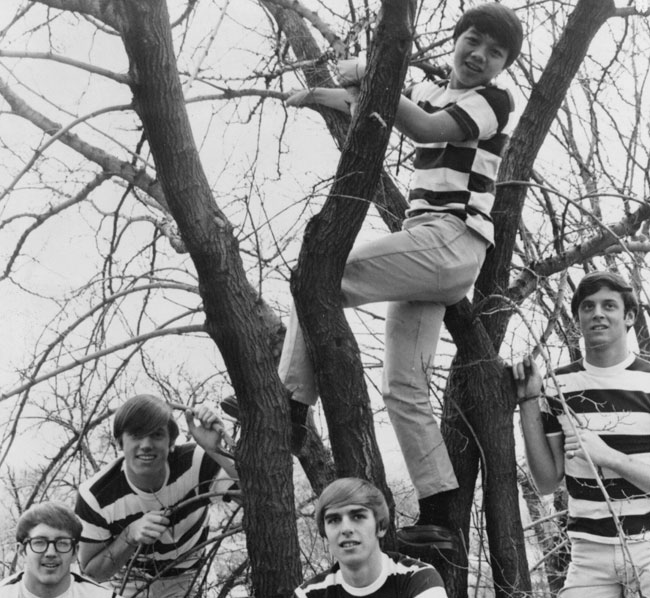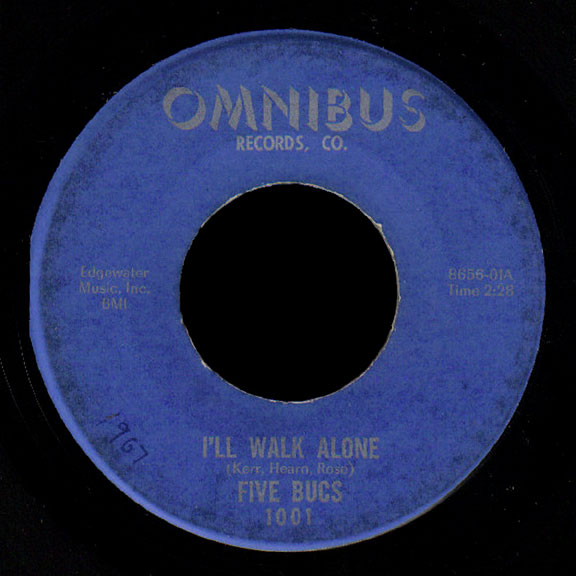 Chris & Steve's friend, Harlan Goodman, went to work for William Morris in Chicago and the next thing we knew that spring and summer, we were opening major concerts in Chicago and Indiana for the Animals, Turtles, Hollies and others.

"I'll Walk Alone" reaches #1 on WCBN, March 19, 1967

Harlan Goodman booked us in '66 as Del Shannon's band, backing him up at two county fairs in Minnesota and a small college, I think it was. It was amazing to be 19 years old playing bass behind "Runaway" and other hits that six years before I was dancing to at junior high dances.

Having flunked out of U/M Engineering, I had to go back to Ann Arbor for the second part of the summer and Steve Gritton filled in on bass on keyboards.

We played a bunch of venues like the Aragon Ballroom with other bands like the Shadows of Knight, Buckinghams, the Flock, the Real McCoys and a couple more that were popular locally that I can't remember…ah, the Cryin' Shames. Went between Ann Arbor and to Chicago on half the weekends and all summers.

There was camaraderie but competition too. Everyone wanted to be the breakout band, like American Breed finally did, and Chicago (Transit Authority) who became monster-big.

We hung back stage in Hammond, Indiana with the Hollies in '66. I asked Graham Nash how long he'd be in the states and he replied, "about 6 feet." everyone laughed and I shrunk back into the ranks of the opening acts.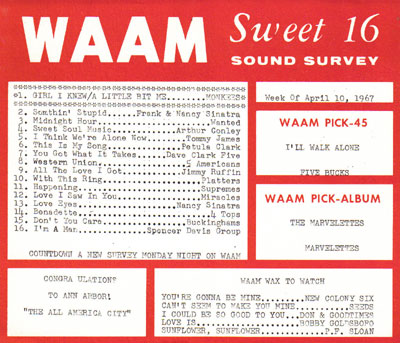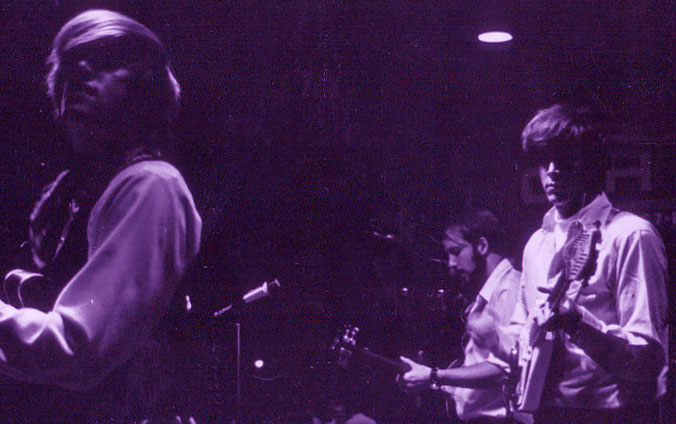 The Five Bucks opened for The Doors, fall of '67 for our U/Michigan Homecoming. Morrison got booed off the stage, he was drunk and the crowd wanted to DANCE. The student in charge came begging to us, "Please go back up and quiet down this crowd." We took to the stage and opened with the Temps' "Ain't to Proud to Beg" and the place went crazy and the night was saved. Huge crowd, the old U/M gym, high stage, it was nuts.

That winter of '66-'67, we recorded on Omnibus: "I'll Walk Alone" / "So Wrong." Came out in the spring, was #1 in Ann Arbor and some other places. In the fall we recorded "Breath of Time" / "Without Love" on USA Records.

Q. Where were the Afton and Omnibus singles recorded?

Both in Chicago, I forget the studio names. The Afton record was recorded in an old 4-track studio. I think Omnibus, as well. Only with Universal in '68 were we in anything bigger, 12 track then. Still, the singles were mono, not stereo.
That fall, our agents, Bruce Shankman and Earl Glicken (the Monkees promoter in Chicago) hooked us up with Traut. We went in unplugged (another term before its time) to Traut's office and played some new originals: "Whenever I'm Lonely," "Girl In the Courtyard" and some covers and Traut was sold on us. Wanted us to be an answer to "The Association." Even had the Asian-American. Bauchman briefly took on a Hawaiian stage personna as Kelly Kulukua, something like that.

The Byzantine Empire at Soldier Field, from left: Steve Hearn, Bauchman Tom, Bruce Kerr, Jerry Daller and Chris Rose

Bill said, rightly, we needed a new name. I was a history major and suggested the name [The Byzantine Empire], a weird choice of a name in retrospect, but what wasn't that year?

In the winter of '68-69, Traut signed us and booked us on spec into Universal Studios, a 12-track studio, state-of-the-art facility, hired members of the Chicago Symphony Orchestra. We recorded the two originals listed just above, plus the Association's album song "Happiness Is," "You," "Snowqueen" by Carole King, and "Shadows & Reflections", two sessions, a couple months a part, as I recall.
Traut sold us to Amy records, a sub of Bell Records in NY for $25K. Problem is, he had his pal, Eddie Higgins & Bob Schiff produce us. They were competent but not the visionary Bill was. We would have done better with Bill producing but he was trying to build up his team. He was partnering with Jimmy Golden but they had a falling out just as we were hoping to blossom, which caused problems for Bill, and ultimately, for us, I think.

The Byzantine Empire in the studio, 1967, from left: Chris Rose, Bruce Kerr, Bauchman Tom, Jerry Daller and Steve Hearn

Q. So Bill Traut set up the Universal Studio sessions but didn't produce any of them?

Right, he gave us Eddie Higgins & Bob Shiff instead; we were let down by that.

Q. Were you all playing your instruments on the Amy recordings, or using studio musicians for the backing?

We all played except Jerry Daller on drums. Traut brought in a jazz club drummer, especially for the 3/4 beat on "Snow Queen." not many drummers in rock bands played 3/4, Jerry included. He was really a garage band drummer, but he held his own. Still, Traut was right to replace him for the two sessions, three songs at each.

Q. I can see "Happiness Is" as an obvious commercial choice, but how did you decide to record "Shadows and Reflections"?

Traut, it's a weak song, strange too, but we couldn't find anything better in the stack of writers' promo demo copies he gave us to choose from. "Shadows & Reflections" was during our second session with Bill, probably summer/fall '68.

Q. Were you aware of the original version by Eddie Hodges (ironically on Sunburst, which was distributed by Amy) or the one by the UK group the Action?

Interesting, no, I hope they were better than our version.

Q. Would you say the band tried to cultivate a more refined sound over time, or was that mainly Bill Traut's doing?

Yes, the Byzantine Empire went for harmony a la Association. We liked their sound anyway, from "Mary" to "Cherish." We could do chords (correctly) and we could do harmony, this was no band of blues three-chorders. So part of it was Traut…definitely the "You" / "Shadows & Reflections" stuff…we thought it was square, like the Vogues, and wanted something rougher but he knew we were no Troggs, that our look and sound had to be melodic and pop sounding. The USA side A, "Breath of Time" before that, was an attempt to get a rougher sound, fuzz tone, etc.

"Snow Queen" was a Gavin pick but, being 3/4 waltz time, and with no major hook other than the title being sung at the end of each verse, our soaring harmonies weren't enough. Then "Happiness Is" was released (we pretty much copied the arrangement of the Association) and it didn't make it. Finally, per the contract, "You" came out close to our graduating and did zip.

Bill Traut once told us, in retrospect, that "Whenever I'm Lonely" could have been a monster ballad hit. I'm not sure if he was hoping for a flip hit after "Happiness Is" which he thought was a sure-fired hit, if "Snowqueen" didn't hit. None of them did and we maybe should have stayed with our original sound instead of thinking we had to have a hit with an almost exact replica of "Happiness Is." But, we were hungry to make it, felt we could shape our sound after we had a commercial hit.

Even "Courtyard" and "Whenever I'm Lonely" were our soft side. We had a rockier, Beau Brummels type sound that had more grit and might have served us better by '68, with the way music turned away from pretty harmonies toward heavy guitars and, if any, soul harmony, or none at all.

We graduated, did one more gig that summer in Chicago, and went our separate ways. Chris and I have maintained our friendship for the next 40 years, he still is in contact with Steve, but Jerry's totally gone, and Chris and I only kept up with Bauchman through the mid to late 70's and he disappeared also.

Q. Are there any unreleased recordings? Any live recordings?

Somewhere there's our third song ever from '65, "Say It Now," that I think could have been a hit. It was a recording session dub, nothing ever came of it. Chris had a great song, "Inspector Hayes," another dub from a session that never became a record. No one knows where these two are. Nothing live ever, too bad.

Q. Lastly has there been interest in re-releasing the records? I know they've come up on bootleg compilations, but I don't think they've ever been legitimately released, at least not together.

Nothing I've heard about. Frankly, there may be more interest in our stuff now than from the record buying public back then (apparently)!

Q. Finally, I find it amazing that the group was able to stay together all four years of college with no changes, other than that short time "Stubs" subbed for you.

Yeah, we all got along pretty well. Steve, Chris and I were fast friends which was the core. We all liked the money (lots of gigs) and (mostly) not having to work other jobs in the summers or during the school year. Helped with meeting girls on campus since the band was popular there…

Mostly, it was the age-old (well…) bit of the dream to become like the Beatles or Stones, on the radio, songs people would love and hum, and the life of a millionaire rock star, as we envisioned it. All of this with the Vietnam War draft in the background. And there was no deferment for rock star. Some of the best moments were when we were in the studio, it seemed like we were about to make it, there with all the tools and "old guys" at the controls (they were probably in their 30's), telling us, "it could be a hit!"

When you get played on WLS, you pretty much figure it's just going to keep going up from there. It was a great time, and I'm probably happier today for our not making it and having to play state fairs now with REO Speedwagon.

When the band broke up, I went to law school and am a lawyer today (though I took 20 years off, '73-'93 to be a solo performer, "Loose Bruce Kerr," so the itch was not entirely scratched in the band years). Easier now as a lawyer than living in motel rooms and touring!

Bruce Kerr
Chris Rose adds:
It was Steve Hearn's girlfriend's father, Jerry Wexler, real estate tycoon, who got us the audition with Milt Salstone, owner of Reprise records [actually owner of M-S Distributors]. Milt started the Afton label as a subsidiary for rock and roll music.

I haven't heard from or about our keyboardist in many years. His name is Bauchman Tom (people used to frequently mispronounce his name as "Tom Buachman"). He was, by far, the best musician in the group. He was up there with the best of the day in keyboard talent. On one mini-tour with The Iron Butterfly, Doug Engle (the composer of "In a Gadda Da Vida" ) told Bauchman that he played the song as well, if not better than Doug did. Our road managers [were] Terry Gano and Dean Suffka – they went on to work for The Seeds, Friend and Lover, Iron Butterfly, Blue Cheer, Tommy Boyce and Bobby Hart, The People, Kansas, Jimi Hendrix, Janis Joplin, Blues Image, The Doors, and Captain Beyond, and others after our group broke up.

The Seeds, Friend and Lover, Iron Butterfly, Blue Cheer, Tommy Boyce and Bobby Hart, The People, Kansas, Jimi Hendrix, Janis Joplin, Blues Image, The Doors, and Captain Beyond.

The Byzantine Empire at the Jaguar, April 6, 1968 with the Strawberry Express

Adding to the list of groups and artists we played with or opened for: Del Shannon (opened and played as his band, the second set), Edwin Starr (he told Barry Gordy he wanted to manage our group because we could harmonize), Bobby Head (Sunny), People, The Iron Butterfly, Paul Revere and the Raiders (Lake Geneva), The Vogues (opened and backed them up instrumentally), Eric Burdon and The Animals, The Turtles (one concert at the Hammond Civic Center – crowd: 10,000, and one TV appearance), The Hollies, The Royal Guardsmen (they hated the Snoopy songs), Friend & Lover, colleagues of Herb Alpert (from our manager's stable of talent) – he even went to Arlington Park racetrack with my Dad, all the Chicago based groups, multiple times – The Flock, The Buckinghams, The New Colony Six, The Shadows of Knight, The Mauds, The Ides of March with Jim Peteryk (they used to wear long-haired wigs when they were 17 – their parents wouldn't let them grow their hair), Baby Huey and the Babysitters, The American Breed, Brenda Lee (a TV show in Windsor, Canada), Siegel-Schwall Blues Band, Sam the Sham, The Knickerbockers, The Kingsmen, The McCoys. I am sure I have left a few out.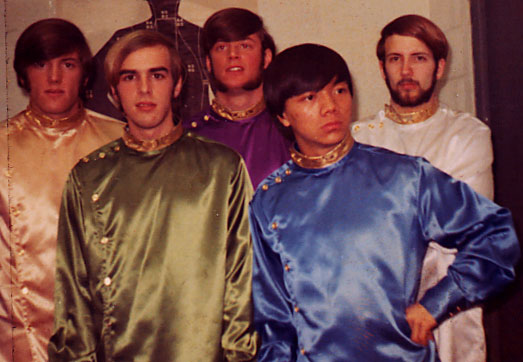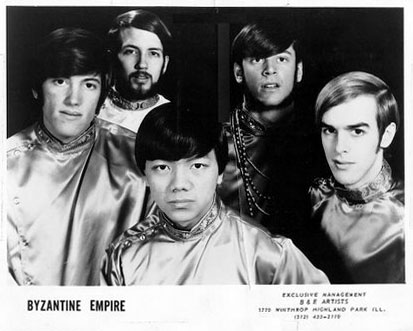 45 releases:
The Five Bucks
No Use In Trying / Now You're Gone (erroneously printed as Now You're Mine) (Afton 1701) May 1966
I'll Walk Alone / So Wrong (Omnibus 1001) November 1966 (band listed as The Five Bucs)
Breath of Time / Without You (U.S.A. 882) 1967
Byzantine Empire
Girl In The Courtyard / Snowqueen (Amy 11,018) 1968
Happiness Is / Whenever I'm Lonely (Amy 11,034) 1968
You / Shadows and Reflections (Amy 11,046) 1968
All photos courtesy of Bruce Kerr. Thanks to Jim Heddle for scans of the radio charts and Omnibus 45.