Sound On Sound were from Grundy in the western part of Virginia, close to a three hour drive to any large city like Roanoke or Johnson City, Tennessee.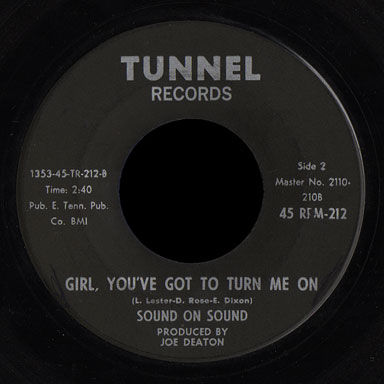 The original group consisted of Ed Dixon lead guitar, Curtis Shortridge guitar, Stoney Ratliff organ, Larry Lester bass and Terry Long on drums. Looking for a singer they found Oakwood's Danny Rose of the Kool Kuzzins, who had cut an excellent 45 on Spot in 1967, "Love Can Be True" / "Hey Little Girl".
Sound On Sound played back country gigs until they opened their own club, the Time Tunnel, in Garden Creek, about 10 miles from Grundy.
From the Virginia Mountaineer:
These young men performed at a nice, wholesome hangout in 1967 at Young's Branch for the young people in our community. The teens danced and had lots of fun!
In 1968, at a radio station in Big Stone Gap they recorded their only 45, produced by Joe Deaton. The A-side was the sleepy My Little Girl, but on the flip is the much more electric Girl, You've Got to Turn Me On. Dominated by Stoney Ratliff's organ style, Ed Dixon's guitar buzzes in around the vocals while Terry Long smacks the kit and Larry Lester plays runs on the bass, making a great single all in all!
Sources include: The Virginia Mountaineer, and liner notes to Aliens, Psychos and Wild Things vol. 2.