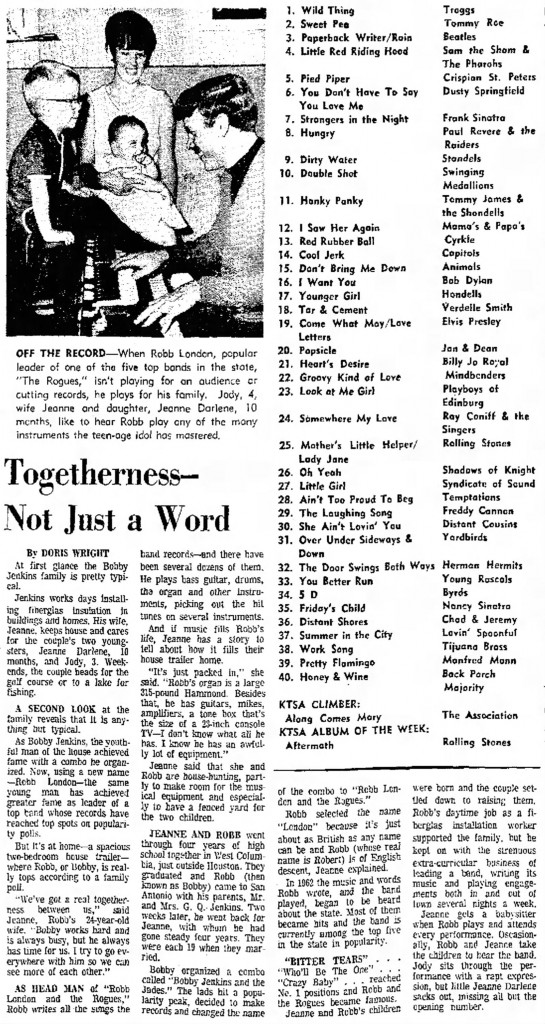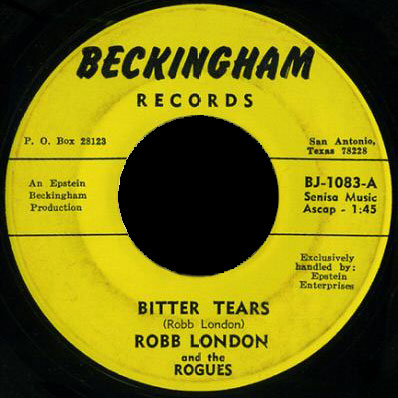 This band started out as Bobby Jenkins and the Jades with a 45 from January 1964, "Jeanne Be Good" / "The Gods Were Angry With Me" on Astro followed by one on Beckingham 1080, "You Mean Everything To Me" / "Hey Man" (I didn't know about this one until Davie Gordon's comment below). I haven't heard either of these. Other members included Danny Jenkins on bass and Jerry Tagel on guitar, but I don't know who else.
By 1965 they had changed their name to Robb London and the Rogues, releasing three 45s in the next couple years:
Standing Under Big Ben / Bitter Tears (Beckingham 1083)
Who'll Be the One / It Should've Been Me (Beckingham 1085)
Crazy Baby / Mary Jane (Beckingham 1086)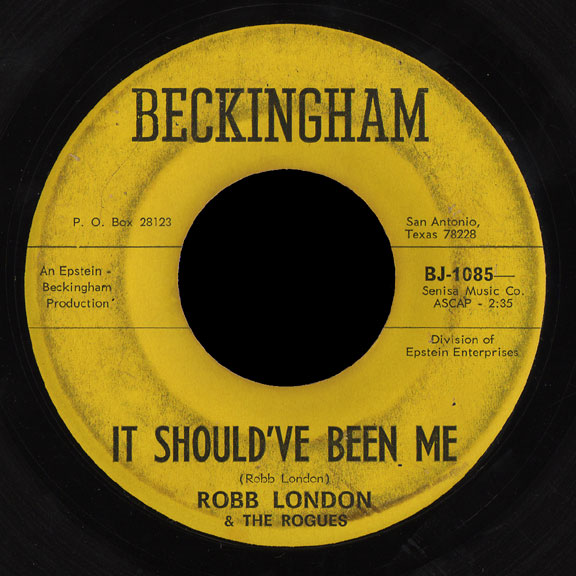 Beckingham 1084 features soul vocalist Billy Sol with songs written by Robb London, "Have You Ever Told Her", backed with "The Bells".
"Standing Under Big Ben" is a droning ballad, full of echo, credited to London and Beckingham (the only time I see his name show up as a writer). More interesting to me is the folk-rock flip, "Bitter Tears", a Robb London original with good vocals, nice edgy guitar work and just a tambourine for percussion.
The second on Beckingham is better still, with two upbeat numbers written by London. "Who'll Be the One" on the top side alternates between the galloping intro and smoother verses and bridge. The bluesy "It Should Have Been Me" has farfisa reminiscent of "She's About a Mover". "Who'll Be the One" hit the lower rungs of San Antonio AM station KTSA's charts in December of 1965. I was surprised to see the song was covered by the Crossfires on Tower 278 in 1966.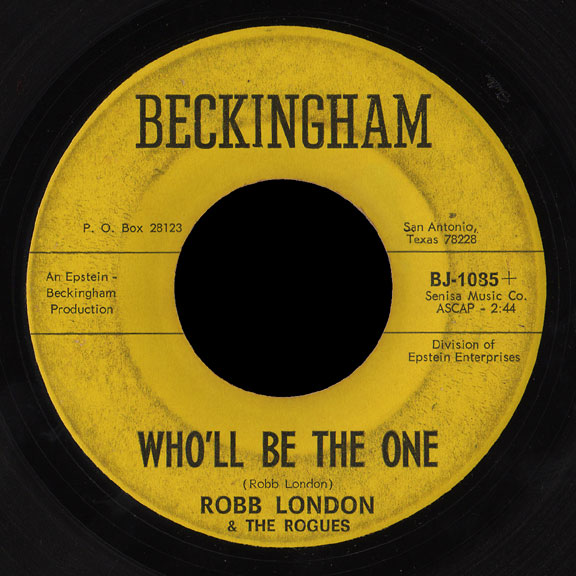 The third 45 has another two London originals, "Crazy Baby" / "Mary Jane". "Crazy Baby" gets repetitious, but has a cool, brief second section that first kicks in around 50 seconds into the song. The flip "Mary Jane" is one of London's best cuts, a tough rocker from start to finish about a girl "who'll put you down": "if you see her comin', you better step aside, a lot of men didn't, a lot of men died!".
They recorded these at Abe Epstein's tiny two-track studio on Gen. McMullen Drive. Epstein, who recorded as Al Epp, owned the Jox, Cobra and Dynamic labels, among others, and is a legend of San Antonio music. Among the hundreds of soul, latin and doo wop records he recorded are some fine garage releases, including the 12 A.M.'s "The Way I Feel" on his Groovy label, and the Argyles / the Minds Eye, the Sixth Edition and the Kings on Jox.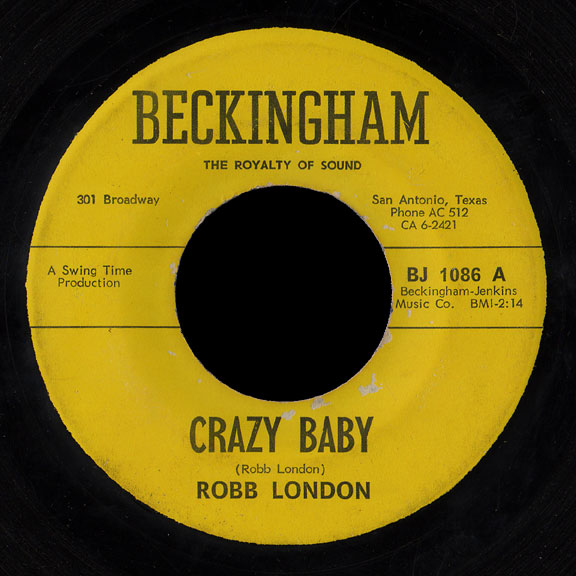 Robb London's manager was Mel Adcock of Swingtime Productions (who also managed the Five Canadians and the Frantics). They played shows around San Antonio, including the Knights of Columbus Hall on the east side of the city, and had a reputation as both a soul cover group and for British Invasion sounds.
In 1967 the name of his backing band changed to Soul Unlimited, with one release, "Funny Situation" / "Gloria" on the Suzuki label, also produced by Epstein Enterprises:
"Funny Situation" has some interesting UK influences, the light psychedelia with hypnotic guitar lines on the verses segueing to full horn charts on the choruses. Despite good production the parts might be too different to make this song work on a commercial level. This time the songwriting credit goes to Robert Jenkins instead of his stage name.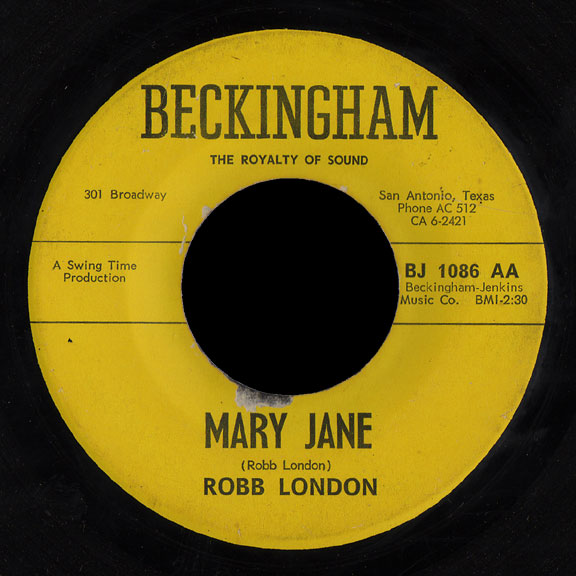 The flip is a great, slow version of "Gloria" with Robb's best vocal performance, the band encouraging him with shouts. Most remarkable is the arrangement that dispenses with the repetitive chords and syncopated build-up of Them's version in favor of a relaxed pace that suits the lyrics. The opening guitar riff works well with the horns; it was probably a favorite live song for the group.
For the next couple years Robb London produced records for other groups, until about 1969 or '70 when he came back with the Robb London Company, with a Ted Nugent cover "Good Natured Emma" on one side and a hippie-country tune "The Children" (AVI 1065). The story ends there, for now.
Billy Sol would have two 45s on the Domar label, DM-1122 "Doggin' Around" / "Danger Signals", and Domar DM-1124: "When You're Alone" / "Time, Time" (written by Robert Merrill and P. Beckingham).
Does anyone know what the artist and titles on Beckingham 1081 and 1082 are?