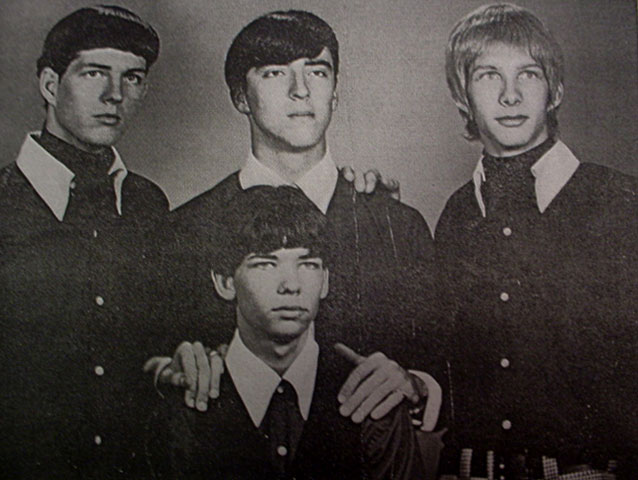 The Page Boys cut one of the killer Texas 45s of the '60s, "All I Want", an original by Tom McCarty and Mark Kay. From the opening fuzztone guitar and drum beats you know this record is going to deliver, and it does, with solid rhythm, good harmonies and a wild scream followed by Mark Kay's amped-up guitar solo. Tom McCarty wrote to me about his time with the group and working with Ray Ruff and Them in Amarillo in the summer of '67:
Richard Van Vliet (drummer), Ronnie Hill (our bassman), Mark Kay (lead guitar), and myself made up the Pageboys.

Richard and Mark were part of a group call the Trespassers, which broke up. We started jamming together and got along well, so we started a group, originally called The Others.

The Others master tape for All I Want and Silver and Gold


We heard a song written by Val Stecklein called "Silver and Gold" that was on one of their albums and liked it so we went down to Tommy Allsup's studio in Odessa in 1966 and recorded it again, along with one Mark and I wrote, "All I Want". Tommy was the bass player for Buddy Holly and the Crickets. He's still in the business I think, in Nashville. I've got a mono master and an unmastered 4 track tape from the Tommy Allsup session, but I bet they would disintegrate if anyone tried to play them. They're 43 years old.

We tried to get Liberty Records and several other labels interested to no avail, and then went to talk to Ray Ruff one day to see if he would be interested in us. Ray Ruff (given name: Ray Ruffin) had a recording studio in Amarillo at the Trades Fair shopping center at N.E. 24th and Grand. Ray was a Buddy Holly look-alike/wannabe who toured the mid-west with the Checkmates. If memory serves me right, The Checkmates had pretty well disbanded by 1966 which is about the time I met Ray Ruff. They were really a good group. Larry Marcum, their lead guitarist, was a good musician and a nice fellow. Galen Ray (full name was Galen Ray Englebrick) was the bass player for the Checkmates.

He didn't want us "covering" other groups so we ditched it and started writing our own songs and recording them at the Checkmate Studio here in Amarillo. Unfortunately, I do not have any of the tapes or demos from those sessions, but am going to try to find them. I found some demos of groups that I think I did some backup work on with Ray.

Ray brought the group Them over from Ireland around that time. They actually lived in Amarillo for the better part of a year and we were all running mates during that time. I did a cello track on the song "Square Room" that was on the Sully record and the "Now and Them" album that was released in 1968 on the Tower label. Marty Cooper was involved with Ray on the production of that album. That was the beginning of what turned out to be a wild summer with all these guys. Alan Henderson (he and Van started Them) and I are starting a search for the tapes of all the recording sessions Them did with Ruff, but we're just getting started.

Ray Ruff and Marty Cooper decided to try out concert promotions back in the summer of 1967 and booked bands like the Yardbirds, Beau Brummels, Turtles, Everly Brothers, Castaways, Tommy Roe, Them, and a bunch of others. My band got to be the opening act for all of them. We played 6-7 nights weekly and toured all over the mid-west and as far down as El Paso with them.

Of all the bands we toured with, The Turtles were the most fun! The Yardbirds were not fun at all. Jeff Beck was on bad behavior every night we played with him, and he was really into destroying every piece of equipment on the stage. He was a wild man. Beck didn't like us much as we would not let him use our Vox Super Beatle amps when he would tear up his own equipment. We had brand new amps and were not about to let him tear them up. We had to pay for our equipment, Vox paid for the Yardbirds' equipment. He was really PO'd about that and we didn't care.

The Everly Bros. didn't like each other, so they weren't much fun to tour with. Ray also signed us up to be J. Frank Wilson's backup group. J. Frank had a little problem with whiskey and we spent most of our time trying to keep him sober enough to go onstage. His one hit was "Last Kiss", Ray Ruff recorded that for him.

The Beau Brummels had a drummer whose name I cannot remember, but one night while we were on tour with them, their equipment didn't make it in so they had to borrow guitars and bass from a music store that was good enough to loan them to them. Our drummer (Richard Van Vliet) told theirs he could use his set since they didn't have a reputation for destroying equipment. The Beau Brummels' drummer de-tuned Richard's floor tom and snare without asking permission or telling him ahead of time (that was part of their sound on most of their songs). When Richard sat down at his drums right before we went onstage, he was pissed to find out that their guy had messed with his tuning. Richard re-tuned his heads, so our set worked out fine. When the Beau Brummels went onstage and started playing, their sound was almost comical.

That's when all of us in the rock 'n roll business would have to pack up by ourselves after each concert, and then immediately drive to the next city and be there in time to set up for the next night's concert. Fortunately, Wolfman Jack, broadcasting from station XERF in Del Rio, TX, was always there on the radio to keep us awake. Back then, KOMA was the big radio station (Oklahoma City) that all the Midwest bands like the Checkmates, Blue Things, etc. advertised their upcoming appearances on, as it had a HUGE broadcast area. So did WLS out of Chicago. But we ALL wanted to be sure to hear the "Wolfman".

It was a great experience and a lot of fun, but I was still in college at the time and decided to quit the band and go back to school in September 1967.

Tom McCarty
Special thanks to bosshoss for the transfers of both songs.