The Omens are famous for one of the hottest garage 45s of all time, "Searching," which was recorded on the Cody label in July 1966 backed with the fine "Girl Get Away".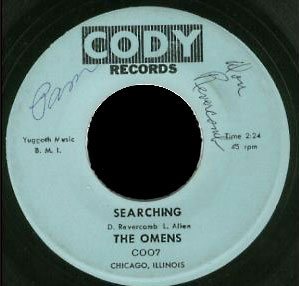 I'll never forget the insistent fuzz riff and opening lines "Searching… searching for love. I've been searching… searching for love" blasting from the old Highs in the Mid 60's Chicago comp. After just 40 seconds the band has pounded through the opening and the first verse. Frantic screams and it's right to a tight bubbling organ solo. Then the second verse, even wilder screams and a searing, un-overdubbed guitar solo. If you were looking for an archetypical garage song, you would have a hard time coming up with a better one than "Searching".
Though long presumed to be a Chicago band, as I heard from one of the Omens' organ players, Duane O'Donnell, the band more properly came from Hammond, Indiana. As it turns out, Duane played on a now-lost demo recording of "Searchin'". In June of '66 he was replaced by Al Patka who plays on the single released on the Cody label.
The Omens' story in Duane's own words follows:
The Omens were based in Hammond, Indiana – which borders the South side of Chicago. Tim, the drummer, was from Merriville and Larry, the bass player, was from Gary.

Don Revercomb – main vocal and guitar – age 16 (at time of recording)
Gene Cooper – lead guitar – age 18
Larry Allen – bass guitar – age 19
Tim Jones – drums – age 19
Duane O'Donnell – organ – age 15

I was with the Omens during 1965 and 1966, and had to leave when I contracted mono. In retrospect, it was a great experience. Don's father was totally set on making his son a rock star, and gave 101% of his time and probably money to make it happen. He had all of us join the American Federation of Musicians (Local 203) to make it legit. I really don't know if we ever made any money, as Don paid me $15 a gig, and the rest went to the band fund (times haven't changed).

We recorded 'Searching' in the living room of a second floor apartment in East Chicago where some guy had an Ampex reel to reel. That recording is mono, one track, one take, no overdubs. Don played a Fender Mustang into an Ampeg Rocket amp. Gene had a Fender Jazzmaster with a Gibson Maestro Fuzztone into a Fender amp. Larry used an Ampeg bass amp, the kind that stored the head upside down into the speaker cabinet. At the gigs I played a Wurlitzer electric piano into a Kalamazoo amp with two 10″s.

The guy at the 'studio' told me to play his Farfisa because the Wurlie was too noisy. It was like going from a Yugo to a Mercedes, since I had paid $100 for my beat up piano, and a Farfisa in 1965 was about $900. My 'style' back then was mainly gleaned from listening to an album by the Ventures that had some organ solos.

We performed in Chicago, Blue Island, Calumet City, Hammond, Gary, Portage, Glen Park and Cedar Lake. Since some of us were still in high school, we mainly played on the weekends, and practiced during the week at the Musicians Hall, because it had a stage. Venues were places like American Legions, VFW, Shindig and Hullabaloo teen clubs, and high school sock hops. After the record came out, all of our money went to local DJ Ron Borden, who played Searching nightly on WLTH radio and Gary, promoted our gigs, and appeared at them. One of my most memorable gigs was at the Purple Poodle Teen Club in Hobart, Indiana. We opened for the Troggs and Don made us wear long hair Beatle wigs (I'm chuckling as I write this), announcing to the audience that we were from England! I didn't lke the wig at all, as it was too hot and really itchy. But old man Revercomb was a real promoter.

Carol, young Don's lady friend, was 14 or 15, and usually sang a Marianne Faithfull song at our gigs. 'As Tears Go By' is the other B side. I missed getting a copy of that last year by a few days. I gave my only remaining copy of the 45 to Al Parka for his 40th birthday in about 1988. He was the original organist with the Omens and played a Lowrey portable. After I got sick, Al rejoined the group, but it broke up shortly thereafter. Tim worked swing shifts at the steel mill and had to make the choice of not calling off anymore or being fired. Gene's girlfriend got pregnant and he had to get a fulltime job. Then Carol got pregnant and that was the last I heard (in 1968)!

In any case I was lucky to be part of the Omens for a short time. Larry Allen was an accomplished guitar, keyboard, bass and harmonica player and expanded my musical horizons. Being associated with a rock and roll band with a song on the radio had profound influence on the high school girls, putting me on a par with the sport jocks! And it made it possible to dump the Wurlitzer and buy an Imperial Capri (Korg Panther) organ.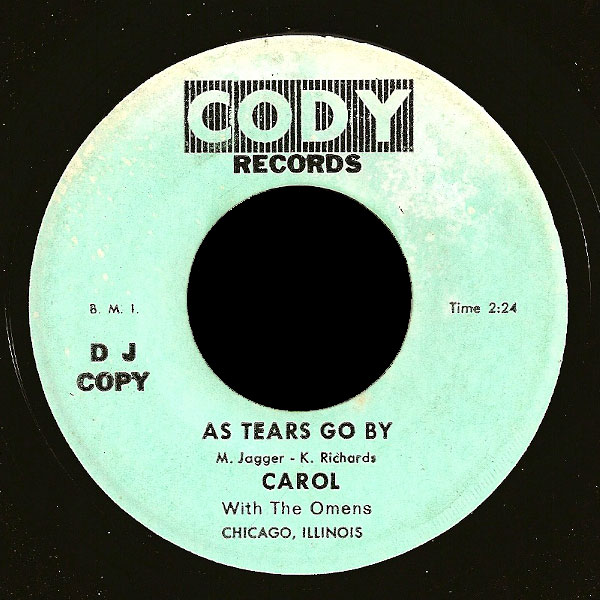 Since hearing from Duane, I have not been able to find any photos of the group or business cards for the band. If anyone has a photo of the group, please get contact me!
A second 45 had a more limited promo release featuring a cover of "As Tears Go By" with an original, "September". "Searchin'" was written by Larry Allen and Donald Revercomb. "Girl Get Away" is credited to Donald Kenneth Revercomb and Carmen Provenzano, as is "September".
Gene Cooper wrote to me:
I played in two bands before I started the Omens. I loved playing in the Omens. We had a pretty tight group and all the guys were great. One thing I must say though, the organ player in the group was my best friend by the name of Al Patka, and he is the one who played on the record. We did cut one other 45 at the studio at the same time with the wife of the lead singer singing the songs. One we wrote by the name of "September" and a Mick Jagger tune "As Tears Go By". Where to find a copy of that one? We had pictures of the band, but I never really had one myself.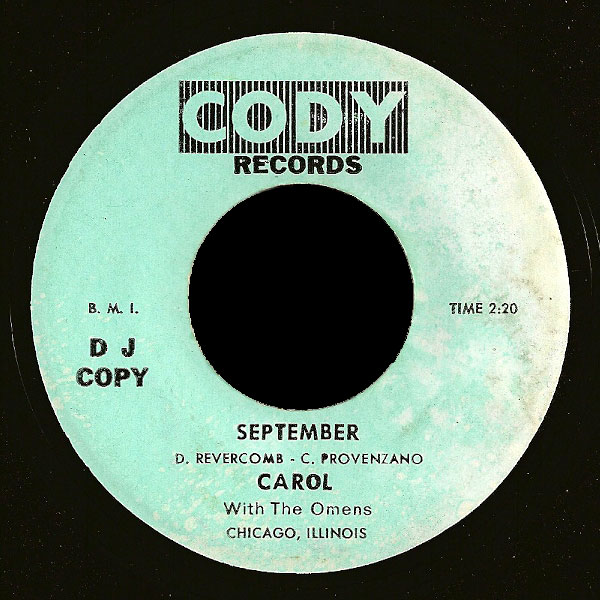 Gene added in a comment, below:
Duane O'Donnell was never an official member of this group. I went to Al Patka's house, my best friend, and asked him if he wanted to be in a band I wanted to get going. He agreed and he was the only organ player in the band until we broke up. He was the organ player on all the 45′s we did in Chicago. Al passed away in August, 2008
Tom Cleary wrote:
We recorded the Omens in Ron Henningsen's basement, yes, on an reel to reel Ampex. The professional recording was done however at "Onederful Records near 18th Street and Michigan Avenue. Onederful's claim to fame was they had done "Shake a Tail Feather" by the Five Dutones. My friends, Fred and Ron handled the studio recording. They handed me the tapes of the session, to see what I could do with them.
Later, Duane cleared up this confusion:
I only kept the record as a memento of my time as the organ player for the Omens, from July 1965 to June 1966. While I performed on the demo tape that got the band the contract for the 45, I became ill, had to leave the group, and did not perform on the July 1966 recording.
Organist Al Patka passed on in 2008, and singer Don Revercomb passed in 1994.
Thanks to Tom Cleary for scans and transfers of Carol's 45.