The Missing Links have this one excellent 45 on Discovery Records, released possibly in October, 1965. The band was erroneously listed as from Texas, but California is much more likely, as the Discovery label was from the Los Angeles area.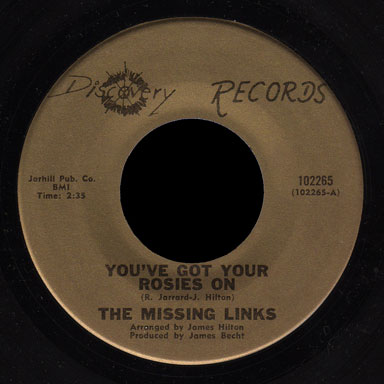 On the top side is "You've Got Your Rosies On", a nicely produced tune where the singer makes it clear his girl shouldn't expect much of him, while the girl's voice chimes in asides like "too bad." It was written by R. Jarrard and James Hilton and arranged by James Hilton, and published by Jarhill Pub. Co., BMI.
I never thought I'd make a record babe, but look at Sonny and Cher,
They had something to say, now I've got something to say to you,
Babe, you're expecting too much, so take off your rose-colored glasses,
See me as I really am.

You've got your rosies on …

Spend all day writing songs, changing worlds, righting wrongs,
Everyday it's 'get a job', but I can't see this working hard,
Ain't me babe, that ain't me babe..

Wear those funny way-out clothes, my girl says 'what are those?'
What I am, no I explain, cause your ideas can't make me change
It's me babe, ah it's me babe.

Expecting things from a guy like me, causes problems can't you see,
Wear my hair mighty long, need that hair to sing this song to you babe,
Just to you babe, oh yeah,

What I'm saying in this song, is maybe I'm right, maybe you're wrong
And just because my pockets are bare, that don't mean I ain't going nowhere.
I'm going somewhere, oh yeah, I'm goin' somewhere …

If you don't want me you don't have to come at all,
But if you want me, you better take off your glasses babe,
See me as I really am…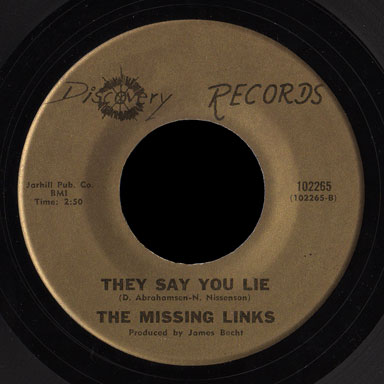 "They Say You Lie" is the opposite of the light-hearted top side. It's a brooding song, with slashing guitar chords, pounding toms and self-pitying vocals that rise for the chorus "but they say … you lie, you lie". The guitar solo has a matching intensity. It was written by D. Abrahamsen and N. Nissenson. Both sides were produced by James Becht.