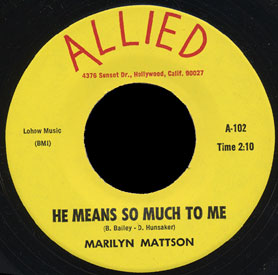 The dense, echo-laden production and almost spoken vocals match this song's dark, obsessive lyrics. A real obscurity, this Allied label also released "Mini-Skirt Blues" by the Flower Children.
"He Means So Much to Me" was written by Robert Bennett Bailey and Douglas Hunsaker. The less interesting flip side, "You Cheated", was written by Don Burch and was the original A-side to the record.
It came with a picture sleeve (see comments below), and I've seen one scrawled with "Sioux Falls" (maybe she came from South Dakota?) and ""Scepter Wand just picked up" (but it wasn't).