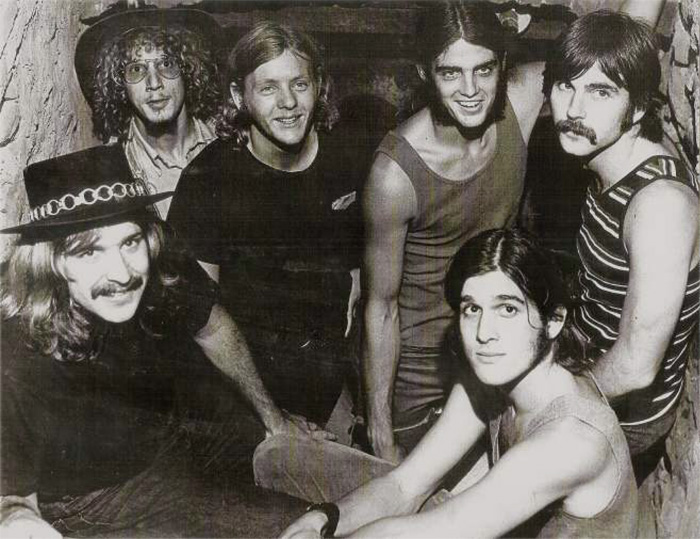 Love's Alchemy, clockwise from lower left: Damon Hyde, Rick Dannely, Nelson Bogart, Myron Grant, Ray Love and Rob Martens
Love's Alchemy had this one release on Ultra-City out of Saginaw, Michigan in 1970. The band named themselves after the poem by John Donne – the label spelling "Love's Alchmey" is a simple typo.

"I Never Said Forever" is a Doors-influenced song written by Ray Love and Damon Hyde. The lyrics include "Jesus" at least twice.

I'm not as much a fan of "Ophelia" written by Nelson Bogart, though the guitar solo has a fine, sludgy distortion to it. My copy is very scratchy. Both were published through Luzar Publications, BMI. Song writing credits list Ray Love, Damon Hyde, and Nelson Bogart.

I couldn't find much specific on the band until Charlie, a friend of the band wrote to me:
I went to high school with a couple of the guys in the band. They went to the University of Michigan and ended up as fraternity brothers and formed the band in the late '60s in Ann Arbor. The members were Nelson Bogart on guitar and occasional trumpet, Myron Grant doing lead vocals, Damon Hyde on keyboards, mostly Hammond B3, Rob Martens on bass and Ray Love on drums.

I was at the recording sessions in Saginaw for the record. When we met Choker Chapbell, he had to tell us that he was the guy on Stevie Wonder's "Fingertips Part 2" that shouts out "What key, what key?" about 3/4 of the way through the tune when Stevie starts ad-libbing and changes the key!

They are all still playing music, to the best of my knowledge.
Damon Hyde's wife Pamela sent in the photos seen here and wrote:
Damon passed away in 1999 from a high fever after 9 days in the hospital. He graduated from the University of Michigan in 1971 with a B.A. in Literature.

Damon was a honey-voiced singr who travelled extensively before settling down with his wife Pamela in 1978. He turned his musical talent into a lifelong career as a pop/rock singer and published songwriter. His band backed up Lou Rawls, The Drifters in Puerto Rico, Tiny Tim in Miami, Chief James Billie of the Seminole tribe of Florida and many others.

Damon's unique ability to sing and play a wide spectrum of music made him a sought after musician for many of South Florida's most popular bands. A double CD was released in his honor by his wife, Pamela called Unfinished Business.
Pamela added these notes from Myron:
The studio that did that recording was Tri City Recording, which I think was in Saginaw, although it might have been Midland. The marketing guy was "Bill McCune, Man from the Moon," and one of the owners was a previous member of the Motown horn section.

Actually, all three of us [Damon, Nelson & Myron] played trumpet (I played coronet), depending on the tune and arrangement. Nelson and Damon played solos, I played as part of the horn section in tunes such as "Hold on I'm Comin'". I don't recall ever having all three horns on the same tune.

[The photos] were taken shortly after Rick joined the group. We later changed the name to Ramblecrow. There was another band in A2 at the same time who's name came from literature, Leaves of Grass.
Walter "Choker" Campbell owned or worked with a number of labels in Saginaw including Tri-City, Moonville USA, Gospel Train and Ultra-City, with releases around 1970-'71. Almost all of these were soul sides, making this 45 by Love's Alchmey a big exception. Choker was a tenor saxophonist who started recording in 1950 for the Lucky-7, Fortune and Atlantic labels, among others. He hired on at Motown in 1960 to form the live band for their revue shows and had a 1964 album on Motown with his band playing the label's hits. He produced records by Carla Whitney and Albert Jones in Toronto, Canada during the 1970s, and passed away in 1993.
Background on Choker Campbell from the Soulful Detroit forum. Thank you to Pamela Hyde for the photos and quote from Myron Grant.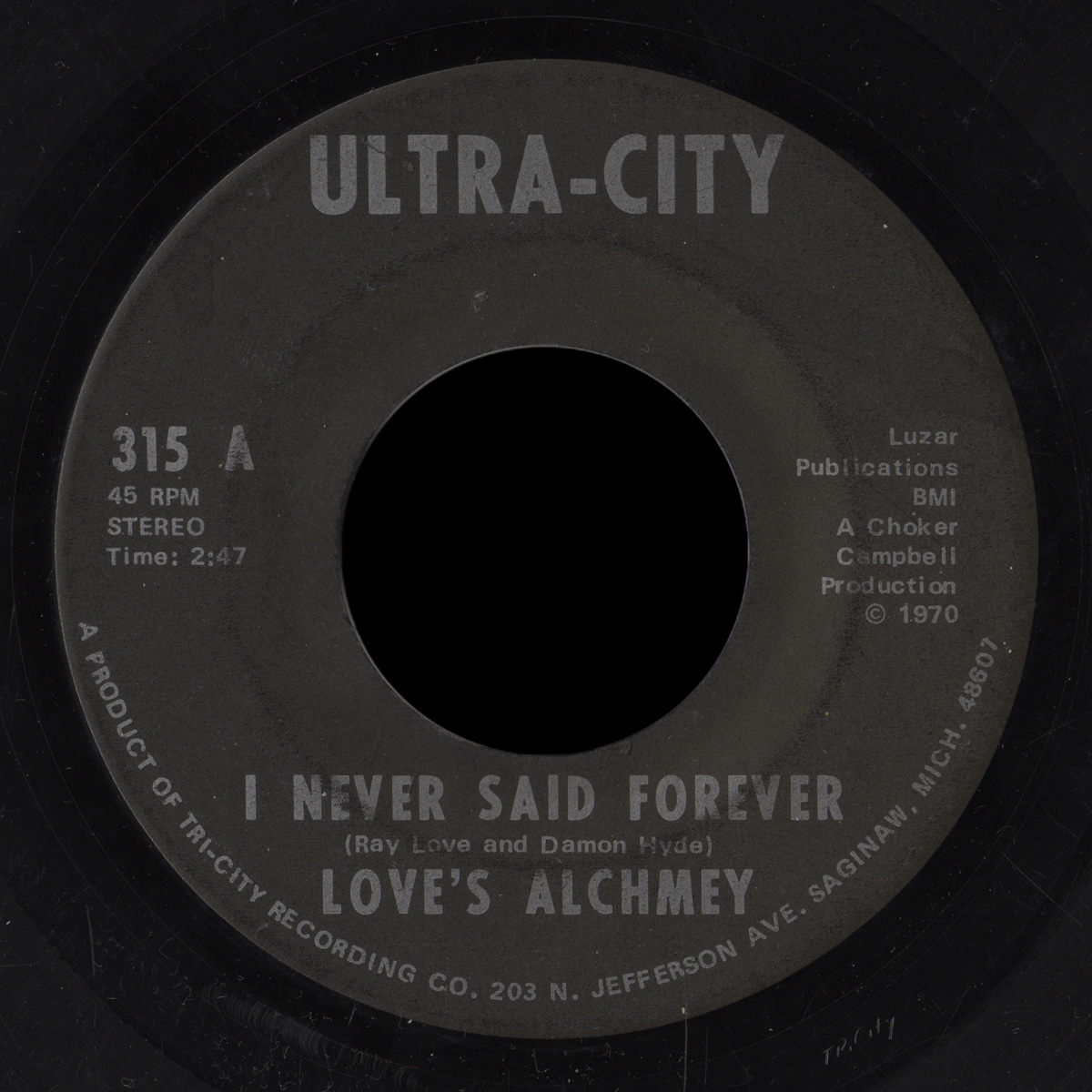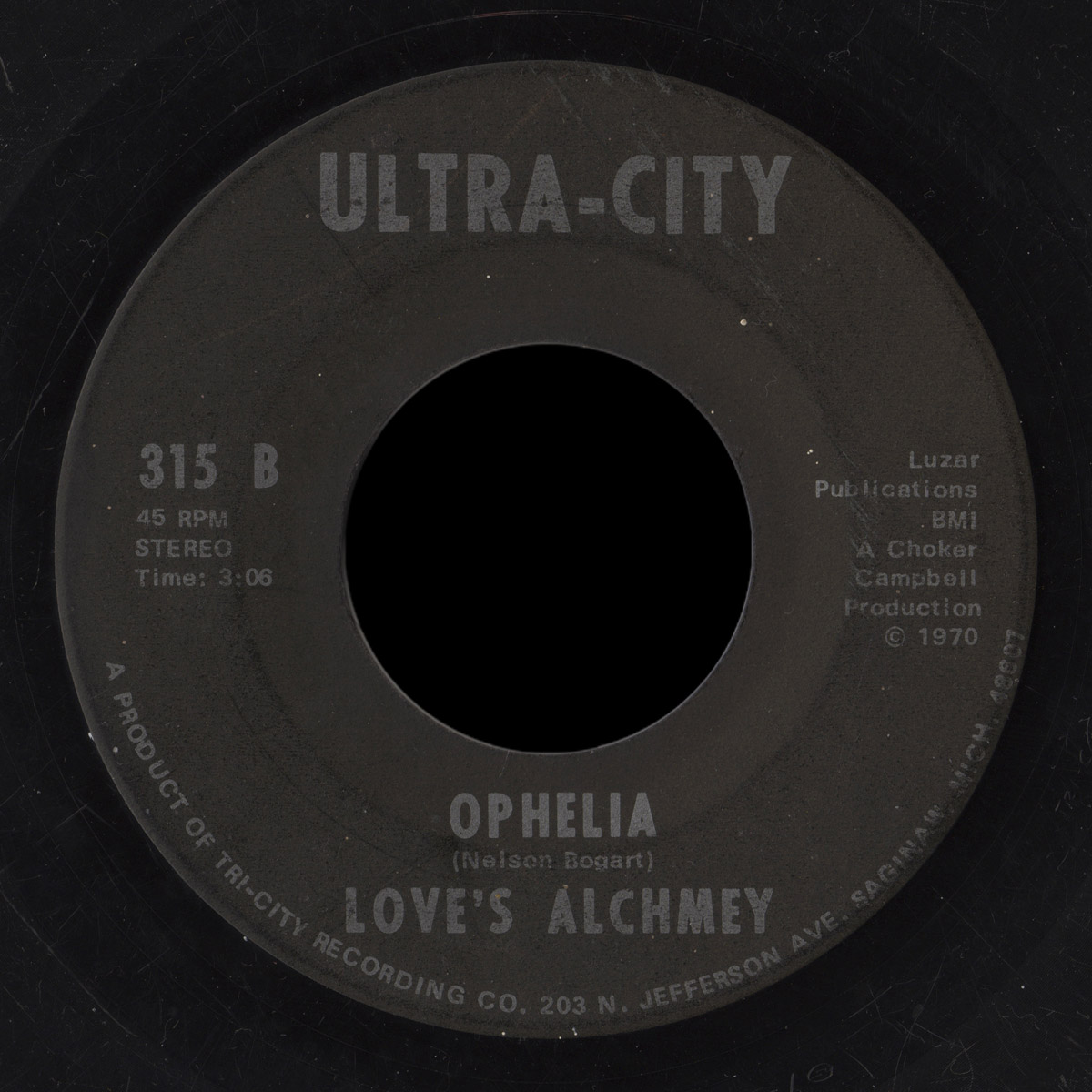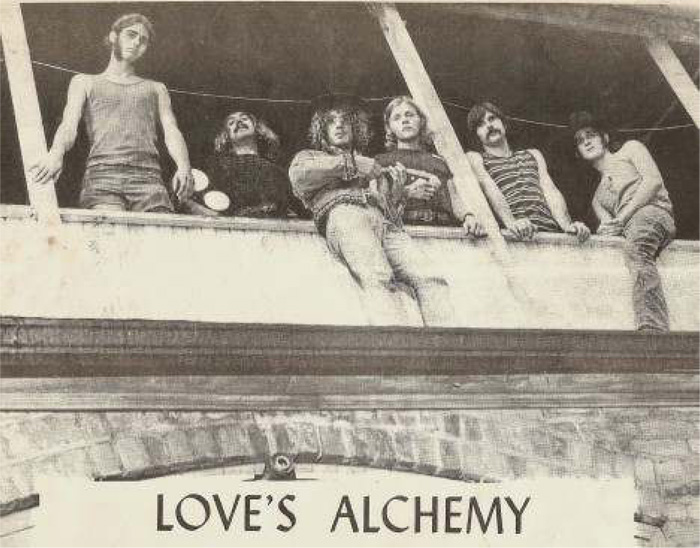 from left: Myron Grant, Damon Hyde, Rick Dannely, Nelson Bogart, Ray Love and Rob Martens