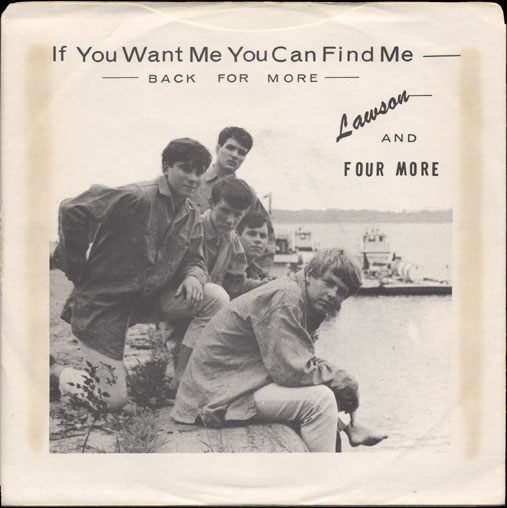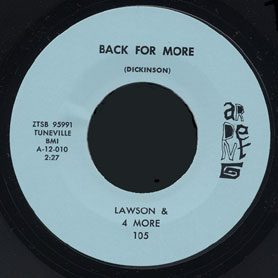 Out of Memphis, Tennessee came Bobby Lawson with his group Bobby and the Originals, consisting of Joe Lee lead guitar, Joe Gaston bass, Bill Donati drums, a guy named Bernie on keyboards and Bobby playing rhythm guitar and singing.
They initially played r&b and soul, but by 1965 they added the Zombies "You Make Me Feel Good" for an appearance on the local TV show, Talent Party. Around this time, Terry Manning replaced Bernie on keyboards. Terry had played with Bobby Fuller in their hometown of El Paso. Terry wrote to me in 2007 about his early career in Texas:
The Wild Ones was a band I started with a couple of guys from my school, Austin High in El Paso. We played around at a few small parties and stuff, nothing very big or very good. Our big hero, as with all other local bands, was Buddy Holly. (Besides Bobby Fuller, the other best local guy was Rod Crosby.) I was on rhythm guitar and some vocals, but the best player was a guy named Jay Nye. Roy Moore was our resident tech genius and sort of a "manager," meaning he had a back house and a tape recorder!

I did record an album as The Wild Ones there, but it was just me on acoustic gtr and singing, with Roy beating on a can or box in the background, and maybe one other guy on maracas or something. It was about 15 songs, all covers. I had it out the other day transferring it to digital for archiving, and considering whether or not I might release it. An album I recorded completely by myself of all originals in '65-66, before the Home Sweet Home farce, is going to come out soon on Runt/DBK…no one else has ever even heard it before. But the Wild Ones, I don't know…pretty raw and young!

When I left El Paso in '63, The Wild Ones got a couple of new members, everyone everywhere matured a bit, and they started playing much more serious gigs there, as I did in Memphis. In fact, they got pretty good (without me, ha ha!) I have some recordings they sent me later on, some surf type instrumentals…pretty cool sounding! They then decided to try to make it in LA, and went out there, hooking up with Bobby Fuller and the other El Paso guys already there. In fact, they went to Bobby's apartment house on the very day he was found dead, and actually saw the death scene, with police, etc. I was in Memphis by that time though.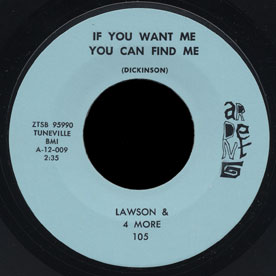 The band came to the attention of John Fry, who was running a fledgling Ardent Studios out of a room in his parents' house. Jim Dickinson contributed a song "Back For More", and after an initial take was too mellow, took over as producer on a faster version of the song.
I've also read that Dickinson convinced Fry to restart his then-defunct Ardent label specifically to record Lawson & Four More. In any case, the first version, supposedly sounding like the Kinks, remains unreleased. Studio musicians were used for all the instruments, including Jimmy Crosswaite playing maracas on a cardboard box, Charlie Hull on lead guitar, and Dickinson on piano. Another song by Dickinson, "If You Want Me You can Find Me", became the A side. Before the release, Dickinson renamed the band Lawson & 4 More and in a move to make him a "southern" Mick Jagger, told Bobby to stop playing guitar on stage. Around this time, Jim told Bobby "I'm gonna make you a star."
The top side of their second record "Relax Your Mind" was recorded in Nashville in 1966 at the Fred Foster Studio because Ardent was constructing its new studios in a building on National Ave. Bobby describes it as "an old Leadbelly song redone in a "Lovin' Spoonful" type style."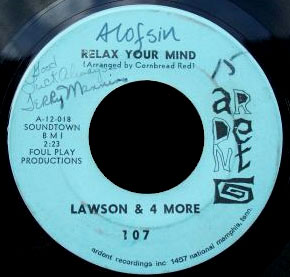 This time the whole band played on the record except for John Lee; Dickinson took over the lead guitar parts. It received a lot of local airplay despite a lack of promotional support from Ardent. This record also seems to be the last one released on the old Ardent label.
According to Bobby "our competition was the Guillotines, the Group, and Flash & the Casuals (the Radiants and the Counts had faded from the scene, and the Gentry's were on the road with their hit record)."
The b-side is the psychedelic "Halfway Down the Stairs", another Dickinson song. Bobby Lawson considers it "by far the best thing we ever cut." the melodic guitar riff is taken from Beethoven's Ninth Symphony, which I find kind of weird, but the guitar sound and overall performance is excellent.
On the strength of this moderate hit, Lawson & Four More joined a Dick Clark package tour that included the Yardbirds. The band's live performances became more psychedelic, characterized by destruction of equipment and stage lights. Bobby puts this down to Terry Manning's growing influence within the group. Bobby states, "as we infused more psychedelic and non-commercial elements into our show, we became less marketable (danceable)."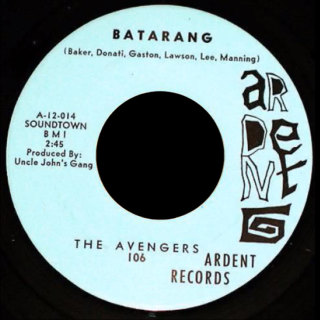 In between these two releases, the band cut a great 45 as the Avengers. One side is an instrumental "Batarang", featuring Lee Baker on guitar and Terry Manning on keyboards along with Joe Gaston, Bill Donati and Bobby Lawson. The flip is "Batman" featuring the Robins on vocals with the Avengers backing, including Jim Dickinson on 12-string guitar. Production by Uncle John's Gang, meaning John Fry's team, including Jim Dickinson.
After a name change to the Goat Dancers, the band eventually split acrimoniously over musical direction.
Bobby Lawson was still interested in soul and r&b, but after Ardent moved from the University of Memphis area to its National Avenue studio, Fry and Dickinson shifted their focus from Lawson to Terry Manning. Manning didn't have the voice of Lawson, but was more attuned to the new rock sound Ardent pursued when the label was relaunched again in 1970.
Terry Manning went on to a form Rock City with Chris Bell and Jody Stevens before those two formed Big Star with Alex Chilton and Andy Hummel. Manning then became a hugely successful engineer and producer for artists great and not-so-great. Part of his legacy is inscribing the Crowley maxim "Do What Thou Wilt" into the dead wax of Led Zeppelin III.
Bobby Lawson started Lawson's Blues Bag and gigs around Memphis to this day. Much information for this post was taken from Bobby's website – take a look for his detailed story about his career and Lawson & Four More.
Some specific info on Lawson & Four More's recording sessions comes from an interview with Jim Dickinson at What a Nice Way to Turn 17.