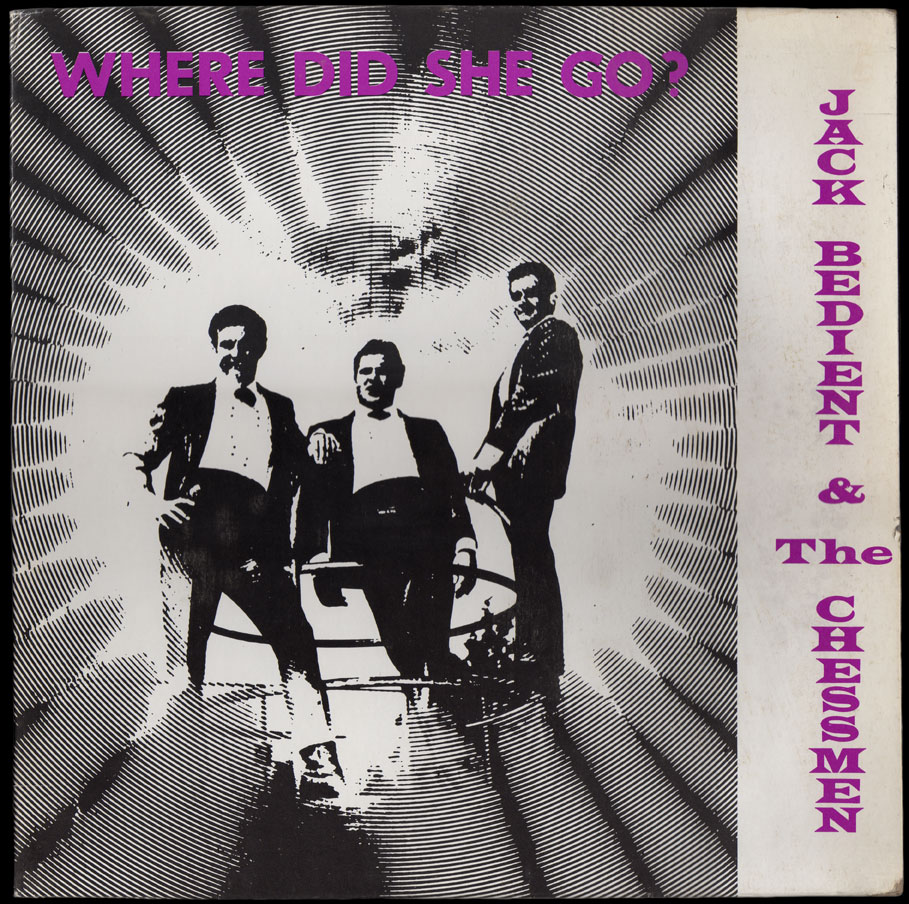 Jack Bedient was born in Mason City, Washington, by the Coulee Dam. Kevin Woods tells me "Jack was voice trained and was a member of an acappella quartet at Gonzaga University in Spokane, Washington."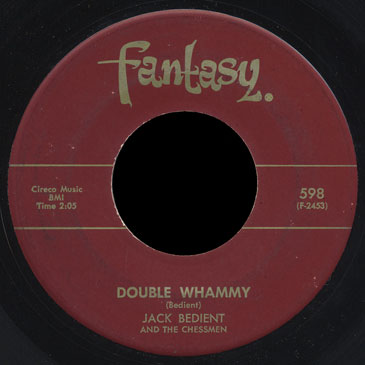 In 1961 he had a small hit with a pop ballad "The Mystic One" on the Los Angeles label Era, while he was living in Wenatchee, WA.
By 1964 he and his band, the Chessmen had a series of standing engagements in the Lake Tahoe and Reno, Nevada region, and they lived in Carson City, Nevada for some of that time. Long-time members were Jack Bedient vocalist and rhythm guitar, Kevin Woods lead guitar, Bill Britt on 6-string bass, and drummer Jewell Hendricks. Jewell would leave the group in the later half of 1965.
Jack Bedient and the Chessmen's live show catered to the pop sound of the times, featuring covers of current hits, lounge songs and comedy bits, and the band wore tuxedos for some upscale engagements. They released twelve 45s and five LPs during the '60s, much of which is a reflection of their lounge act or too pop for my taste. Within all this product are some very fine cuts.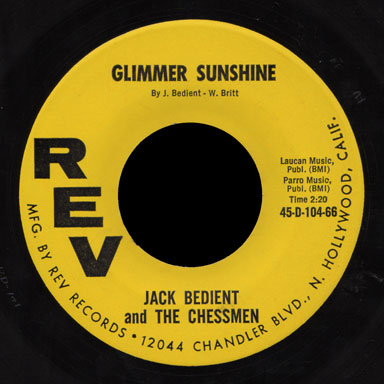 That year they cut their second 45, "Pretty One" / "Silver Haired Daddy" for the Trophy label, along with an LP, Two Sides of Jack Bedient, which I haven't heard.
In 1965 the band recorded five songs at Fantasy Studios in Berkeley. The first single, "See the Little Girl", is a British-influenced number. Interestingly Fantasy released it twice with the same catalog number, once as by 'Jack Bedient and the Chessmen' backed with "Here I Am" and once as simply 'The Chessmen' backed with "Looking for a Good Love".
Kevin Woods wrote to me that this 45 was "intended to be released under the name 'Jack Bedient and the Chessmen,' [but] the first copies were printed as 'The Chessmen.' A corrected label soon followed. When the performing name was corrected, the B- side song title was also corrected. 'Here I Am' and 'Looking for a Good Love' are the same song. The correct title is 'Here I Am' written by Glen Campbell and Marc Douglas. The lyrics are, 'If you're looking for a good love, here I am….' Easy to see where the confusion exists."
Their next Fantasy single is the fantastic hard-edged rocker "Double Whammy", backed by "I Want You to Know" (the Fats Domino song, "Don't you Know"). The guitar riff for "Double Whammy" comes from Dorsey Burnette's "Bertha Lou" as done by Johnny Faire on the Surf label. "Double Whammy" reached #19 on KCBN 1230 AM Reno in early July, 1965.
Seeking to update their sound they hired Walter Hanna as keyboardist in time to record their Fantasy LP, Live at Harvey's. I've only heard parts of the album, but there are good takes on "Louie Louie", "Mary Had a Little Lamb" (aka the Searchers "Ain't That Just Like Me"), "See the Little Girl" and "Double Whammy", though for this last one I prefer the single version.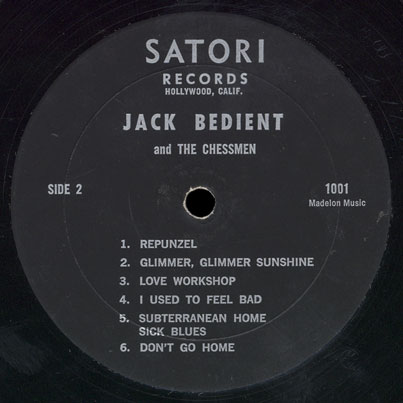 October 1965 saw the band's next 45, "Drummer Boy (Play Us a Song)" / "Dream Boy (Count Your Dreams)" on Tutti Camarata's Palomar label, then being distributed by London Records. Walt Hanna co-wrote "Drummer Boy" with Jack and Bill.
In 1966 they cut their great single, "Glimmer Sunshine" for the obscure Rev Records label. It's not like anything else the band ever recorded and is now their most sought-after release.
Their 1967 album, Where Did She Go? seems to have been drawn from various recording sessions and shows both sides of the band with one side each of schmaltzy pop and tougher rock material. From the first side I've included "Candy Roses and Love" as maybe the best example of the group's commercial pop. The second side is quite solid, with highlights being "Glimmer Sunshine" (the same version as on the 45) and "I Used to Feel Bad". The opening guitar on "Subterranean Homesick Blues" is so crude it's practically hardcore, and "Repunzel" and "Love Work Shop" are also good.
A later LP has typical covers of the day, but a version of "Purple Haze" is supposed to be good. Other members of the Chessmen include Steve Eggleston, and drummer Jerry Bledsoe. Drummer Sam Wisner worked with Jack after the group disbanded in August, 1970. In 1972 bookings became scarce and the band broke up for good. Jack Bedient passed away in 1998.
Walter wrote about his time with the band:
I was the 1st and I think only organist for Jack Bedient and the Chessmen, added just before their first venture into the world of Nevada casino lounge and then headliner room bookings. They had some earlier 45's out and one album when I joined. I recorded on the later 45's and wrote a couple of songs that went on 'B' sides. We also had an album recorded "Live At Harvey's" casino at Lake Tahoe. This was in their new "go-go" room, all dance stuff, done by a on-site Sunset Sound recording crew from Los Angeles, released with Fantasy Records pre-Creedence, not to mention Sunset Sound pre-Electra records in Hollywood.

I was "discovered" by the Chessmen playing in a pizza parlor in Redwood City, California on their night off – they had a gig down the road at a classy night club. I played organ and an early Wurlitzer electric piano with friends from 1st year of college. We were the house band for a couple of pitchers of free beer and pizzas plus $15 per man a night playing surf music and whatever else was on the Top-40 radio, Beach Boys, Buffalo Springfield, Ray Charles etc. This was around "spring break" 64-65 when I dropped out of Belmont Community College and split from friends and pizza gig to grab a lucrative job offer and regular gigs with Jack and the Chessmen, $300 a week to start – big money in those days and the end of my former every-day life.

As it turned out, this was the beginning of Jack Bedient and The Chessmen's first real big-money success, mainly in Nevada, changing gradually from a dance-club band into more of a 'Vegas show group' act. As I joined and went to Nevada with them, 'instant local stardom' continued for nearly two years.

[Manager] Bob Dee had the Chessmen lined up with good Nevada bookings: the Golden Hotel in Reno, the Silver Nugget nearby in Carson City, and Harvey's Hotel and Casino just up the hill at Lake Tahoe. We soon were headlining at the Golden Hotel (later to become Harrah's Club. We started getting airplay on recently recorded 45's and over about a year had 4 # 1 Top-40 hits. The line at the casino hotel was so long to get in for our shows, the tail of the line was near the start, going around the whole city block. It really was a mind-blower for hicks like us.

In between some Nevada bookings we went to Sacramento to play a couple of weeks at one of the popular local nightclubs, following Question Mark and the Mysterians, with one of our 45's at # 16 on [Sacramento] radio… [but] the Chessmen's popularity was not able to break out of the local area.

The drug scene in Nevada consisted of the casino pit bosses making easily available a steady supply of Dexamil Spansules, a great, 'tiny-time-pill' combination of the 'upper' Dexadrine and 'downer' Miltown (Mother's Little Helper) which kept you wide awake without being 'wired' for 12-24 hours. If you weren't near a 'cool' casino, the constant stream of truckers through everywhere always had something 'speedy' on hand. A user could stay up for days, gambling, drinking, making out, etc.

Time passed quickly and popularity faded. Following a dreary dinner plus music/entertainment booking at a dead Bakersfield eatery, Bob Dee actually booked us into the Playboy Club (the "Tiger-A-Go-Go" disco?) at the S.F. airport. Part of the show was Jack Bedient backed by the house orchestra – his dream come true.

Jack, with Bob Dee's urging, was trying to 'secretly' slip away and become a single big-name artist, like Roy Orbison, Jimmy Rogers, Andy Williams, etc. Jack's attitude towards 'his' musicians reflected this – we got 'no respect', especially drummer Jewell and I, and later Jewell's replacement. The Chessmen were cut to a trio of Jack with Bill and Kevin – drummer and keyboard as sidemen with a cut in pay!

So, Jewell, the original drummer was relegated to sideman status with a cut in pay, and so was I, just before we did the Live At Harvey's album. Jewel quit soon after, moved to L.A. Jewell was replaced by Art – can't recall the last name – and I stayed as a sideman for a while, needing the money, which was still pretty good, and enjoying the life-style. It's an old story in music 'show-biz' – one person in a successful group is willing to dump the others, despite their hard work on the way up. That's a different situation than being in a dead-end band moving from one subsistence gig to another. And, it's a different situation from a long-term success combination deciding to call it quits and go their own ways – some then on to personal star status. Jack had the voice, absolutely beautiful – but, lacking strong musicianship, he needed musicians with him that knew his weaknesses and could compensate.

I headed for Los Angeles into a long career of fun garage and original bands, a few 'almost-made-it' big rock 'n' roll bands, and many better-to-forget traveling club bands, always with Hollywood as home base. Reliable gossip I heard years later said Jack was working as a solo act with his guitar at Harold's club in Reno hotel in one of their in-house bars.
Jack Bedient and the Chessmen releases:

This is the most complete list of releases for the group out there, and corrects several errors from other sources. Any additional info would be appreciated, especially on his "Executive Productions" releases.
45s
The Mystic One / Question – Era 3050, July 1961
Pretty One / Silver Haired Daddy – Trophy 1001, 1964
See the Little Girl / Here I Am – Fantasy 595, 1965
See the Little Girl / Looking for a Good Love – Fantasy 595, 1965 (released as by "The Chessmen")
Double Whammy / I Want You To Know – Fantasy 598, 1965
Drummer Boy (Play Us a Song) / Dream Boy (Count Your Dreams) – Palomar 2212, October 1965
Glimmer Sunshine / Where Did She Go – Rev 104/5, 1966
Love Workshop / I Could Have Loved You So Well – Columbia 4-44302 1967
Pretty One / See That Girl – Columbia 4-44481, 1968
The Pleasure of You / It's Over – Columbia 4-44565, 1968
My Prayer / Independence Day – Columbia 4-44671, 1968
I've Been Loving You / I Could Never Lose My Love for You – Executive Productions 21, 1969, with picture sleeve
Beautiful (Takes a Trip) / Release Me – Executive Productions 21
LPs
Two Sides of Jack Bedient – Trophy 101, 1964
Live at Harvey's – Fantasy 3365, 1965
Where Did She Go – Satori 1001, 1967
Songs You Requested – Chessmen no #, 196?
In Concert (Harolds) – Chessmen no #, 1969
Jack Bedient – Executive Productions, 196? (rumored, but apparently this does NOT exist – if so please send confirmation)
Thank you to Jeffrey Lee for the scan and transfer of "I've Been Loving You" and to Fred Hoyt for the scan of the Executive 45 sleeve. Special thanks to Kevin Wood for his help in correcting some of the information in this article.
Sources for this article include: Inland Empire Rock: The Sound of Eastern Washington, and The PNW Bands site.