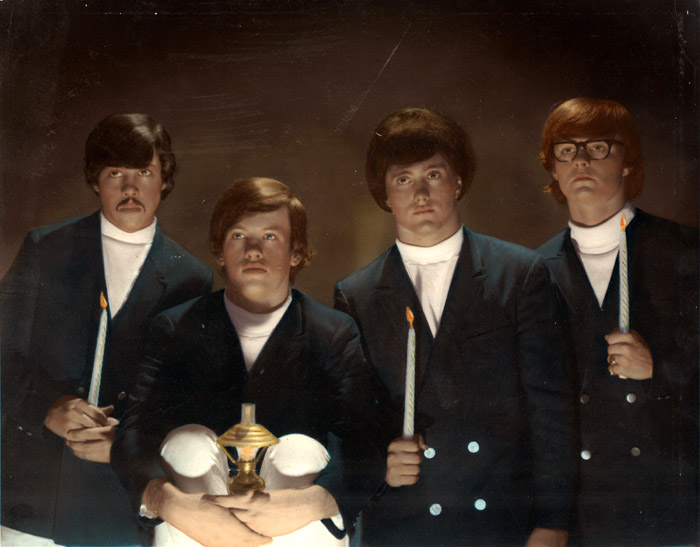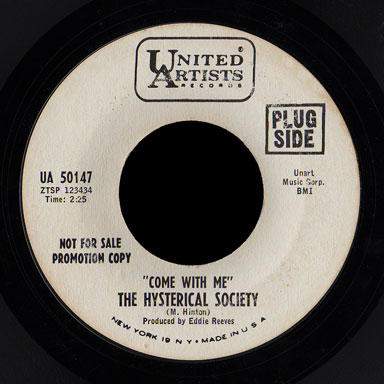 A double-sided winner from Amarillo, Texas. Both sides were written by M. Hinton (Markus Lee Hinton according to the song publishing info).
The producer Eddie Reeves was working for United Artists publishing at the time; he'd had a prior career as a vocalist with the Nighthawks and a solo 45 on Warwick, "Cry Baby" / "Talk Talk". He was from Amarillo, and may have provided these songs for a home-town group.
There is a likely connection to a group who recorded a 45 as the Hysterical Society Boys, "Funny Face" / "I Got Shot Out Of The Saddle" on the EBR (Eddie B. Reeves) label in the early '60s, but I haven't heard that one yet. (Thanks Davie G for this info.)
Despite good songwriting, production and performance on both sides, the 45 didn't make a dent in the charts.
The band had one more release, "I Put A Spell On You" b/w "Summertime (Variations)" on an Amarillo label, Tipton, in 1968.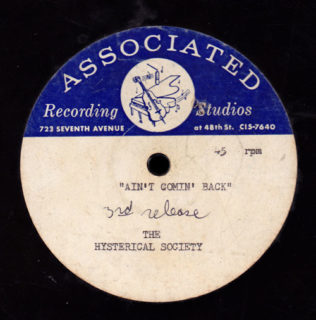 Update May, 2018:
Michael Thom acquired a 10″ acetate of one song recorded at Associated Recording Studios in New York. Michael wrote, "the acetate is very badly damaged, with a lot of lacquer separation that goes through the entire disc". Michael spent hours restoring the sound so we can hear what this unreleased song sounded like. Perhaps someone associated with the band has another copy of the demo, or the master tape from this session.
Click to hear an excerpt from "Ain't Comin' Back"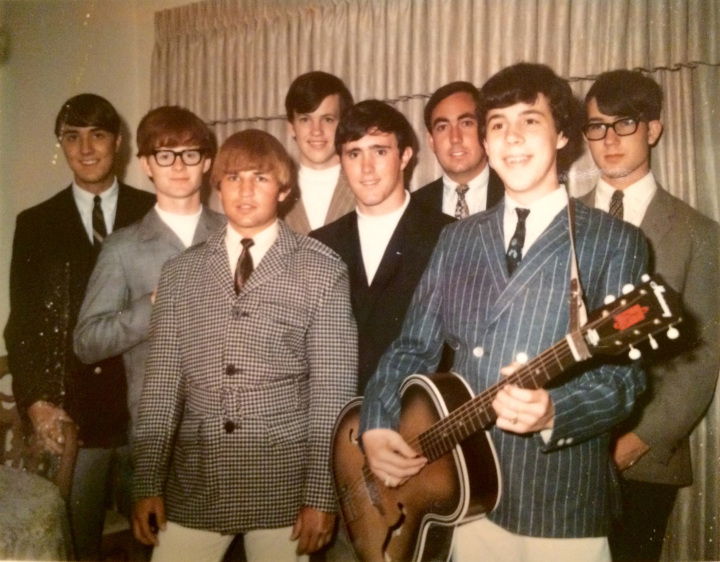 I knew next to nothing about the band until Woody Key contacted me about the band. I'll reproduce the comment he left below here, because it contains so much info about the group:
The Hysterical Society lineup on this record (and most of their career) was Mark Hinton – guitar, organ, vocals; Ronnie House – guitar, vocals; Ken Hutchinson – bass, vocals; and Mike Pugh – drums, vocals. There was indeed a link between Eddie Reeves and the Hinton family; Mark Hinton's uncle Mike was one of the members of the Hysterical Society Boys, which I think were a band that was formed in Austin when Mike went to University of Texas. I don't think that Eddie Reeves was in the Hysterical Society Boys, but he and Mike Hinton were in the Nighthawks.

The record (and I think 4 more sides, which weren't released) was done in New York City. The boys were excited to be in the Big Apple, and had the opportunity to meet Bob Dylan and Napoleon XIV of "They're Coming to Take Me Away" fame.

The Hysterical Society were a popular TX Panhandle and regional band from 1966 – 1969. They recorded "Summertime" / "I Put a Spell On You" in 1968 at Norman Petty's studio in Clovis, NM, with Norman producing. By this time, they had replaced Ken Hutchinson with David Fine on bass and keyboards. They eventually replaced Ronnie House with Mark Kay on guitar, and kept this lineup until they broke up in late 1969.

Mark Hinton and Eddie Reeves kept crossing paths musically, with Eddie producing demos by Mark's band Piper in Los Angeles, and also Mark's solo demo projects in the early '70s.
Update January 2012
Ken Hutchinson sent in the photo at top, and answered some of my questions about the band:
The photo was one of my favorites and I'm happy that I found it. True that Eddie had some promo shots of us done while we were in New York but as the single never made a dent in the charts we saw proofs but I do not believe finished copies were ever made. My sister remembered some studio shots done in Amarillo by our mother who was a photographer with a local studio. My mother also took the shot that I sent you.

The formation of the band came about by a chance connection of me and Ronnie House, the lead guitar player. He also knew Mark Hinton from school and as he and I worked together he suggested that we get together with Mark who knew a drummer (Mike Pugh). At the first get together the chemistry was good and we decided to become a group. Mark and Mike were the real talent of the group and Ronnie and I were good enough to compliment them.

After a while we kind of took the Texas panhandle by storm as we were all high school students and were very good at copies. We practiced enough to keep our material current, were very energetic on stage and popular enough around school that the buzz got going pretty quick. What probably kicked us off the most was the opportunity to open for Buffalo Springfield and Jay and the Americans at The Amarillo Civic Center [Tri-State Exposition on June 23, 1967 with additional acts the Dearly Beloved and the Stumps – anyone have a poster of this?]. The crowd was packed and I believe we represented the local talent well as we were the only local band. There were a lot of people in the audience who had never heard of us and could not believe we were local. Members of both of the lead bands complimented us back stage on our performance.

The Hysterical Society February 1968

The connection with Eddie Reeves did indeed come through Mark's uncle Mike Hinton who was pursuing a law degree at The University of Texas at Austin. He had booked us at some frat parties and such in Austin as he was still active in music and had a lot of connections down there. We had to be careful about booking Austin as it was a 500 mile drive one way from Amarillo but the pay was so good that it seems we were playing down there a lot. I'm not sure yet what those college kids saw in a high school band from Amarillo but we continued to be asked back.

Mike asked Eddie to come listen to us in Amarillo. I believe Eddie had some family ties in the area. He came, listened and asked us if we would be interested in coming to New York to record for the label – he would produce us and take care of us while there. How could four 17 year old kids refuse?

We did indeed cut six sides while there however the promo copy of the two that you acquired was all that was released. We received copies of the other four, but I have lost track of mine after being passed around to family members for 45 years. There were five rock and roll songs written by Mark and one ballad written by me recorded. Eddie picked the two for release.

"Come With Me" was very current for the time – it must have been as the Beatles used the same riff for "Tax Man" a short time later with a lot better result. The flip side, "I Know", was, I think, a little ahead of it's time but what is my opinion worth.

We did have the opportunity while in New York to meet Bob Dylan and Napoleon XIV but I doubt that it made any sort of impression on either of them as we were just some high school kids from Texas who happened to draw the attention of UA momentarily and they were stars. Probably just bored.

Drummer Mike Pugh

When I left the band I had an opportunity to tour with The Shirelles who later connected up with The Drifters and The Coasters. So I had a chance to appear on stage with all three for quite a while. This was late 1969 and the early '70s and all three of the groups had seen the shining days of their careers go by but were still active on tour and still drew reasonably good crowds. I'm sure the groups I played with did not still retain all of the original members but the music was good, the crowds were large and the tour was fun so I stuck around for a while.

I also played with some opening bands around Los Angeles while we were there and got to meet quite a few more "stars" and perform for huge crowds. When I finally decided that what I was doing was really to big for me I returned to Amarillo. I was after all married with children and needed to settle down.

I took a break from music that turned out to be extended to almost 20 years before the itch was too much trouble to scratch and started playing again about 1992.

A couple of really good local bands and about 15 years later I took another break and do not at 62 have much desire to do it any more. That's why I respect Woody Key so much. He is not that much younger than me and is still out there doing it every day and succeeding. The difference between an artist and a practitioner I guess but I would not give one minute of it back for anything.

Ken (Hutchinson) Warren
Thank you to Woody for info on the band, and to Ken Warren for the photo at top and history of the band.
Special thank you to Mike Pugh's niece Deborah for providing scans of all the photos except the top one. These were added to this article in November, 2014.