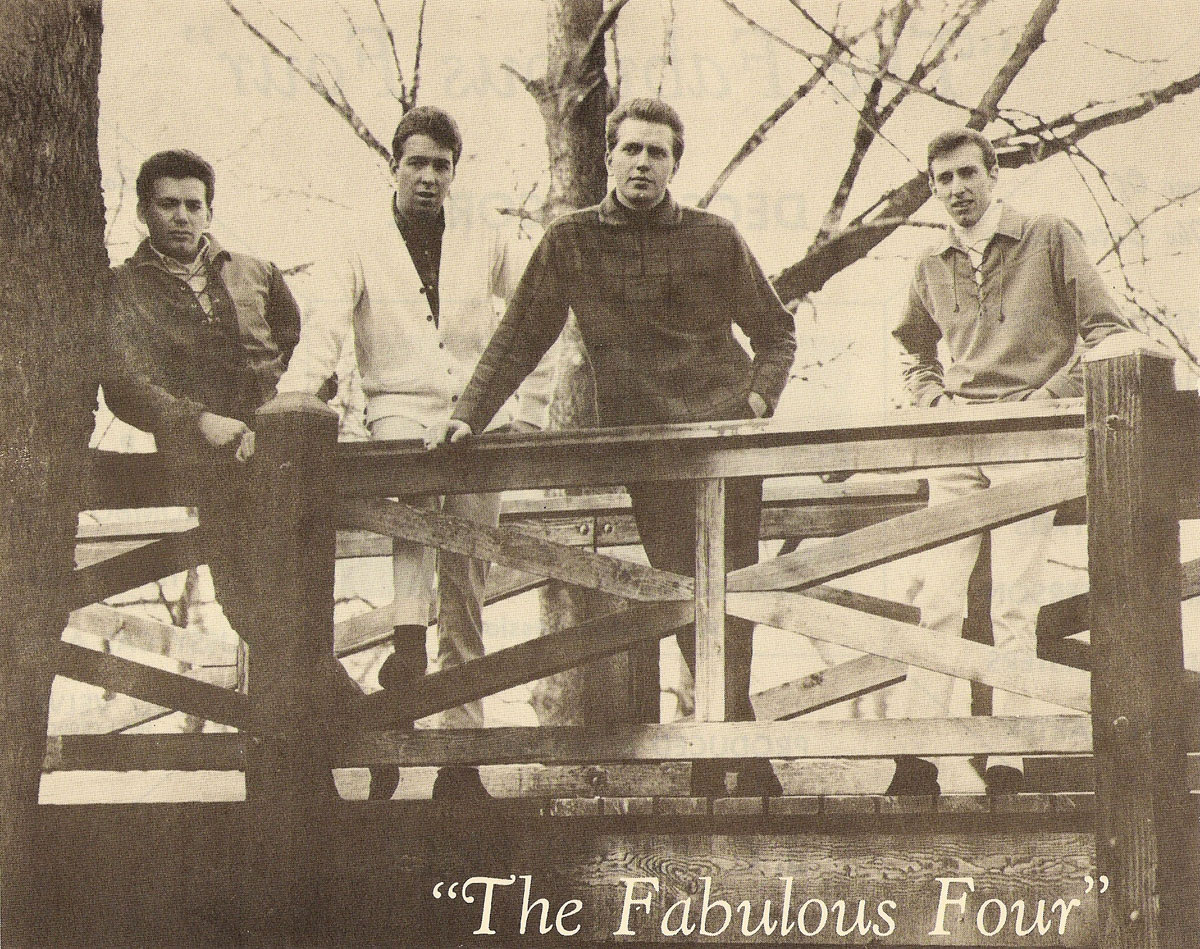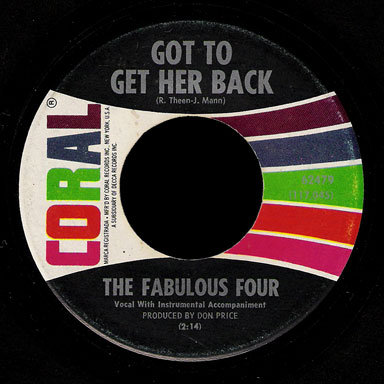 The Fab Four are a long-active group from Kansas City, Missouri. They evolved out of the Midknighters, formed in 1959 by Bob Theen and Alex Love. After a name change to the Fabulous Four Jacks, they shortened it to the Fabulous Four in 1961 and to the Fab Four by the time of their second record.
In 1963 Theen and Love added two new members to form a unit that would be together for fifteen years. Jeff Mann joined after original guitarist Dick Wilson was drafted and Mike Myers of Kansas City's Silvertones replaced keyboardist Bill Bryant. Their first show with this lineup was at the Combo Club.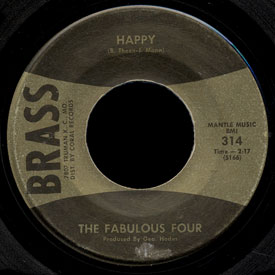 The band wrote the melancholy "Now You Cry" for their first 45, b/w the folky pop song "Got To Get Her Back". George Hodes, owner of Prior Brass Co. recorded the group in his living room, and issued it on the Brass label in 1964. Coral soon picked it up for national distribution, but it missed the charts.
Guitarist Bob Theen wrote to me about the band:
This first 45 was released in 1966 on a local Kansas City label (Brass) and then picked up by Decca Records and re-released on the Coral label.

I'm sure you figured it out but we really were The Fabulous Four all those years, it was just the record companies that wanted to change our name on the records. I'm not really sure when everyone started calling the Beatles The Fab Four. That probably had something to do with it. But, we were the Fab Four long before the Beatles.

In our nightly performances we all sang lead and background vocals. That's why our songs all sound so different.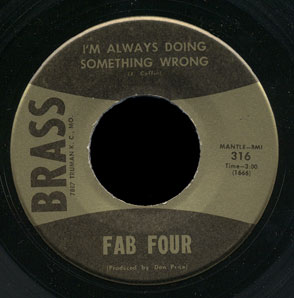 I like their second 45 even more, "Happy", with its shrill organ, harmonies 320 sharp guitar lines, also produced by George Hodes, and written by Theen and Mann.
Both sides of the third 45 are also good. "I'm Always Doing Something Wrong" was written by J. Coffin (a member of In Black and White with Hal Pierce, and later The Wizards From Kansas), and once again the harmonies really come through. The flip is a cover of "Youngblood" with distortion on the guitar. Don Price produced this one.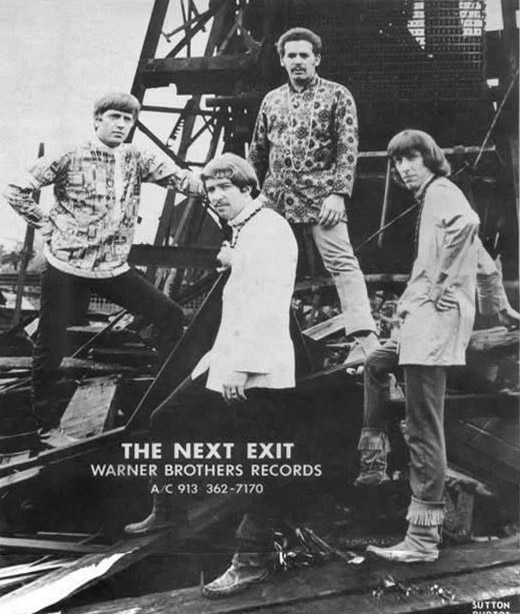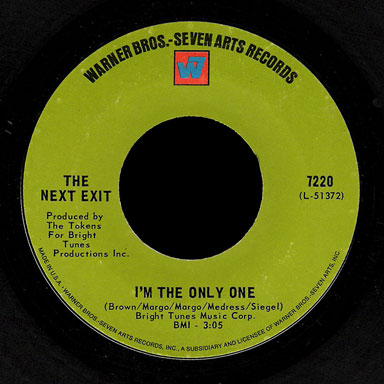 In 1967 the group landed a great opportunity to travel New York to record "I'm the Only One" and "Break Away" as the Next Exit for Warner Bros, produced by the Tokens. "Break Away" was written by Stephen Friedland (aka Brute Force) and Paul Kahan, and is well-crafted psychedelic pop.
Bob Theen: This song was recorded in NY in 1967, produced by The Tokens. It was supposed to be the title song for a movie that was released that next year in 1968 called "Butterflies Are Free' The movie did come out it '68 but for some reason unknown to us our recording was not chosen. The song "I'm The Only One" was in the movie but only one short verse was sung by one of the stars on an acoustic. Darn the luck!! The other side of this is "Breakaway".

Our version of the song was released in the spring of 1968 and got some air play here in K.C. MO. Don't know about anywhere else. But evidently it wasn't a smash hit.

I still have a letter from Hank and Jay asking us to return to NY for some more recordings but for some reason at the time the trip was too far. I still wonder to this day why we didn't go. I think it had something to do with our families, wives, babies and that sort of thing.
They recorded their last record as the Fabulous Four in 1969, "River Days" / "I Got A Feeling In My Body" on Pearce, cut at Cavern Studios in Independence.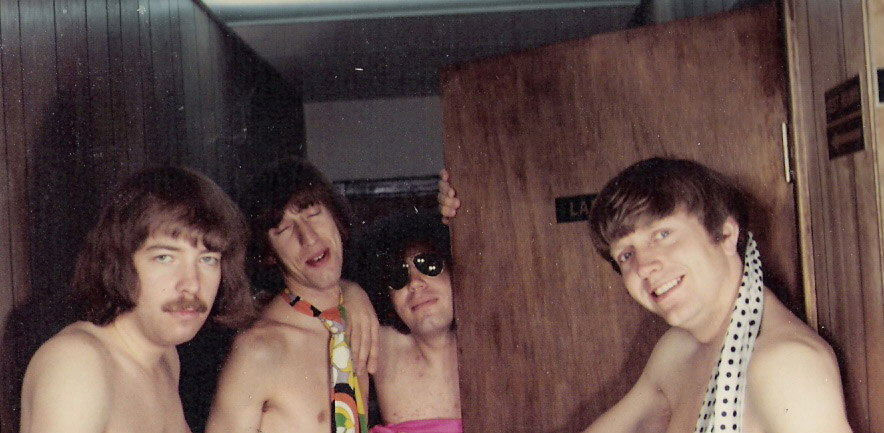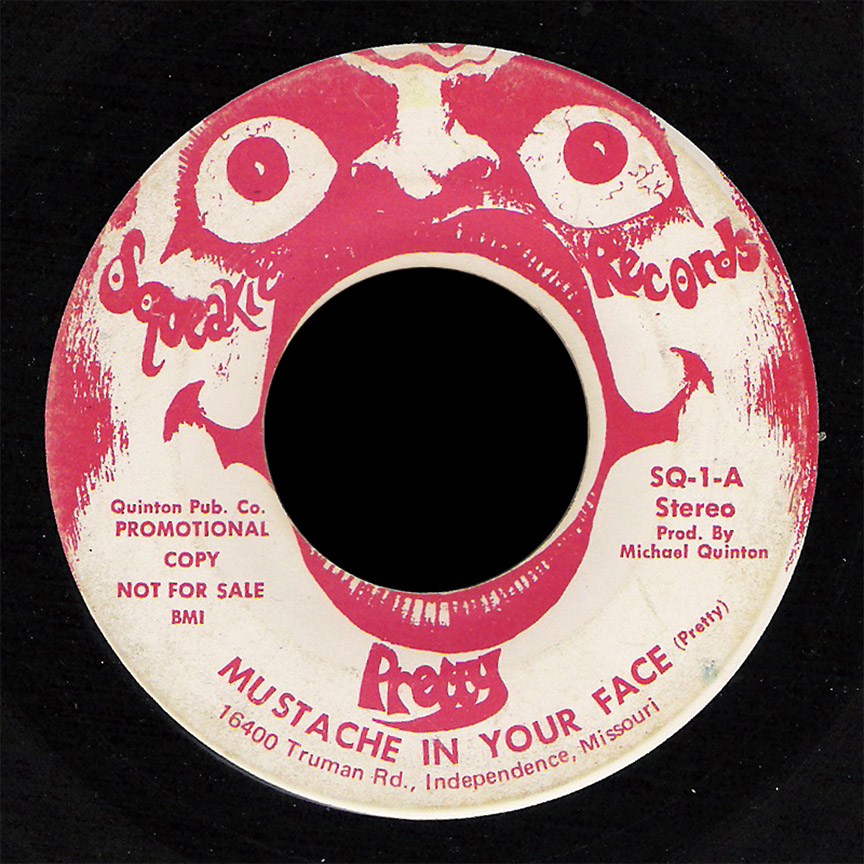 Also at Cavern they cut two songs written and produced by Michael Weakley ("Quint" Weakley, drummer for the Electric Prunes) that got a rare release on Squeakly Records with the band listed as 'Pretty'. Both songs show the band tackling heavy psychedelic sounds, a completely different style of music than they'd done on record before.
Bob Theen gave me the background on these recordings:
During the years 1969 to 1971 we did a lot of recording at a local studio by the name of Cavern Recording Studios located in Independence, MO on Truman Road. It was a very unique studio because it was actually located in a huge cave in the hillside, hence the name Cavern. Talk about quiet!

We recorded a lot of songs there. Some we wrote, some we co-wrote, some other people wrote. We also had some of our friends set in on some of the sessions. Two of the songs recorded there were titled "Mustache In Your Face" and "The Electric Hand" produced by a guy named Michael Quinton Weekly. Michael was also the drummer for The Electric Prunes. We wrote and recorded a lot of other songs there, most we thought were pretty good, just couldn't get them off the ground on our own.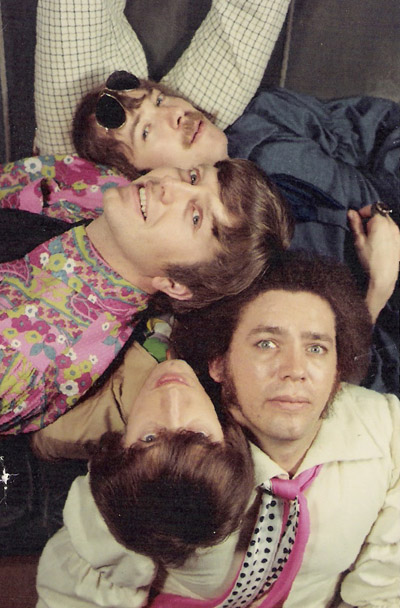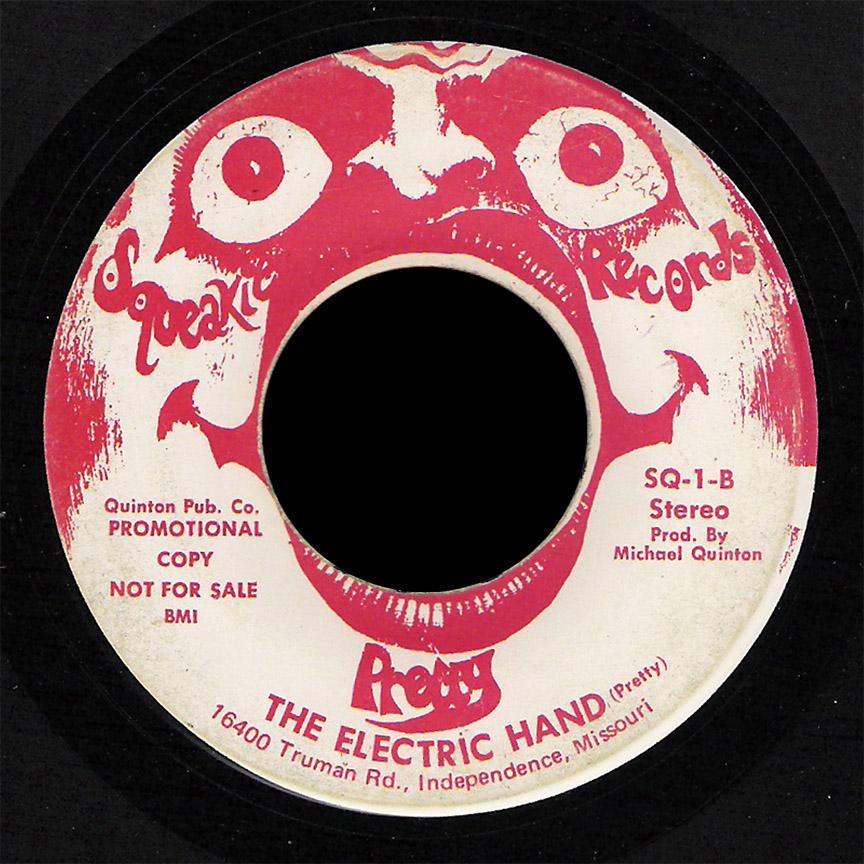 Q. Was that 45 all the members of the Fab Four? Why the change of name?
Bob: The "Pretty" record was all the members of the Fab Four band plus a couple of other friends that sat in with us. I think maybe Weekly [sic] even played the drums. It was completely different from what we had been recording, but not so different from what we were used to playing live at the clubs every night, we were pretty versatile. Weekly just sparked a different side of us.As far as the name change, it was Weekly again. He was a little far out on ideas during that time, I have some pictures of us to prove it. Don't laugh! As for myself, I never was real sure about four macho guys trying to be Pretty!
Q. Was it difficult adapting to that heavier style? Were you playing those songs in your live sets?
Bob: As I mentioned before, the style change was not really a change for us because we played that kind of stuff every night at the clubs.
Q. How did Quint Weakley wind up producing records at Cavern?
Bob: A couple of us knew Weekly from way back in our kid days. As I remember he showed up at Cavern Studios one day, said he had some ideas for some songs and it just took off from there.
Q. That record seems to be very rare now, was it distributed at all?
Bob: To my knowledge the record was not distributed at all. After the sessions, Weekly took off for California to try and sell them to someone. Don't think he had any luck, and we didn't see much of him after that.
Q. Also, are there unreleased tracks from those sessions?
Bob: There are some other recordings from that time, but they only exist on tape.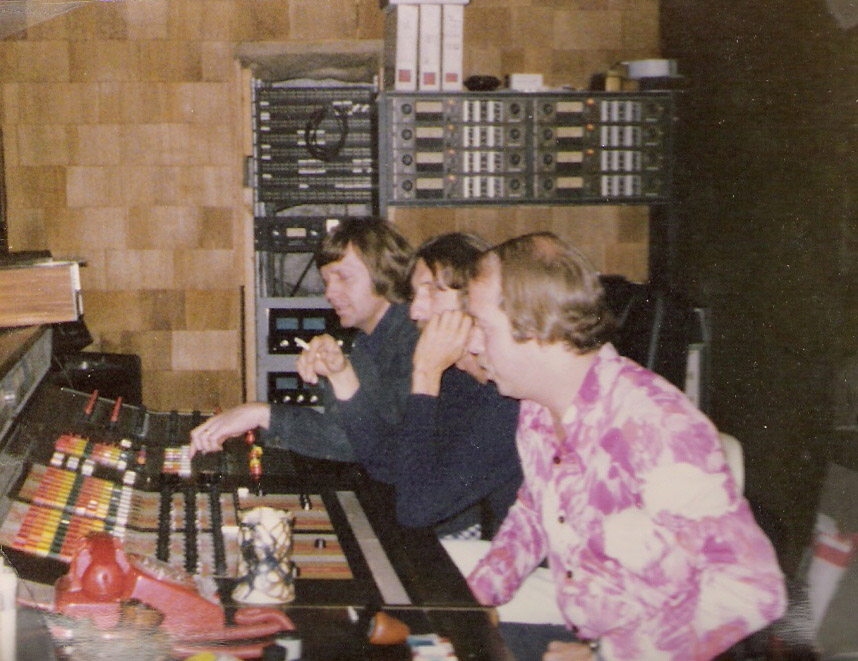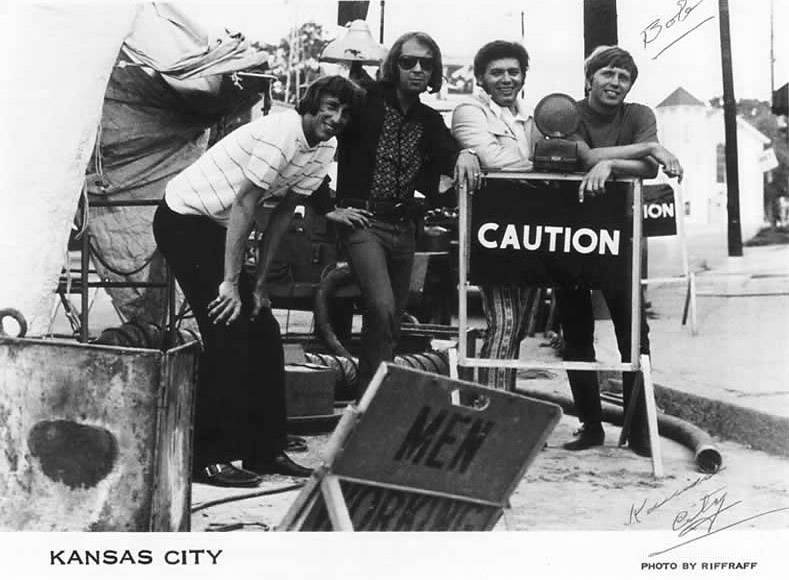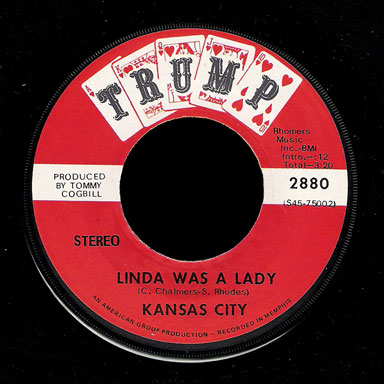 When they recorded a 45 for Capitol in 1970 the band's name was changed to Kansas City, but they continued as the Fab Four for live shows, including extended stays at the Attic. The band broke up in 1976 and have reunited since.
Bob Theen: The song "Linda Was A Lady" was recorded in Memphis in 1970 on the Trump label, a Subsidiary of Capitol. The back side was "Red Tower Road". To our knowledge, and from the amount of the royalties, it did the best of the three we released. Our producer was Tommy Cogbill along with Chips Moman, a couple of very talented guys in Memphis. I think Tommy has since passed away, don't know about Chips.

We continued playing professionally till about 1974 when we decided to hang it up. I think the disappointment of our last recording not going big time got us down.

Twenty three years later we got the itch to do it again, but soon it was evident that our original drummer was not physically able to play again. We had another drummer friend by the name of Mark Higbee that hooked up with us and would be our drummer for another ten year run. We played parties, clubs and all kinds of events around the Midwest and had a great time doing it.

We did our last Hoorah in the fall of 2007 for a Parkinson's Fund Raiser called Rock Around The Block featuring us and several well know bands from our era in the K.C. area. The event was held at the new H&R Block headquarters in K.C. MO.
On March 22, 2008, The Fabulous Four Band (Bob Theen – Jeff Mann – Mike Myers – Mark Higbee & original drummer Alex Love) was inducted into the Kansas Music Hall Of Fame.
Jeff Mann passed away in 2012.
Sources include:Rockkansas.com (http://rockkansas.com/columns/billlee/021804-fabfour.shtml – link now defunct).