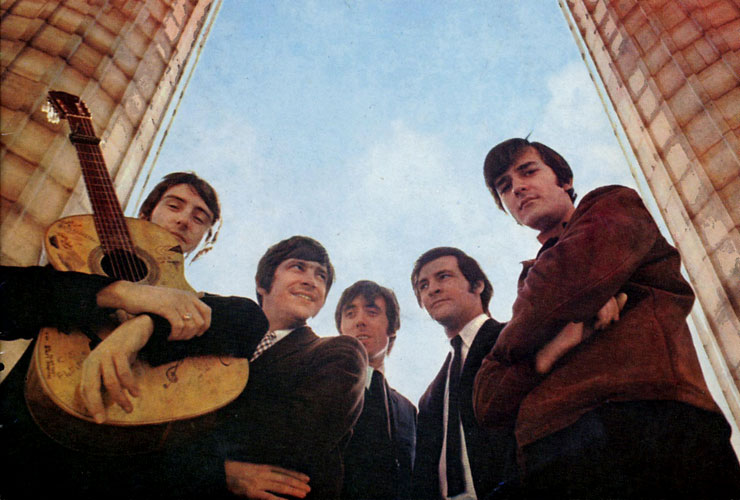 Denny Laine with the Moody Blues
Denny Laine (lead guitar, vocals)
Binky McKenzie (bass)
Wilhelm Martin (violin)
John Stein (violin)
Clive Gillinson (cello)
Chris Van Campen (cello)
Viv Prince (drums)
1966
October (8) After recording the single Life's Not Life, Laine (b. Brian Frederick Hines, 29 October 1944, Tyseley, Birmingham, England) leaves The Moody Blues to pursue a new musical project. He briefly forms a trio but the project fails to gel as the others don't share his new musical ideas.
December Laine forms an amplified string quartet with classical musicians Gillinson, Martin, Stein and Van Campen (who are all ex-Royal Academy), and a backing band featuring ex-Pretty Things and Bunch Of Fives drummer Prince (b. 9 August 1944, Loughborough, Leicestershire, England) and bass player Binky McKenzie, who has worked with future Crazy World of Arthur Brown keyboard player Vincent Crane and blues legend, Alexis Korner.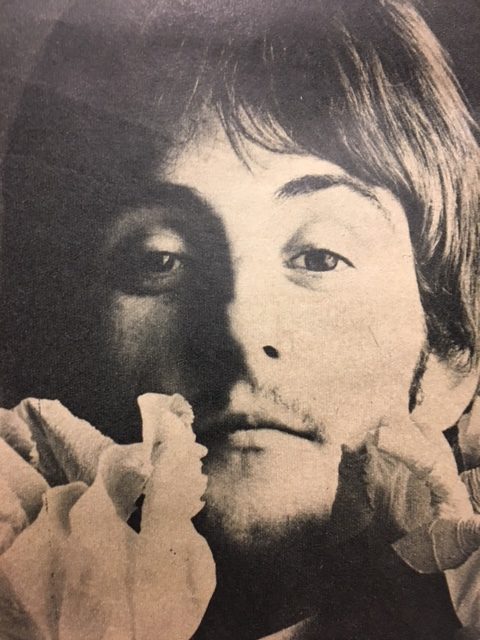 1967
January (21) Melody Maker announces that Laine is recording for Decca's new 'progressive' label Deram. Laine will continue to work under the guidance of producer Denny Cordell, who oversaw The Moody Blues' recordings.
April (14) His debut single Say You Don't Mind is released but fails to chart despite being aired on John Peel's popular independent radio show Top Gear. The song's advanced nature is confirmed when ex-Zombies lead vocalist Colin Blunstone takes a similar version to UK #15 in 1972. Disc magazine states that Laine has been commissioned to write an Italian film score and is expected in Milan in July for 10 days to supervise the recording. The project, however, is later shelved.
(29) Laine is a compere at the 14-hour Technicolour Dream concert at London's Alexandra Palace.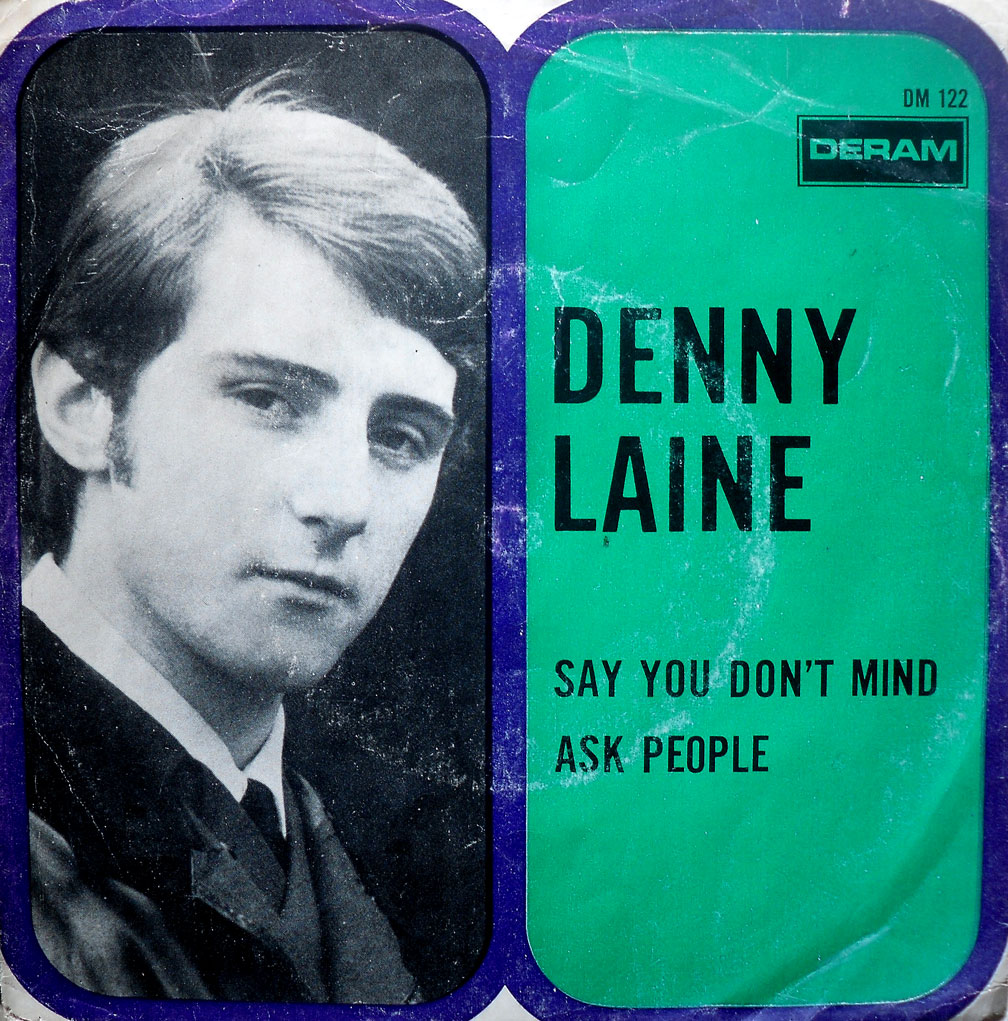 Dutch sleeve with b-side title missing the definite article.May (3) Denny Laine's Electric String Band supported by Robert Plant's Band of Joy at Cedar Club, Birmingham.
(7) The group's debut performance at London's Saville Theatre (which was originally scheduled for 3 May) is cancelled when Laine pulls out one hour before the show. According to Melody Maker, bass player Binky McKenzie leaves three days before the show and Laine is unable to get a replacement fully rehearsed in time. Shortly afterwards, Laine reorganises the group, bringing in new bass player Cliff Barton, and Angus Anderson (violin) and Haflidi Halynisson (cello), who replace Martin and Van Campen.
(10) Denny Laine's Electric String Band return to the Cedar Club for another show supported by Robert Plant's Band of Joy
(19) His new group makes its debut at London's Tiles Club on a double bill with his former band, The Moody Blues. (Disc magazine announces that Laine is due to do a six-day promo tour of the US from 24-30 May, but it is subsequently cancelled.)
(26) Say You Don't Mind is given an American release.
June (4) The band finally plays at London's Saville Theatre alongside Procol Harum, The Jimi Hendrix Experience and others. (According to Melody Maker, the group performs in Paris on 7-8 June and then travels to Brussels for three days of concerts and TV performances. However, this seems unlikely as a later issue claims that the group begins work on a new single and a debut album on 7 June.)
(8) The group plays at the Marquee with The Pyramid (featuring future Fairport Convention singer Ian Matthews and several soon-to-be Denny Laine collaborators).
(10) June Laine's band is booked to play at the Birdcage in Portsmouth, Hants but doesn't show up.
(19) Denny Laine's Electric String Band makes its debut BBC radio appearance on the Light Programme.
(24) Denny Laine's Electric String Band appear at the Swan, Yardley with The Maddening Crowd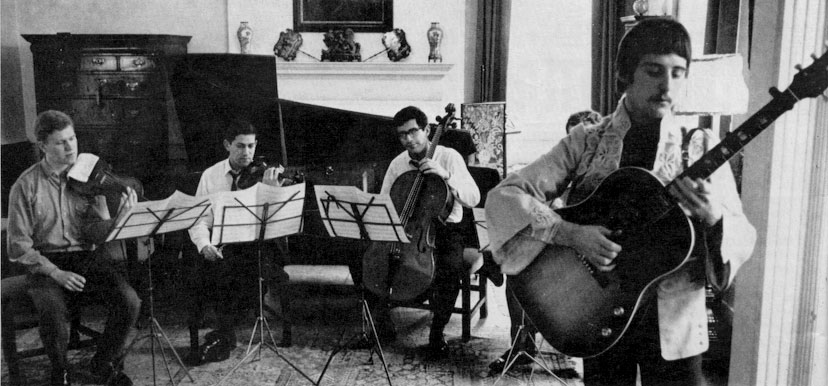 July Laine cuts the ambitious track Why Did You Come? with new bass player Andy Leigh, which producer Denny Cordell subsequently holds back because he feels that it is "too subtle". (A Melody Maker article from this time, however, claims that the master tape goes missing.) Leigh has previously worked with Denny Cordell's "Studio G" project, which has recorded two tracks for a promotional EP circulated in tiny quantities to British television and film production companies. The project also features organist/pianist Mike Lease who is brought in by Cordell to arrange strings for one of Laine's tracks and drummer Peter Trout, who joins the Electric String Band later in the year.
(13) The new line up with Leigh performs at Blaisers, Kensington.
(14) Denny Laine's Electric String Band make an appearance at London's UFO club, where they perform Say You Don't Mind, Ask The People, Why Did You Come?, Catherine's Wheel and The Machine Song, which is never released.
(29) Laine's group finally appears at the Birdcage in Portsmouth, Hants.
August (13) The band plays at the Windsor Blues and Jazz Festival, held at Windsor racecourse alongside Cream, Pentangle, Blossom Toes, Jeff Beck and many others.
(26) Laine arrives at his manager Brian Epstein's Belgravia home hoping to arrange further work; little does he know that Epstein is dead inside from a drug overdose.
(26-28) The group takes part in a three-day rock festival held at Woburn Abbey with Eric Burdon & The Animals, The Jeff Beck Group, The Small Faces and others.
(27) Denny Laine's Electric String Band appears at Saville Theatre with The Jimi Hendrix Experience, Tomorrow, Georgie Fame, Eric Burdon & The Animals, The Crazy World of Arthur Brown, Dantalion's Chariot and others.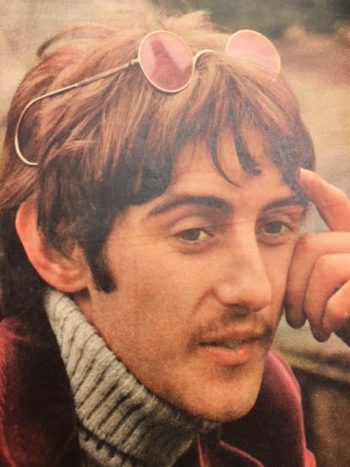 September (8) Denny Laine's Electric String Band perform at the Marquee with The Gods.
(9) The band performs at the UFO at the Roundhouse, London alongside The Soft Machine, The Pink Floyd, Tomorrow and The Move.
(23) Laine's group appear at the Middle Earth club, King Street, Covent Garden alongside T-Rex and Picadilly Line. Shortly afterwards, Viv Prince departs and forms the short-lived VAMP. Laine recruits new drummer Peter Trout, who has previously worked with Andy Leigh in the "Studio G" band and appeared on sessions for Pyramid's single Summer of Last Year. The new line up rehearses but the string quartet (with the exception of John Stein) leaves for a tour of Russia. Laine adds new cello player Nigel Pinkett alongside Leigh, Proud and Stein.
October (4) Laine's band records its debut John Peel radio session, recording Say You Don't Mind, Why Did You Come?, Catherine's Wheel, Ask The People, a cover of Tim Hardin's Reason To Believe and recent composition, . The session is broadcast on 8 October. Peter Trout leaves and reunites with Denny Laine in 1971.
(6) The band, with a new drummer, performs at the UFO, the Roundhouse, London with Tim Rose.
(15) Denny Laine's Electric String Band return to the Middle Earth.
November Melody Maker announces that a Denny Laine album, containing three Laine compositions and a new single are scheduled for a Christmas release. (The former is subsequently cancelled.)
(17) Denny Laine's Electric String Band appears at Nottingham Technical College, Nottingham with Deuce Coup.
(18) The group performs at the Middle Earth with Alexis Korner and Pegasus.
December (6) The band joins Fleetwood Mac and Warren Davies for a show at the Royal Hotel, Woburn Place, London.
(16) Laine's band plays at the Britannia Boat Club, Nottingham.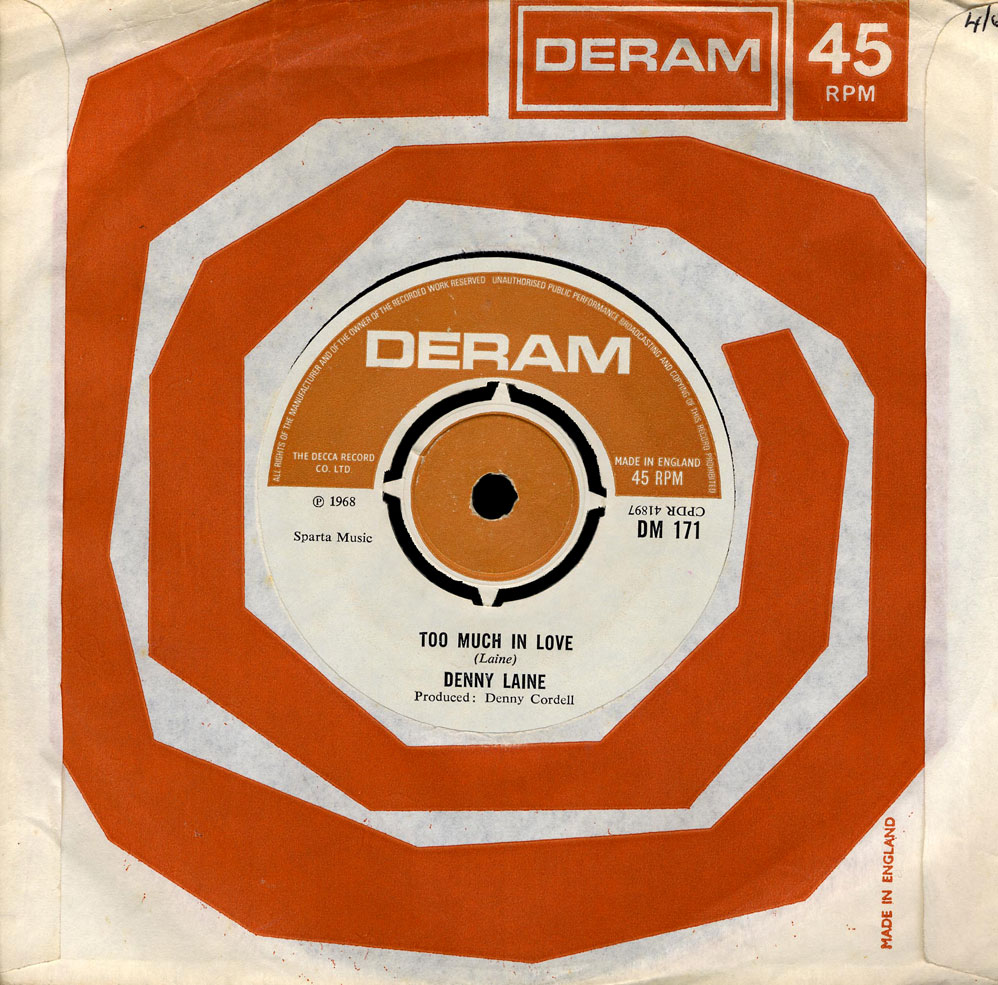 1968
January (12) Laine releases his second single, the equally adventurous Too Much In Love which also fails to chart. (Melody Maker states that an album featuring nine Laine compositions is scheduled for release in early February and that a 10-day tour of Sweden commencing on 25 January is imminent. However, neither transpires).
(24) Denny Laine's Electric String Band make a second Peel session appearance, recording Catherine's Wheel, The Machine Song, Too Much In Love, and two new songs, Masks and the folk standard, Sally Free and Easy. The session is broadcast on 28 January.
February Laine disbands the group and concentrates on solo work on London's folk circuit. After a few months, he moves to Spain and lives a gypsy lifestyle. Leigh briefly joins Spooky Tooth (appearing on their Ceremony album), before releasing a solo album on Polydor in early 1970. He will then become an integral part of Ian Matthews's Southern Comfort.
May Moving to Spain, Laine stops first in the Canary Islands where he meets American draft dodger, Charlie Jackson, a flute player who has come to Spain to learn flamenco guitar. The pair become friends and busk for six months before moving to Moron de La Frontera, a small town near Seville. While there, Laine learns flamenco guitar phrases from players from all over the world and is influenced by local star, Diego del Eastor.
October Returning to Britain, Laine jams with the ad-hoc outfit Balls, which features John Lennon and Rolling Stone Brian Jones. The band reportedly records a song titled Go To The Mountains for Apple but it is never released. Around this time, he reunites with Mike Lease, who is working with John Martyn's wife, singer/songwriter, Beverly Kutner. Lease agrees to help Laine audition bass players and drummers for a new version of Balls but despite finding suitable musicians, including drummer Peter Phillips, the line up never settles.
1969
February Laine participates in an early Blind Faith session. He is, however, in the process of forming a new line-up of Balls with Trevor Burton of The Move and decides not to join the outfit. He will later join Ginger Baker in Airforce in the spring of the following year on an ad-hoc basis.
1970
August (5-6) Having contributed to Ginger Baker's Airforce album and spent the last 18 months rehearsing material with Trevor Burton and ex-Plastic Ono drummer Alan White at a country house in Cholesbury, Bucks, Balls are scheduled to make their live debut at the 'Popanalia' festival in Nice, France. The group misses the concert, although their lone single, Burton's Fight For My Country backed by Laine and White's Janie Slow Down is rush released in France by Byg Records. (The group is rumoured to have recorded 12 tracks for an album, although they are currently without a record contract. The sessions include contributions from ex-Family member Ric Grech.)
October (18) Balls' debut UK live performance at the Lyceum in London fails to materialise. (The group was planning to record the show for a possible live album, but internal problems result in a cancellation of the show.) White subsequently leaves and Laine and Burton perform an acoustic set at their next show, held at Trent Poly, Nottingham. Shortly afterwards ex-Spooky Tooth drummer Mike Kellie agrees to join while singer Steve Gibbons is also added. The new line-up vows to undertake a UK tour in January 1971, but by then the group has broken up. Fight For My Country is released by Wizzard Records but fails to chart.
1971
July Laine forms a new group with bass player Steve Thompson, guitarist John Moorshead and drummer Peter Trout, who worked with The Electric String Band and rehearses material. However, Laine abandons the project when Paul McCartney invites the singer to join Wings in August.
Sources:
Bacon, Tony. 'London Live', Balafon Books, 1999.
Black, Johnny. 'Blind Faith'. Mojo Magazine, July 1996.
Clayson, Alan. 'Denny Laine'. Record Collector, #191, July 1995.
Clayson, Alan. Call Up The Groups – The Golden Age Of British Beat 1962-67. Blandford Press, 1985.
Dellar, Fred. 'Time Machine'. Mojo Magazine, August 1997.
Doggett, Peter and Reed, John. 'Looking Back at June 1968'. Record Collector #166, June 1993.
Gardner, Ken. Peel Sessions. BBC Books, 2007.
Hounsome, Terry. Rock Record #6. Record Researcher Publications, 1994.
King, Michael. Wrong Movements – The Robert Wyatt Story. SAF Publishing, 1994.
Laine, Denny. Denny Laine's Guitar Book, Whizzard Press, 1979.
Paytress, Mark. 'Reading Festival'. Record Collector, #216, August 1997.
Reed, John and Pelletier, Paul. 'Middle Earth'. Record Collector, April 1996.
Rees, Dafydd and Crampton, Luke. Guinness Book Of Rock Stars, 2nd Edition. Guinness Publishing Ltd, 1989.
Wells, David. 'Going Underground'. Record Collector, #216, August 1997.
Disc, April 15, 1967, page 4, May 6, 1967, page 6 and June 17, 1967, page 13.
Melody Maker, January 21, 1967, page 5; April 22, 1967, page 5; April 29, 1967, page 4; May 13, 1967, page 4; May 20, 1967, page 5; July 1, 1967, page 7; July 8, 1967, page 4; July 15, 1967, page 4; September 23, 1967, page 28; October 7, 1967, page 6; November 4, 1967, page 4; November 18, 1967, page 20; December 2, 1967, page 24; January 6, 1968, page 3; August 1, 1970, page 4; August 8, 1970, page 29; September 26, 1970, page 5; October 24, 1970, page 4 and November 14, 1970, page 14.
The Birmingham Evening Mail.
Many thanks to Peter Trout and Mike Lease for their memories of working with Denny Laine. Thanks also to Dave Allen.
© Copyright Nick Warburton, 2009. All Rights Reserved. No part of this article may be reproduced or transmitted in any from or by any means, without prior permission from the author.
To contact the author, email: Warchive@aol.com
Visit: www.nickwarburton.com
Special thanks to Jim Wynand for the scan of the Dutch sleeve and to MC for the rare Top Gear recordings.