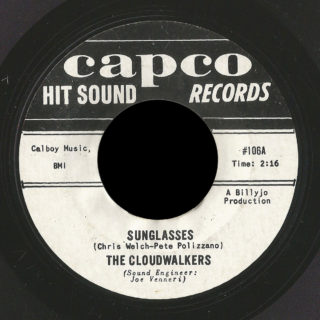 The Cloudwalkers came from the Bensonhurst neighborhood of Brooklyn, New York. They cut one single, the harp-driven "Sunglasses" b/w
"Never Told Me So" on Capco 106 in mid-1965.
"Sunglasses" isn't the same song as the Cramps' "Sunglasses After Dark" but I'd like to think there was some influence there. The single made it to #49 in Record World's "Singles Coming Up" chart.
Members included Chris Welch and Peter Polizzano, who wrote both songs on their single, plus Pete Frias.
"Never Told Me So" is a fine Buddy Holly influenced rocker.
George Napolitano of the Ox-Bow Incident told me that Pete Frias was the guitar instructor and mentor of many musicians in the neighborhood, and also was guitarist for Jimmy & the Jesters, a group that often played the Peppermint Lounge. George also thought the Cloudwalkers single was recorded at Rossi Sound Studios at 2005 West 8th Street and Avenue T in Brooklyn.
The labels note "A Billyjo Production". The engineer for the session was Joe Venneri, who was a guitarist for the Tokens during their early days, then became an engineer at Incredible Sound Studio, Mira Studios and Mercury Records.
Chris Welch and Peter Polizzano registered both songs with the Library of Congress on July 2, 1965. Publishing came through Calboy Music, BMI, owned by Joe Calcagno who also owned the Capco Records label.
An ad in Billboard in November 9, 1965 lists Capco Hitsound Records at Southard Ave in Rockville Center, NY. The label was promoting Capco 108, Irv Goodman's "Hava Nagilah" / "Sugar Blues au Go Go" produced by Jimmie Haskell.
Singles by the Crossfires, the Don Rays and others on a green Capco label, circa 1963, come from a Los Angeles company probably not associated with Joe Calcagno.
I'd appreciate any further info on the Cloudwalkers.