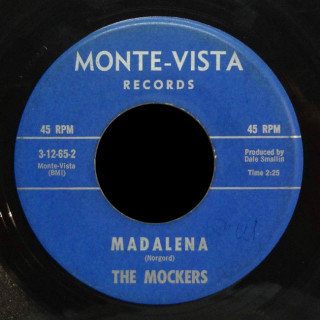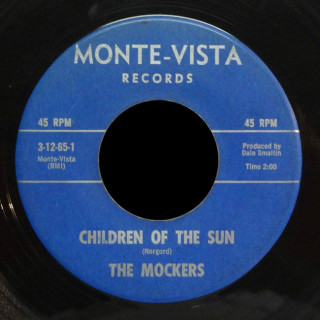 Here are two obscure singles that seem to have been recorded in one session on the same day, apparently March 12, 1965. Both feature the Mockers, and each was released on the Monte-Vista label and numbered 3-12-65.
The first features two surf instrumentals: the atmospheric "Children of the Sun" backed by a first-rate surf-rocker "Madalena" with crunching wet guitar. Both songs were written by someone named Norgord for Monte-Vista Music BMI.
The Mockers were obviously a very competent group, but the second single has them backing what sounds like a prepubescent lead singer, Chris Parry, on another single written by Norgord, "I Need You Now". The flip is a cover of "Angela Jones", written by John Loudermilk (composer of "Tobacco Road").
The producer was Dale Smallin who in 1963 managed the Surfaris' and brought them to Paul Buff's PAL studio in Cucamonga to record "Surfer Joe" / "Wipe Out" (Smallin also contributed the maniacal laughter to the opening). Smallin may have lost the Safaris when he and Dot Records brought in the Challengers to record tracks to fill out the album. In any case, the Mockers may have been the only records after the Safaris to feature his name as producer. If there are others, I haven't found them yet, nor have I found any info on the Mockers or Chris Parry.
Monte Vista Street runs in Highland Park in Los Angeles, not far from the Glendale origin of the Safaris. Smallin would name his film production company Monte-Vista and produced a 28 minute movie show in West Covina, The Day That Sang and Cried in 1968, featuring another band, The West Coast Blues Company. Dave Smallin died on March 1, 2011.