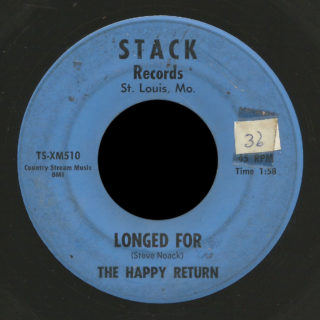 The Happy Return came from St. Louis, Missouri, releasing two very different 45s in the space of a couple years.
Members at the time of the Cadet single were:
Steve Noack – vocals, lead guitar
Tom Noack – rhythm guitar
Jim Cunningham – organ
Jimmy Albright – bass
Rich Carrell – drums
In November 1967 the Happy Return released a very good Steve Noack original in the Beatles style, "Longed For", backed with another original "Maybe", and issued Steve's own Stack Records TS-XM510. The publisher, Country Stream Music BMI mainly handled country and gospel songs.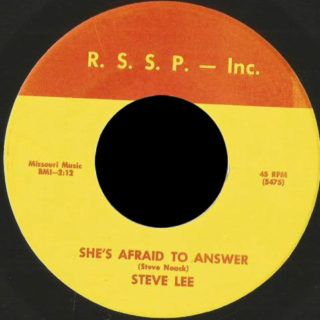 In July of 1968 Steve Noack had a light pop single as Steve Lee on the R.S.S.P. Inc label featuring his original "She's Afraid to Answer" as the b-side to "Baby" (by G. Tomsco, B. Tomsco).
Missouri Music BMI published "She's Afraid to Answer". Missouri Music's biggest copyrights seem to be on the Norman label, including "Rockin' Little Egypt" by the Egyptian Combo and "Jerkin' Time" by Bob Kuban with vocalist Little Walter.
The Happy Return next appear in June 1969 on the Cadet label with a great double-sided single featuring two more Steve Noack originals with great production by Norman Petty at his Clovis, NM studio. The plug side at the time was "I Thought I Loved Her", a gentle ballad with keyboards making harpsichord and flute sounds. The Library of Congress registration for "I Thought I Loved Her" in April 1969 shows words by Rich Carrell and music by Steve Noack.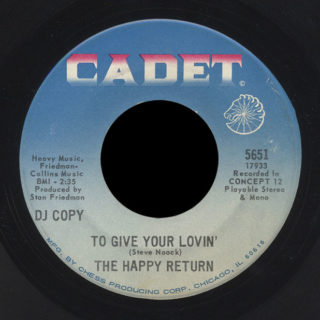 The flip is the very different and hard-rockin' "To Give Your Lovin'", full of crunching guitar and heavy drumming. Both songs list Steve Noack as writer and Heavy Music, Friedman-Collins Music BMI as publisher.
"I Thought I Loved Her" showed up as a "hitbound sound" in a weekly chart of Saint Charles, Missouri's KIRL 1460 AM that August, but otherwise seems to have missed all radio charts despite being on Cadet. The band broke up the following year.
On the Cadet labels, the band's manager Stan Friedman is listed as producer of the single. He was a booking agent in St. Louis with a University City address.
Info from Alec Palao's notes to Get Ready to Fly: Pop-Psych from the Norman Petty Vaults on Big Beat Records, which also have two small photos of the group.