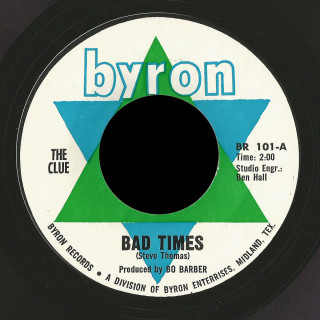 The Clue of Midland, Texas cut one of the classic garage numbers "Bad Times", featuring swinging drumming, screams and a sputtering lead vocal, pumping organ and a good guitar break. Despite its fame in recent years, I can find very little info on the band.
Steve Thomas wrote "Bad Times", and Steve Thomas and Larry Grubb wrote the flip side, "She's the Reason", an eerie ballad that borrows some of the melody from the Beatles "I'll Be Back". Recorded and released circa 1967 on Byron BR 101. I can't think of any other releases on the Byron label.
Byron Barber ("Bo") was drummer for the Sensations who cut "Sweet Little Rock and Roller" / "Big Boss Man" in 1965 as the Sensations Sound on Kingco Records. In 1966 Barber produced the Clue 45 for his own Byron label, engineered by Ken Hall.
The Sensations members included Bill Thomas on bass and Dennis Grubb on guitar and vocals, so I wonder if the Steve Thomas and Larry Grubb listed on the Clue single are their younger brothers.
Anyone have a photo of the band?
Info on the Sensations and Bo Barber from LoneStarStomp.