Tommy Burk and the Counts were a big local act in Memphis, every kid in the city would have seen them live or have known about them.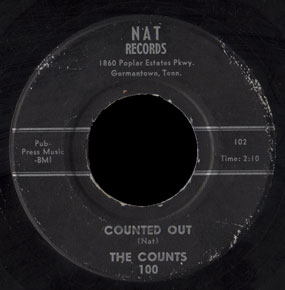 They had a career that spanned early '60s vocal pop to garage. Members included Tommy Burk on vocals, Wayne Thompson guitar, Mike Stoker bass, Thomas Boggs on drums, John Greer, Steve O'Keefe and Dan Morelock.
They had about ten 45s on various labels, including a local hit with a garage-styled version of "Stormy Weather" and "Without Me" backed with a version of "Maggie's Farm" on Southern Artists 2026. They are also supposed to be the group behind A. Jacks & The Cleansers "Stronger Than Dirt" on Clean 110. I hope to feature more of these eventually, but right now here's "Counted Out", a rocking instrumental from '62, and the b-side to their very first 45, the doo-wop styled "You'll Feel It Too".