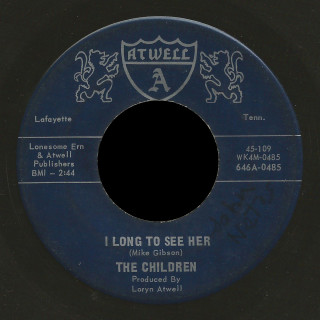 Atwell Records of Lafayette, Tennessee released a number of interesting rock record in the late 1960s. Lafayette is about 60 miles northeast of Nashville, and a similar distance southeast of Bowling Green, Kentucky. I haven't heard all of these, but my favorite so far is the Children single: two very well-crafted original songs featuring strong vocals with lead guitar bubbling in the background.
The A-side was "I Long to See Her" (by Mike Gibson), backed with "Lost Soul Seeker in the Rain" (by Mike Gibson and L.S. Goodman). It came out as Atwell 45-109 in the second half of 1968
Loryn Atwell produced the single, with both sides published by Lonesome Ern & Atwell Publishers, BMI. Publishing credits give full names, Michael Freeman Gibson and Louis Samuel Goodman.
One source stated the band was from Georgia, but this is incorrect. One member and a friend of the band commented below, stating the band was from Munfordville, Kentucky and members were Mike Gibson on vocals and guitar, Sam Goodman on lead guitar, Mike Rife on drums and vocals and Clint Nichols on bass. Joe Terry Crenshaw joined a later version of the band before it finally broke up.
Since writing this post, Lee Bryant contacted Hoot Gibson and wrote an expanded article on the group for this site.
The Children – Lost Soul Seeker in the Rain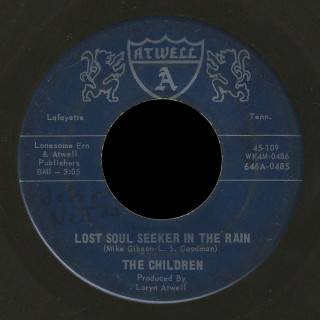 Atwell had a couple fine rural country releases by the Pedigo Brothers & the Tennessee Rhythm Boys and some later teen releases:
Atwell 100 – "She's Gone" (Earl Pedigo, Hillard Cliburn) / "You Never Looked Sweeter"
Atwell 101 – "A Love Affair Gone Wrong" / "It's Hard To Smile" (with picture sleeve)
Atwell 102 – Randy & The Rockets – "Once Upon A Time" (Randy Dillahey) / "Rattlesnakin' Daddy" 8/1965 "kids"
Atwell 109 – The Children – "I Long to See Her" / "Lost Soul Seeker in the Rain"
Atwell 111 – New Musical Express – "Child Of The Midnight Sun" (Gary Agers, Tommy Ramsey) / "Wrong Side Of Love" (Jerry Ford) 1969
Atwell 115 – Midnite Strobe – "Beyond Reason" / "The Future"
Atwell 45053 – Sweet Revenge – "Love Machine" / "Sweet Revenge" (released with picture sleeve of the band around one member in a coffin, mid 1970s)
Atwell 45057 – Bad LT – "Rock & Roll"/ "God Taketh"
Atwell also released EPs by the Tennessee Harmoneers, spiritual LPs by the Singing Youth, the Singing Gospeltones, and the Tomes Four (actually a quintet), a bluegrass album by Ron Knuth, among other religious and country 45s and LPs.
Atwell Studios is credited on some releases on the Re-Echo Records label of Livingston, TN, including The Madhatters "Unchain My Heart" / "That Kind Of Girl", as well as on releases on the Breeze Records label, also from Livingston.
Thanks to Max Waller for a couple additions to the Atwell 45 discography.